Following the success of #SameGoals in 2018 and 2019, Manchester City is delighted to announce the return of the initiative for the third year running.
Aiming to inspire the next generation of female footballers, #SameGoals pledges to deliver a special limited edition football provided by PUMA to every girl who shares a video showing them scoring – or saving – a goal to grow her passion and help her focus on achieving her dreams.
READ: City cruise into FA Cup fifth round

WATCH: Guardiola delighted with City century
TICKETS: City v Arsenal Women | Sun 2 Feb
To receive their free ball, girls need to post a video on Twitter, Instagram or TikTok that shows them scoring – or saving – a goal using #SameGoals. The goal can be scored, or saved, anywhere using any kind of ball; the more creative, the better.*
Alternatively, participants can upload their video at mancity.com/samegoals.
To mark this year's project, youngsters will also be given the opportunity to take part in specially organised football clinics in the hometowns of four Manchester City Women players.
Ellen White (Aylesbury), Keira Walsh (Manchester), Georgia Stanway (Barrow) and Gemma Bonner (Leeds) will be heading back to their roots on Wednesday 5 February, with the players set to host a unique football session for girls and boys between the ages of 10 and 14.
The venues where the clinics will be held are also close to the hearts of the players, with them having either played football there on their way to becoming professionals, or holding links to them through their respective hometowns.
Following on from last year meanwhile, there will also be a #SameGoals festival held on Sunday 9 February ahead of Manchester City's home game with West Ham United.
Starting at 11.30am at the City Football Academy, where all of City's teams train, children and their families will be able to enjoy a range of football activities, including skills challenges, coaching clinics for players aged 6 to 14 delivered by City Football Schools coaches and a tournament for girls and boys aged 10 to 12.
Entry is free of charge and details of how to sign up and redeem tickets will be shared via the Club's website.
Speaking ahead of her participation in the initiative, Manchester City and England striker Ellen White said: "It's been so exciting to be involved in this fantastic campaign – when I made the move here last summer, I could see immediately how much the Club cares about encouraging youngsters to enjoy playing football.
"Having an opportunity like Same Goals is something that I could have only dreamt of when I was younger, and I can't wait to get involved in the football clinics.

"It'll be amazing to go back to Aylesbury where I know a lot of young girls love playing football and by hosting an event like this, hopefully we'll be able to make a difference and inspire as many youngsters as possible to achieve their dreams."
Gavin Makel, Head of Women's Football, added: "Everyone at Manchester City has been delighted with the success of the past two years of Same Goals and we're extremely excited with our plans for 2020.
"Our aim is to create a movement to get girls scoring goals. As a Club, we are committed to doing all we can to help develop the next generation of female footballers and by hosting the hometown clinics and football festival, we want to show girls around the country that they can realise their potential.

"The players we have here at Manchester City are proof that hard work and determination can reap dividends and it'll be brilliant to see them being able to get back to their roots to inspire as many youngsters as possible to succeed.
"Following on from their backing of our opening day Barclays FA Women's Super League fixture against Manchester United at the Etihad Stadium, we're also delighted to have PUMA's support with #SameGoals."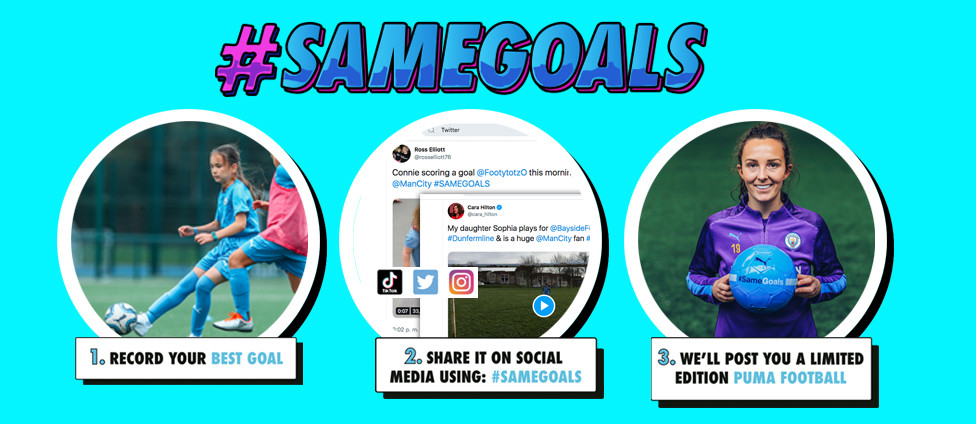 *As this initiative runs on social media, participants under the age of 13 will need to request the permission of their legal guardian and submit their goals using their parent or legal guardian's social media account. The deadline for #SameGoals entries is 23:59 on Sunday 15 March 2020.