To celebrate this year's #SameGoals campaign, four of our Manchester City Women's team players are heading back to their hometowns to host specially organised football clinics for local youngsters.
Ellen White (Aylesbury), Keira Walsh (Manchester), Georgia Stanway (Barrow) and Gemma Bonner (Leeds) will be heading back to their roots on Wednesday 5 February, where they will host a unique football session for girls and boys between the ages of 10 and 14.
The venues where the clinics will be held are also close to the hearts of the players, with them having either played football there on their way to becoming professionals, or holding links to them through their respective hometowns.
The sessions will be free, and no registration is required.
Venues and timings
Pulse Barrow, Greengate Street, Barrow
Limited parking available at Life Leisure Barrow Park
5:30-7:30pm

Aylesbury Vale Academy, Paradise Orchard, Aylesbury
5:30-7:30pm
Parking available at the Academy
Adel Memorial Ground Pitches, Church Lane, Leeds
Parking available at The Adel War Memorial Association, follow the path from the car park up to the floodlit AstroTurf pitch
5:30-7:30pm
(Ages 6-14)
City Football Academy*, Manchester
5:30-7:30pm
Parking available at the Grey Car Park at the Etihad Stadium

*Please use Community Pitch entrance on Alan Turing Way next to Connell College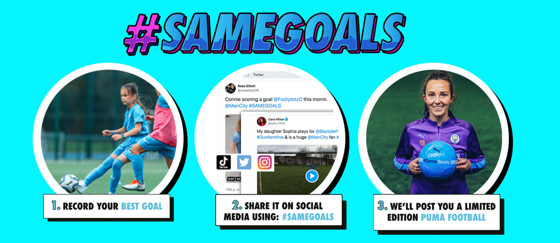 LATEST #SAME GOALS ENTRIES