Club News
1
The fans were out in force at Cityzens Sunday!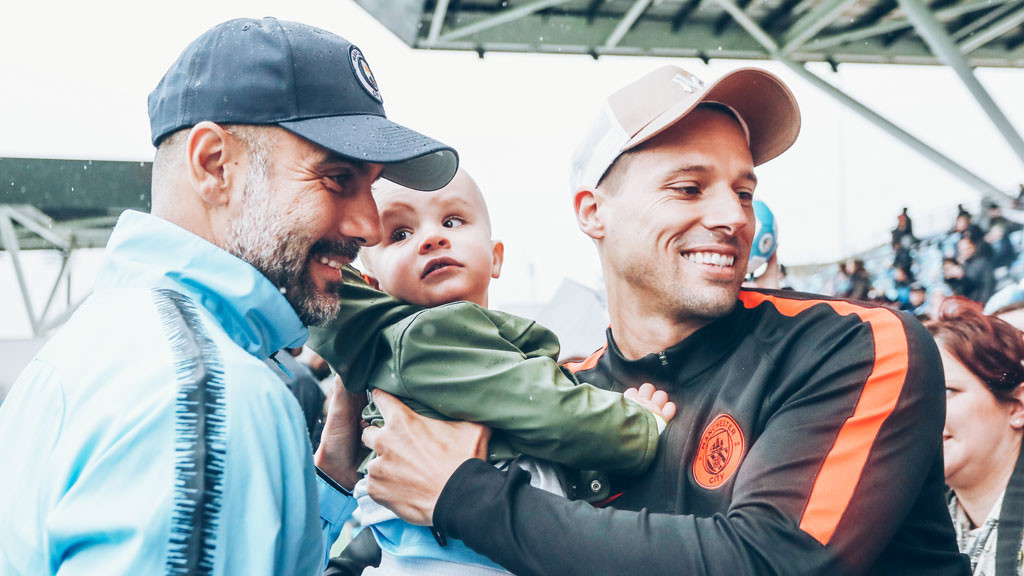 BOSS MAN: Pep took time out to meet and greet some of our youngest supporters
What a day! Thousands of City fans were welcomed at the CFA for our Cityzens Sunday event.
Despite wet and windy weather, our wonderful supporters again turned out in droves for a day full of fun-filled activities at the CFA, the highlight of which was a chance to watch Pep Guardiola's squad take part in an open training session on the Academy Training pitch.
Here's a selection of just some of the best tweets and photos from the day:
From the Man City fun day today. 2017/18 shirt signed by Delphino, Otamendi and Kompany 💙 pic.twitter.com/xb7AYmbDkH

— Crookiemonster (@crookdpc) August 26, 2018
Chilled to the bone after Cityzens Sunday, but worth it for these smiles.... pic.twitter.com/ibcoXhdbfL

— BlueJo (@PlaceboJo) August 26, 2018
Thank you @LeroySane19
for having your photo taken with my daughter, you're her sporting idol and this moment made her life! @Cityzens @mancity#Cityzenssunday #mancity #leroysane #lifemade pic.twitter.com/ghoB7nlMW8

— Gill Wilcock (@gillgillet) August 26, 2018
Great day @Cityzens sunday pic.twitter.com/4GaRyDcDxd

— Daren Williams (@dazzlerw86) August 26, 2018
Great day with Alfie at the Cityzens Sunday pic.twitter.com/Sd0dkFpJKa

— Russell Carson (@Roast333) August 26, 2018
Thanks for the picture @fernandinho much appreciated! @ManCity #CityzensSunday pic.twitter.com/BAdFGdHma5

— Daniel (@DanielRyan7857) August 26, 2018
Thank you @benmendy23 for sparing a moment today despite the rain, giving my Matthew a lifetime memory #Cityzenssunday #sharkteam #mcfc #topman pic.twitter.com/gl7DS0hGFL

— Kerry Ann Carrick (@kezacarrick) August 26, 2018
@ManCity #CityzensSunday was such an amazing day, myself and my daughter loved every minute of it
thank you @benmendy23 @sterling7 @edersonmoraes93 @Mahrez22 for signing our shirt, that's being framed and going on our wall pic.twitter.com/KrZRDvMDrt

— mark luke dixon (@skywalker5) August 26, 2018
Great day @ManCity Cityzens Sunday. Jack said "I not wash my hands." pic.twitter.com/6PeAGLQXzS

— Dr Jon Bell (@Radiology_UK) August 26, 2018
A wet and windy #CityzensDay @ManCity but G got to meet his heroes and a signed @VincentKompany shirt. #Cityzenssunday pic.twitter.com/VzrVe0N9to

— Chris Willan (@chriswill78) August 26, 2018
This is how it feels to be city ! #Cityzenssunday pic.twitter.com/xssivl92JS

— Antony Miller (@blue_miller) August 26, 2018
And the players clearly enjoyed the occasion too…
Open training session. Thanks for the support #mancity pic.twitter.com/CEyTFSrreA

— Sergio Kun Aguero (@aguerosergiokun) August 26, 2018
At today's open training! Thanks a lot for you support! 🔵🔵 @ManCity #mcfc #mancity pic.twitter.com/b2u8jjeeGF

— Bernardo Silva (@BernardoCSilva) August 26, 2018
Had a great time at the open training session. Thanks for the support. We are City! 👏🏾👏🏾👏🏾 pic.twitter.com/80bHDxbBCT

— Fernandinho (@fernandinho) August 26, 2018
Open training to our fans! 🔵#mancity 🔵 thanks a lot for you support 👊🏻 pic.twitter.com/zZnOTcNpAQ

— Nicolas Otamendi (@Notamendi30) August 26, 2018
Open training with all the fans! 💙 pic.twitter.com/CGZtZjM99F

— Brahim (@Brahim) August 26, 2018