Academy News
1
Dele-Bashiru: FAYC triumph would mean everything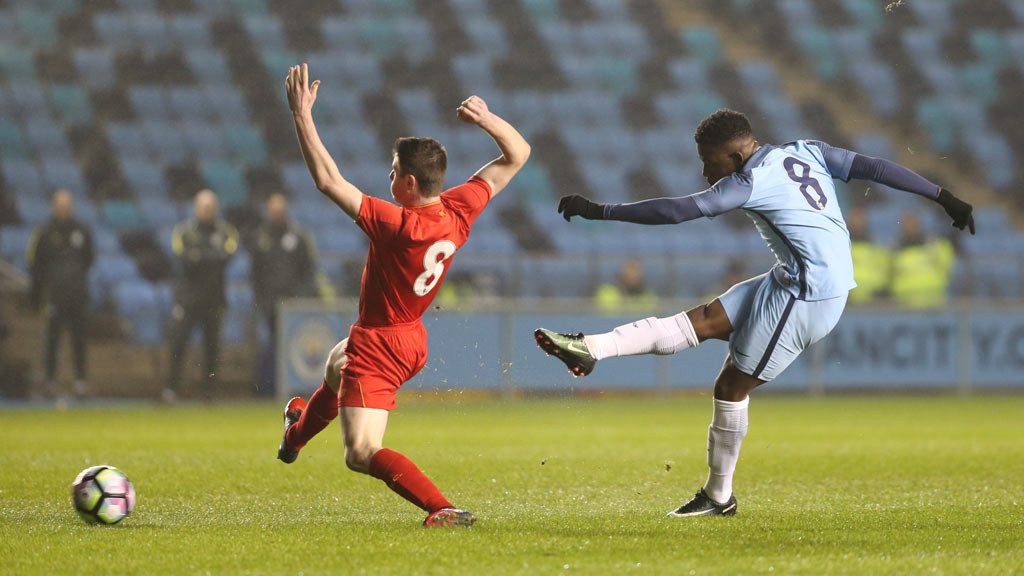 SHARP SHOOTER: Tom Dele-Bashiru has an effort from range after a good Manchester City move
Manchester City U18s midfielder Tom Dele-Bashiru has sent a rallying cry to his teammates to go on and lift the FA Youth Cup.
Dele-Bashiru scored the opening goal in City's 3-1 victory over Liverpool on Wednesday night that guaranteed safe passage to the fifth round of the prestigious tournament.
City will now face Southampton and although they remain focused on the Saints, the City midfielder can't help but dream of lifting the trophy.
He said: "It would mean everything to win this competition. We've got to the final in the last two years and we think it's about time we stopped Chelsea winning the tournament. We'll have to stay focused."
City, whose only loss at U18 level since November 2015 was in last year's Youth Cup final to Chelsea, were forced to break down a stubborn Liverpool defence on Wednesday but Dele-Bashiru believes that experience will stand them in good stead.
He said: "Lee told us before the match that just because we beat them 7-0 at the start of the season, we shouldn't be expecting it again and we had to maintain our standards.
"With the back five and a bank of four just in front of it, there wasn't really anywhere to go but we just kept at it and moved the ball quickly to get them out of shape and get a goal.
"Brahim and Jadon were always looking to come inside but once we kept the width, we stretched them and that helped us. That will help us to be better players because we will learn different ways to get round teams that play like that.
"Scoring my goal got us started well and helped to build confidence to go on and win the match. They scored soon after but we came out in the second half and got the win."
Want to keep up with the latest EDS and academy news? Follow the official Twitter account, @ManCityAcademy.