Academy News
1
Foden: Man City can beat anyone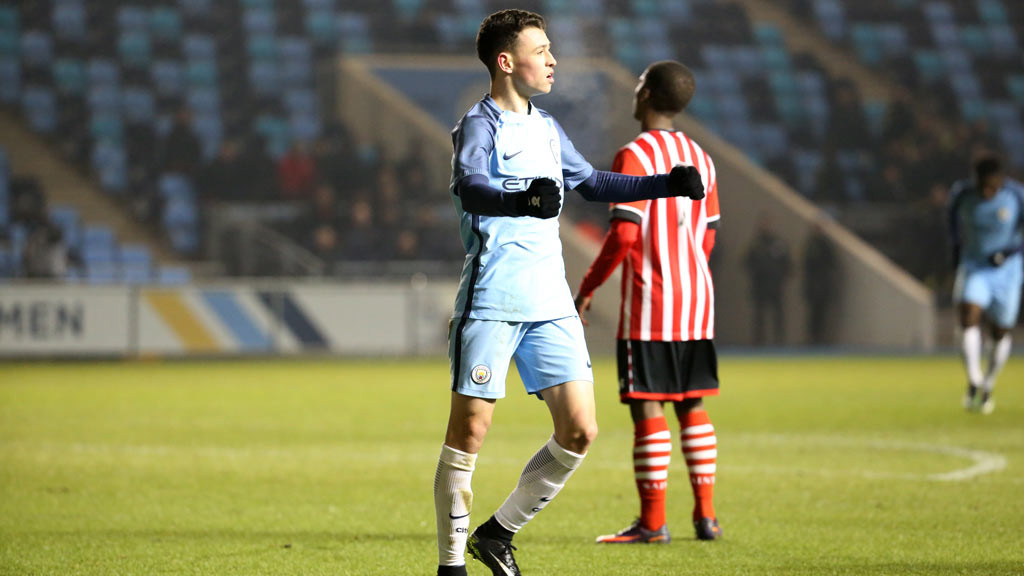 BOSS: Carsley was delighted with his side after FA Youth Cup progress
Manchester City U18s ace Phil Foden says he and his teammates feel like they can beat anyone after brushing Southampton aside with a superb 4-0 victory to advance to the FA Youth Cup quarter-final.
Foden opened the scoring in the 26th minute with a fine left-footed finish and goals from Jadon Sancho and Lukas Nmecha meant City went in 3-0 up and cruising at half-time. Demeaco Duhaney's goal completed a rout the hosts fully deserved after the break.
City are yet to find out who they'll face in the last eight of the competition and Foden insists they aren't thinking of a third consecutive final appearance just yet.

"It's too early to start thinking about another final," he said.
"We've still hopefully got the quarter-final, two semi-finals and two finals to come so we have to keep going game by game. But we feel like we can beat anyone tonight. We've got lots of confidence and we'll give any team a game at the moment."
Southampton gave City a couple of scares early on but it was all City once Foden had broken the deadlock.
"I was really happy to score tonight," he said.
"Earlier in the game I'd made a run and pulled it back and I thought next time I'm going to shoot because no one was in the box so I shot across goal and luckily it went in."

City had a vocal and supportive crowd behind them at the Academy Stadium, including none other than first team boss Pep Guardiola, and Foden believes it helped drive the team forward.

"The crowd were great tonight and it's good to have lots of fans watching, especially when they see us play such good football," he said.
"We were happy to see Pep (Guardiola) in the stadium because it shows that he cares about the young players and really wants to show his support."

City's only defeat at U18 level since November 2015 remains last year's FA Youth Cup final loss to Chelsea and Foden believes their togetherness and understanding is what makes them such an impressive outfit.
"We all know each other's strengths and we use them well together," he said.

"Lukas (Nmecha), Brahim (Diaz), Jadon (Sancho) and I have a good connection and we know what sort of runs the others are going to make and where they're going to move to."

And after appearing on the bench for City's first team in the UEFA Champions League fixture against Celtic at the end of last year, the 16-year-old is setting his sights even higher in 2017.

He said: "Pep gave me the chance to sit on the bench against Celtic and I was bit gutted that I didn't get on that night but hopefully he'll put me on the bench again and get me on next time!"
WANT TO KEEP UP WITH THE LATEST EDS AND ACADEMY NEWS? Follow the official Twitter account, @ManCityAcademy.