Academy News
1
U18 Premier League: National Stage explainer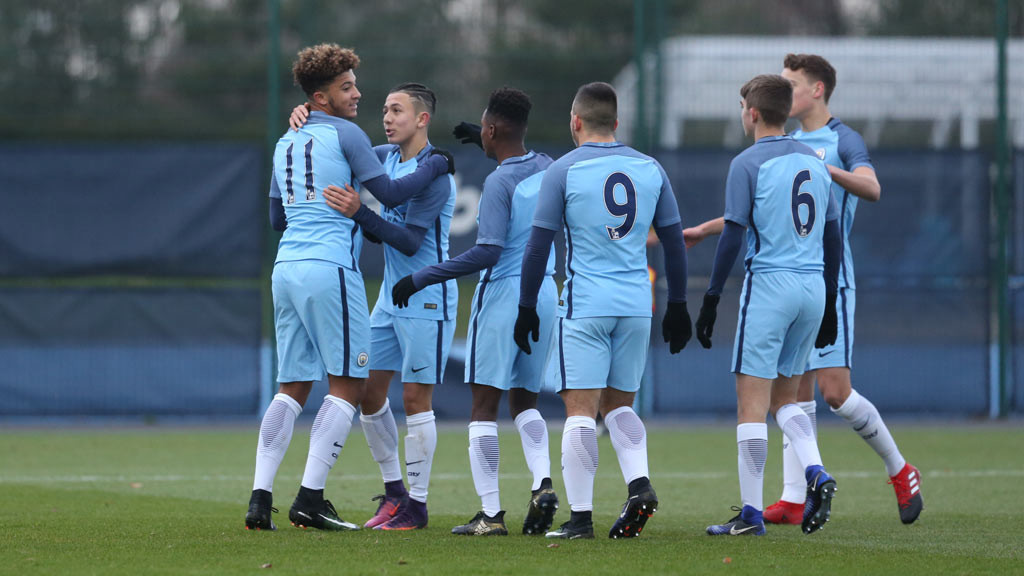 TOGETHER: City's team celebrate after an excellent opening goal against Stoke
Manchester City will take their place in Group 1 of the national stage. Here's all you need to know on the upcoming matches…
What is it?
The 24 best teams in the country were divided into two sections for the first period of the season. City collected 55 points from just 22 matches in the north section.
The top four from each region would go in to Group 1, the middle four going in to Group 2 and the bottom four going in to Group 3.
City finished top of the north section of the U18 Premier League but will start from scratch for the final stage.
Once the final stage is under way, each team will face every club in their group once and the winner of that stage will become Under-18 Premier League champions.
Who will they be facing?
From the north, City are joined by Manchester United, Liverpool and Blackburn Rovers in Group 1 while Chelsea, Reading, West Ham and Arsenal currently made up the top four positions in the south.
How well can City expect to do?
Having won the U18 Premier League last season and suffered only one defeat, Lee Carsley's City will be looking to impress once again.
Want to keep up with the latest EDS and academy news? Follow the official Twitter account, @ManCityAcademy.