Ken Barnes
Player name in full: Kenneth Herbert Barnes
To/from dates: 1952-1961
Number of appearances: 282
Goals scored: 19
Biography:
Kenneth Herbert Barnes was born in Small Heath, Birmingham (not too far from Birmingham City's St. Andrews ground) on the 16th March 1929.
As a youngster, he played with Birmingham-based amateur side Moor Green and, later, for Birmingham City's youth team. He then moved to Bolton Wanderers where he also played for the club's youth team.
After the Second World War, Ken joined Stafford Rangers where he played for three years before moving to Manchester City in May 1950. Although he only played for City's first team once in his first four seasons (against Derby County at Maine Road on the 5th January 1952), he was a regular starter in the City reserve team.
Ken was a key player in the launch of what became known as the "Revie Plan" as it was first developed around Ken – and Johnny Williamson as the deep lying centre forward - in the reserves. Ken was promoted to the first team at the start of the 1954/5 season when the Plan developed further, this time around first team centre forward, Don Revie.
The Plan was used in each cup runs which saw City reach the FA Cup Final in 1955 (where City lost to Newcastle United 1-3) and in 1956 (when City won the Cup by beating Birmingham City 3-1). On Roy Paul's retirement in the summer of 1957, Ken was appointed City captain. He also became famous for once scoring a hat-trick of penalties in a 6-2 Maine Road league win over Everton on the 7th December 1957.
He made a total of 258 league appearances for City, scoring 18 goals (The PFA Premier and Football League Players Records 1946-2005). He also played for City in 22 FA Cup matches (scoring one goal) and 2 Football League Cup matches. His last game for City was on the 26th April 1961 at Filbert Street in a 2-1 win for City against Leicester City.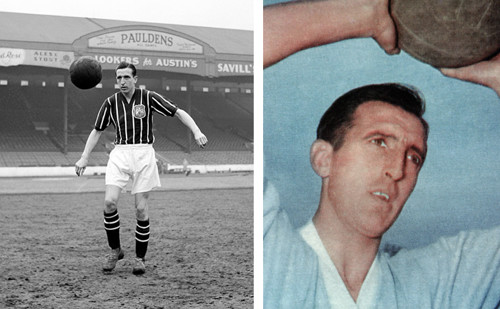 Notable facts/stories:
Ken returned to Maine Road in the summer of 1970 as a member of the coaching staff working alongside Joe Mercer and Malcolm Allison. When Chief Scout Harry Godwin retired in the early 1970's, Ken took over the post which he then went on to hold for approximately 20 years. Many great players spotted by Ken during his time as Chief Scout came through the ranks at City including Ian Brightwell, Andy Hinchcliffe, Paul Lake, Paul Moulden and Steve Redmond.
Ken's son, Peter Barnes, also came through the ranks at City to become a popular first team player and a full England international.
Denis Law once said about Ken that he was "the best-uncapped wing half in English football".
Non-City career (briefly):
He moved to Wrexham as Player/Manager in the summer of 1961 and played regularly for the Welsh side until he left in 1964. He also helped the club to promotion from the Fourth Division in his first season.
Ken sadly passed away on 13th July 2010, aged 81.