Seat Relocations for 2022/23
We would like to thank Season Ticket holders for renewing their Season Ticket for season 2022/23.
Now that the Season Ticket renewal window has closed, supporters may wish to review other seating options that were previously unavailable.
The Season Ticket relocation window will open on Monday 6th June from 9am to 8pm.
After this time, any remaining seats may be offered to supporters with a Cityzens Matchday Membership.
Once the relocation window has opened, the quickest and simplest way for supporters to relocate their seat is online following the below steps:
Step 1: Log in to your account and choose 'Season Tickets'
Step 2: Select the Season Ticket seat(s) that you would like to relocate and click 'Relocate Seat'. You can relocate all Season Ticket in your Friends and Family.

Step 3: Choose a new seat(s). You can select he area of the stadium by clicking the stadium map or the drop down next to it.
Available seats are shown in City blue on the stadium plan, once a seat is selected, it will turn navy blue, if you are happy with the seat and the price, click 'OK' to proceed.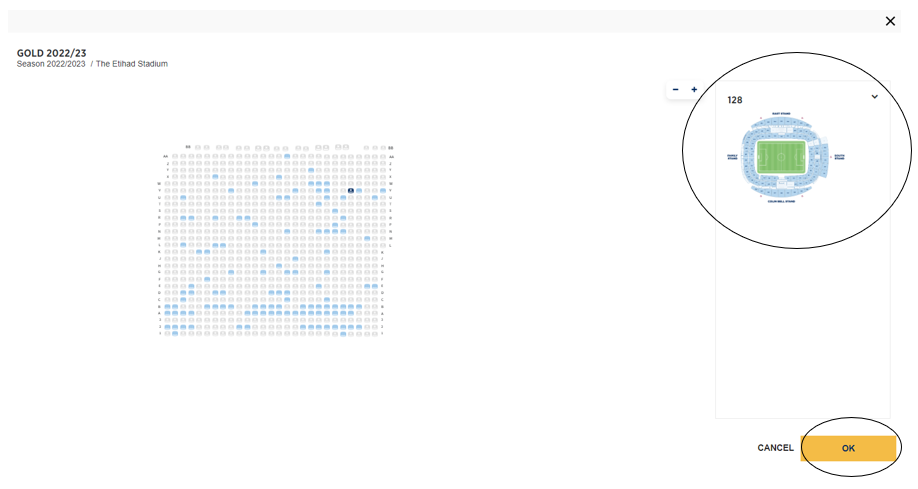 Step 4: Review your order, then select 'Checkout'
Depending on the price of your new seat being lower or higher in value, you will either be refunded the difference to the card we hold on your supporter account, or will have to pay the additional cost. Supporters who have signed up to the Direct Debit scheme will have their instalment amounts adjusted accordingly.