Members of City in the Community's Women's Walking Football team met up with Vicky Losada, who surprised them with tickets to Sunday's Etihad derby.
The City midfielder joined Gail Redston, Lesley Wright and Maria Lester ahead of Sunday's 3-1 triumph over Brighton in the Barclays Women's Super League.
While also getting to know more about the Walking Football team, the group discussed Losada's career to date and the opportunities that young girls and women now have to play the game.
BARCLAYS WSL ETIHAD DERBY: BUY YOUR TICKETS
And with Gail and Lesley members of our first ever Women's side, they also talked about their own experiences of representing the Club, and the progress that has been made since then.
The conversation, of course, also turned towards Sunday's Etihad derby, as Gareth Taylor's side prepare for the visit of Manchester United.
And ahead of the encounter, Losada surprised the trio with tickets to this weekend's showdown.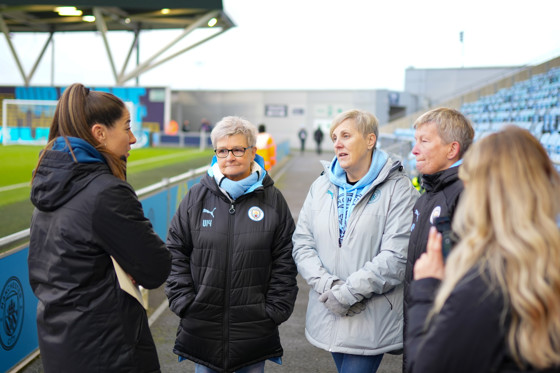 The midfielder said: "It was such an honour to meet Gail, Lesley and Maria at the game. The fact that two of them were members of the first women's football team here at City and they all still play football to this day is so inspiring.
"They have played such a big part in paving the way for people like myself and young girls around the world to play the game we all love and we are so grateful for their hard work.
"With so many people set to be inside the Etihad Stadium on Sunday for the derby, it was only right that we have them there to share in a special moment and one that they have helped to create."
Gail Redston added: "I had an amazing day watching City, but meeting Vicky was an extra special treat.
"It was great to chat about how things have changed in the women's game for the better, and how good it is to still be playing walking football with CITC at the age of 64."
"You never get tired of pulling the shirt on for a club you support, and I'm really looking forward to the derby!"
City in the Community moves with city youth to empower healthier lives through football. Programmes place physical and mental wellbeing at their core, whilst also creating healthy futures and healthy communities.
Women's Walking Football Sessions are held on a Tuesday 8-9pm at the CFA Indoor Dome and Friday 11-12pm at the Manchester Football and Tennis Centre.
For more information on how to get involved, please contact [email protected].
To keep up to date with CITC activity, follow them on Twitter @CITCTweets, as well as on Instagram and Facebook @CITCManCity.
CITY V UNITED: ETIHAD DERBY
City welcome Manchester United to the Etihad Stadium on Sunday 11 December.
Kick-off is scheduled for 12:30 (UK), with tickets selling fast for our third-ever women's match at the Etihad.
We hosted Everton there back in May 2014, before welcoming our local rivals in September 2019, when Caroline Weir's wonder strike saw us run out 1-0 winners in front of what was then a WSL record crowd, and what remains a club record of 31, 213 fans.
With over 40,000 tickets already sold, it promises to be another historic occasion.
You can secure your tickets online by visiting: www.mancity.com/tickets/womens or by calling: +44 (0)161 444 1894.