Manchester City can confirm that Sam Mewis and Rose Lavelle have returned to their respective NWSL clubs in North Carolina Courage and OL Reign following the conclusion of the 2020/21 campaign.
Joining City in the summer of 2020, the American internationals impressed during their solitary season in the Barclays FA Women's Super League.  
Mewis figured 32 times in a blue shirt, scoring 16 goals, while Lavelle turned out for City on 26 occasions, finding the back of the net five times. 
CITY+ | SIGN UP TO ACCESS EXCLUSIVE CITY CONTENT
The pair also played an integral part in helping the Club retain the Vitality Women's FA Cup for a second successive season in November last year, with Mewis scoring the opener in the showpiece final at Wembley Stadium against Everton. 
They will now return to their homeland however, with the World Cup winning duo re-joining their respective right-holding Clubs in the National Women's Soccer League. 
Speaking about her time at the Club, Mewis said: "I'm so grateful for my time here in Manchester. To the fans - thank you so much for your undying support. I have loved representing this Club and wish that we could have played in front of you all this season.  
"I have learned so much while being here, especially from my teammates. I never expected to make such strong friendships in a short span of time, but I can honestly say that I love these girls and hope to play with everyone again someday.  
"I have so many fond memories on the field and off, and my time here would not have been the same without my teammates.  
"I would like to thank the coaching staff and front office for making my time here so enjoyable and beneficial. I would be honoured to return to the Club someday in the future.  
"Thank you for believing in me, supporting me, and bringing me here to Manchester during such an uncertain time in the world. I'm a Man City fan for life!" 
Lavelle echoed Mewis' sentiments, saying: "I'd like to thank the front office and coaching staff for the opportunity to compete and grow in a world class environment.  
"It's been an honour to work alongside some of the best players and teammates in the world.  
"For everything soccer has given me, one of my favourite things is the friendships and I'm leaving City having met some of the best friends I could have ever asked for.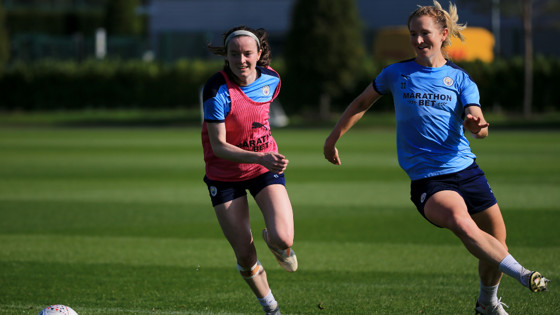 "I wish the Club endless success in the future and will be a City fan for life now." 
Head Coach Gareth Taylor also paid tribute to the pair, adding: "It has been a privilege to work with Sam and Rose this season. They came here, got the bit between their teeth and drove standards here at the Club which is something I was really keen for them to do. 
"I think they raised the levels of quality and work ethic in the squad – their commitment was incredible, whether it be during training or matches, and they had a real team mentality. 
"While it's a huge shame that they're returning to the US and we can't maintain that working relationship with them both for longer, I've been so impressed with them and I can't wait to see how they develop during the rest of their careers. 
"They've made huge contributions here both on and off the pitch during a difficult year, but they go with our very best wishes and appreciation for what they have brought to Manchester City."