Gareth Taylor says he's already looking ahead to the 2021/22 campaign, eager to build on the positives of his debut season at the helm.
Signing off the 2020/21 term on Sunday, our Head Coach led City to our 29th win of the season, as the Vitality Women's FA Cup holders secured a place in the quarter-finals with a 5-1 victory over West Ham.
Although the season ended with a solitary piece of silverware – the 2019/20 FA Cup and Taylor's first trophy triumph as boss – we fell short in the FA Women's Super League, Champions League and Continental Cup.
While Taylor admitted the squad's hopes had been higher, the 48-year-old says he has been impressed with their efforts in his first season in charge – and is excited to discover what the team are capable of achieving.
CITY+ | SIGN UP TO ACCESS EXCLUSIVE CITY CONTENT
A late second half flurry inspired by substitutes Sam Mewis and Rose Lavelle completed the campaign to ensure safe passage into the last eight, with five different players on the scoresheet – a fitting reflection of a collective contribution.
"It took us a while in the second half to pull away," Taylor conceded, in reflection of the final day win.
"We had a similar game last week that could have had a similar scoreline. We're pleased to stay in the competition and defend our title for next season.
"I thought Sam and Rose added energy and tempo to the game. The fact both of them scored was a reward for the energy and impetus they gave us.
"At that point, we needed players who have been in that position previously – we needed that experience.
"There have been some real positives [this season] but there's a lot of work to be done.
"Even if we'd have added another trophy to the one we'd already won, we'd still always be looking for areas to improve.
"We've come close in a lot of competitions and I always look at small details. You're never that far away but you can feel sometimes you have a lot of work to do. I think that's where we're at.
"The players would have benefitted from having this season where they've worked with myself and we're hoping to continue with that with as many players as we possibly can.
"There'll always be players coming and going – that's natural in any season. I'm just really looking forward to the new season.
"We really want to build on what we've done so far. There's a lot of real positives but it's all about trophies. We want to be successful and win things, and we want to go further in the Champions League. That's clear.
"It's not easy but that's the challenge and that's what we want to achieve."
Taylor also heaped praise on stand-in goalkeeper Karima Taieb, who has deputised in the absence of Ellie Roebuck for the past two games, producing some excellent saves in the process.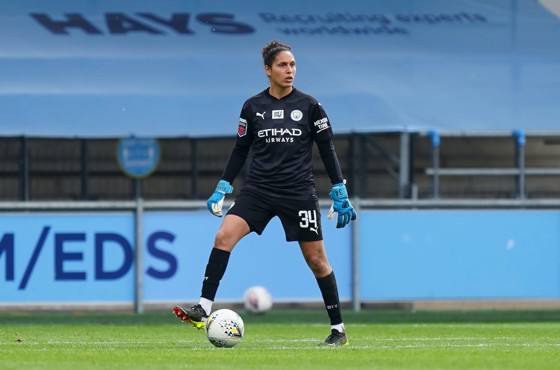 "Kari did great," he agreed. "She came in last weekend against West Ham and in this game, she made two unbelievable saves in the first half when we had some sloppy moments.
"Fortunately, we had her back there making those big saves. When you look at how we play in terms of our build-up, it's a good game for a goalkeeper to have so many scenarios like she did, experiencing high pressure and us trying to build.
"We got some things right and some things wrong but she's great in that respect that she'll take ownership of it and see what she did really well and what potentially could be better.
"We had no hesitation. Losing Ellie is tough – she's huge for us and a top 'keeper – but to a certain degree, it's nice for Kari to get a reward.
"She's supported Ellie so well this season. She's a bit like Scott Carson – she's had a couple of games towards the end of the season! It's nice for her."
Finally, asked whether he can now enjoy a close-season break, or whether the Club are likely to be active in the summer transfer window, Taylor replied he expects another eventful period.
"I think it will be a busy summer," he said. "As much as I was thinking this'd be a good chance to get a good pre-season in, it will be difficult with the Olympics and we have a lot of players who will be attending that.
"On the rebound of that, I think the end of August will be a Champions League qualifier.
"We'll literally have six or seven training sessions with those returning from the Olympics, which gives you an understanding where we'll be at.
"It's not easy but like most things, we'll have to adapt and we've been good at that this season. It's something we'll deal with but I am looking forward to a break!
"There's an opportunity for us to progress with players we've worked with previously. There will always be new players coming to the Club – we always look to recruit the very best but also work with what we have. That's really important.
"I probably had a slightly easier transition (last summer) with no major competitions going ahead.
"Our issue was probably players arriving, especially in a pandemic – if we could have got them in earlier, we'd probably have been even better and more suited to the way we were playing but who knows?
"There's been lots of positives this season and we need to build on that."