Ruby Mace has been named in the England squad for this month's UEFA European Women's Under-19 Championship qualifiers.
The 18-year-old made her senior debut for City in Wednesday's 5-1 Continental Cup triumph over Everton, lining up in the heart of defence alongside fellow new face Alannah Kennedy.
And that performance, as well as her progress since making a summer switch from Arsenal, have seen Mace awarded a spot in Gemma Davies' squad for the upcoming international break.
Fellow City youngster Khiara Keating, on loan at Fylde Ladies, has also been given the nod.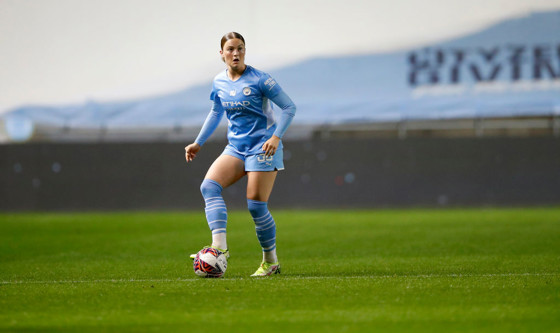 The Young Lionesses travel to the Republic of Ireland for round one of qualifying, taking part in a mini tournament in Limerick involving the host nation, Northern Ireland and Switzerland.
England start against the Republic of Ireland on Wednesday 20 October, before taking on Northern Ireland three days later on the same day that the senior sides will meet at Wembley Stadium in EURO qualifying.
CITY+ | SUBSCRIBE TO ACCESS EXCLUSIVE CONTENT
The group finishes on Tuesday 26 October, when they face Switzerland with the top three teams progressing to the second round next year.
Ultimately, from the 52 countries that entered overall, seven teams will qualify for the eight-nation finals in the Czech Republic to be played between 27 June and 9 July.
England Women's under-19 squad
Goalkeepers: Khiara Keating (Manchester City on loan at Fylde Ladies), Eleanor Heeps (Tottenham Hotspur on loan at Blackburn Rovers)
Defenders: Teyah Goldie (Arsenal), Olivia McLoughlin (Aston Villa), Jorja Fox (Chelsea), Caitlin Smith (Clemson University), Lucy Parry (Liverpool), Ruby Mace (Manchester City), Tara Bourne (Manchester United on loan at Sheffield United)
Midfielders: Laura Brown (Aston Villa), Maisie Symonds (Brighton & Hove Albion), Mia Ross (Charlton Athletic), Charlotte Wardlaw (Chelsea on loan at Liverpool), Grace Clinton (Everton), Lucia Kendall (Southampton)
Forwards: Alex Hennessy (Arsenal), Freya Gregory (Aston Villa), Missy Goodwin (Aston Villa), Aggie Beever-Jones (Chelsea on loan at Bristol City), Lucy Watson (Sheffield United).