City have recruited a second United States heroine and World Cup winner in Rose Lavelle.
Following in the footsteps of compatriot Sam Mewis, the midfielder has made the move to Manchester.
Here are 10 things you may or may not know about our new Blue…
1. AMERICAN DREAM
Rose is very close friends with City's new number 22 and fellow midfielder Mewis.
Although Rose claims they are complete opposites in terms of personality, she says she's thrilled to be embarking on this new challenge alongside her best friend.
"I was really excited she was thinking about it too," she admitted.
"I'm a homebody. Going overseas a was a little uncomfortable for me but being able to have familiar face – somebody who is one my best friends – over there to share the experience with, I was really excited.
"It's so funny. We're the opposite of each other but get along great. Me and Sam really butt heads. No-one yells at me like Sam yells at me!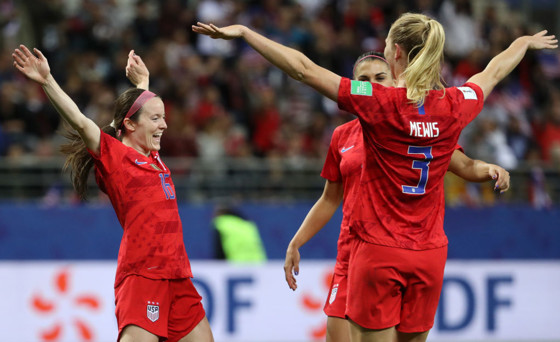 "We always ask each other: 'When did we become best friends?' We have no clue!
"I love her. It's been so fun to be on the national team and play with her and now we get to play with each other for our club and our national team.
"She's one of those people who is so funny without even trying. People just laugh at her!"
2. WHIZZ KIDS
Lavelle also played alongside Janine Beckie at youth level!
"When we were young, I played a little with her with the youth teams," she explained.
"I'm excited go get back on the field with her and play with her rather than against her like I usually do when the US play against Canada!"
3. LETHAL LEFT FOOT
Similar to her fellow number 21 David Silva, she is admired for her trickery, footwork and 'magician-like' ability to conjure space.
Rose is also admired for her lethal left foot and likes to drive at the defence and let fly – as was evident with the glorious goal she netted in the World Cup Final against the Netherlands last summer.
After that game, teammate Kelley O'Hara hailed: "She just does things casually that are out of this world!"
Rose laughed: "I'm very left-footed. I love my left foot!"
"When I get on my left foot, I like to shoot. I don't know a lot people who are left-footed so I guess I use it to my advantage!"
4. BOOK WORM
Rose is an avid reader and says reading helped her to cope with the pressure of the World Cup.
"I stayed off my phone as much as I could and I read a lot," she revealed.
"I love reading – that's my biggest hobby outside of football. I'd say I have two hobbies: buying books and reading books – and I have a much higher rate of buying them than reading them!
"I really like non-fiction. I've just finished Catch and Kill and I should be the spokesperson for Bad Blood – that was really good! The Sun Does Shine is also very good.
"It helped (at the World Cup) – I wasn't really engaging (in social media) too much.
"Anyone who's been in that tournament, it's very high pressure with a lot of stakes on the line."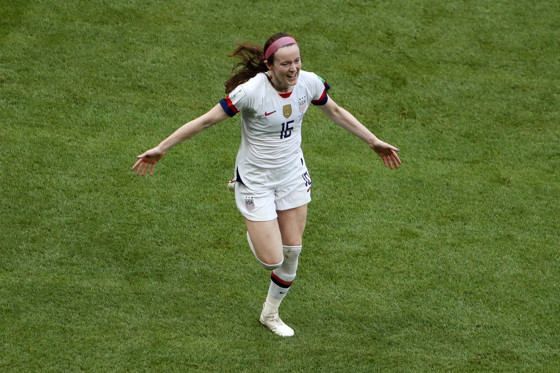 5. A PIZZA THE ACTION
Rose watched the USA clinch the 2015 World Cup in a pizza parlour with some teammates from an amateur team in Seattle!
The following November, while still a student, she received her first senior call-up to a training camp.
"I was really nervous," she remembered. "I'd grown up watching that team, looking up to so many of the players.
"I got into camp and I was like: 'Oh my God, I'm eating dinner with them!'
"When I got on the field, I felt a lot better. Each camp, I grew a little more and got a little more comfortable.
"The more you're in that environment and succeed and do well, the more confidence you have in yourself."
6. WORLD CUP WONDER
Scoring three goals at the 2019 tournament, including her super strike in the Final, she was awarded the Bronze Boot and was included in a ten-strong list of players who "dared to shine" by the FIFA Technical Study Group. City and England star Ellen White also made the list.
Rose also netted in the Final of the 2018 Tournament of Nations competition, lifting the trophy with Mewis and former City star Carli Lloyd.
Following her success in last summer's tournament in France, she was awarded the key to the city of her native Cincinnati, Ohio!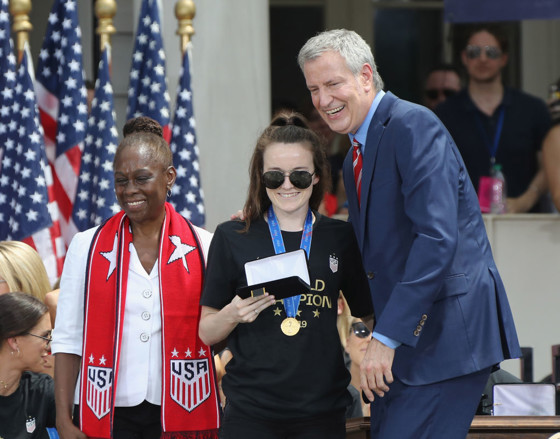 Describing her overriding emotion after scoring in the World Cup Final, she describes the feeling of sheer relief!
"That goal was the most memorable, I felt so relieved after," she recalled.
"The way the game was going, we had control of it. I felt after we got the second goal – the insurance goal – that if we buckled down and kept playing how we were playing, we'd have the game.
"It was wild. When the whistle blew, I just felt this relief.
"The whole time, I was on a high. When the tournament ended and we'd accomplished what we'd set out to accomplish, you think: 'Oh my God, we did it!'
"Then, once you get the medal and you're celebrating, it finally hits you. it was fun!"
7. MANCHESTER LA LA LA
Rose says one of the biggest factors that drew her to City was the opportunity to experience Manchester's football culture!
"I'm excited to get over there and see the football culture – how everyone lives and breathes it," she revealed.
"It's something I've never experienced before and I'm excited about."
8. ICONS AND INSPIRATIONS
Growing up, she idolised USA star Mia Hamm and dressed up as her heroine at school to present a book report!
She also loved Julie Foudy and Kristine Lilly.
"This sounds cliché but I was obsessed with Mia Hamm," she said. "Basically everyone on that team: Julie Foudy, Kristine Lilly…
"I was a huge fangirl! It's so cool to have met them.
"One of things I always say is that I think back to my nine-year-old self and if she knew that now those players know who she is and watch her games, she'd think it's so cool.
"I'm 25 and I still think it's cool!"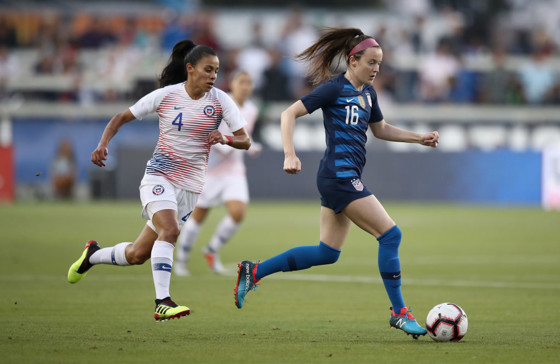 9. LIONESSES' ROAR
Rose's first senior international cap arrived against England (and several of her new Club teammates) in the 2017 SheBelieves Cup.
The Lionesses triumphed 1-0 but Lavelle's performance earned praise from US Head Coach Jill Ellis and two-time World Player of the Year Lloyd, who declared she was "very proud" of her compatriot and impressed with her creative spark.
Lavelle says she is eager to be playing alongside her English counterparts for a change!
"Every time we play England, it's a really tough game," she reflected.
"It's become a bit of a rivalry.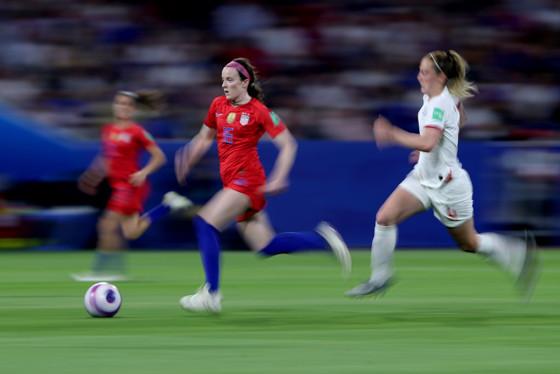 "I'm excited to be on the other side – to be playing with them now instead of against them!
"Ellen White is a great goalscorer. I'm excited to play with her and hopefully, link up with her.
"I'm excited to play with Steph Houghton too and Jill Scott and Keira Walsh in midfield.
"They're all great players."
10. TOP DOG
She has an English bulldog called Wilma, who shares her love of apple slices and supported her 'native' England at the 2015 World Cup!
"She is so cute," Rose grinned. "She's going to be with my parents while I'm in Manchester.
"A common misconception is that I'm Wilma's mother – she's my sister!
"My parents got her when I was a senior in high school. She's like the cutest little sister!
"I have a pet cam app on my phone and I can watch her and shoot treats out to her and talk to her through it. It works great overseas.
"I thought when I went to the World Cup that the connection would be a little lost but it worked great and I'll be shooting her treats out every day!"
A whole 1 minute and 32 seconds of @roselavelle talking about Wilma 🐶 circa 2014 because you deserve this on a Monday. #InternationalDogDay pic.twitter.com/6U6N17XFvh

— U.S. Soccer WNT (@USWNT) August 26, 2019