City have signed United States star and World Cup winner Sam Mewis.
Here are 10 things you may or may not know about our new midfielder…
1. PRIME TIME
Watching City's Amazon Prime documentary 'All or Nothing' cemented her decision to join the Club!
"I love watching the men's team play," she smiled. "I know the city of Manchester is blue because everyone tells me that!
"It's a city that loves soccer so much. I watched the Amazon series on Man City and it was so cool.
"I watched it again recently when I was deciding to come and I was like: 'Oh my God, I have to go!"
2. SOCCER SIBLINGS
Her sister, Kristie, also played for the United States women's national soccer team and plays professionally for the Houston Dash, who have just lifted the NWSL Challenge Cup.
The siblings made history, becoming only the second pair of sisters to play together for a US Women's National Team.
"She's been a huge part of my career and my life," Sam said. "Growing up, we really challenged each other and we always had a training partner.
"I was always chasing after her, trying to be as good as she was.
"Her journey came before all of my steps and it really validated what I wanted to do when she first got called into the national team.
"It was really important for both of us to have each other growing up."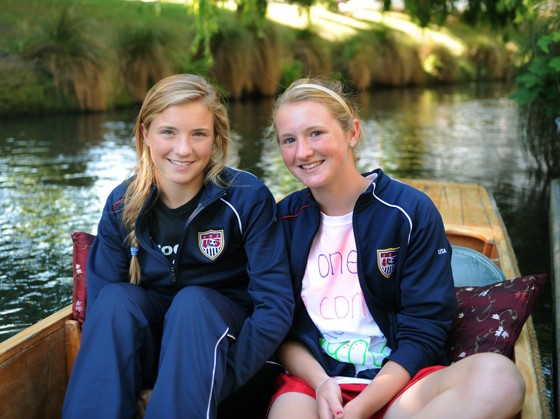 3. Shock of the lightning
Mewis played against City in the 2019 Women's International Champions Cup tournament, forcing Ellie Roebuck into an excellent save before the game was delayed for one hour, due to severe lightning!
"The game was really competitive and fun to be part of," she reflected.
"I noticed City's technical ability – you could see in the players they had grown up with the ball at their feet – they were so technically sharp with tactical awareness."
4. Attack, attack, attack
The midfielder prides herself on her dribbling ability and aerial threat, hoping to showcase her attacking quality with through-balls, long-range shots and set-piece prowess.
"I'm really excited to see how I fit in with the group," she declared.
"Maybe I'll bring a bit of a unique style being American and having played a really high-pressure, attacking-oriented style in the last few years."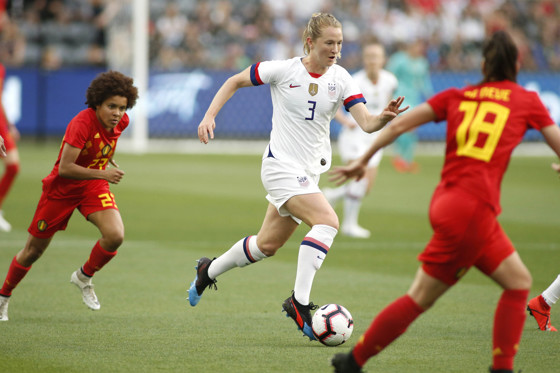 5. Familiar faces
Having faced England at international level for the United States, Mewis is already familiar with the majority of her new teammates and says she has huge respect for Lionesses legend Jill Scott.
Standing at 6ft tall, the US star also believes there are similarities in their play.
"I have a lot of respect for Jill Scott," she stated. "I know we're both tall and we're going to be in midfield together.
"It will be really good to play with somebody like that. I have so much respect for her and the longevity of her career and how she's played for such high level for such long time.
"We definitely have a similar stature, wanting to be an aerial presence on the field."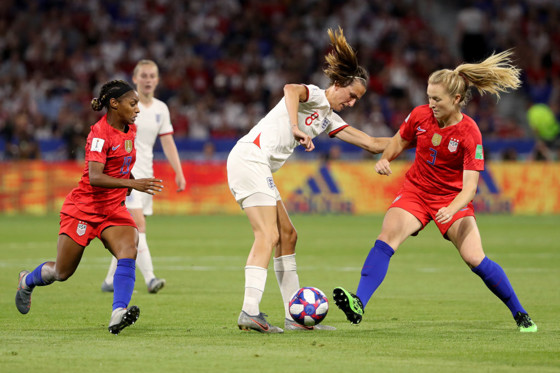 6. A little help from her friends
Encouraged by compatriot Carli Lloyd's positive experience at City, Mewis reached out to her fellow US star to discuss her potential move to Manchester – and was also given some useful advice from Texas Tech University and new teammate Janine Beckie!
"Carli was so positive about her experience," she revealed.
"She always raved about the facilities and I remember when she was there, she told us about how much access she had and how she could go out and work extra on things she wanted to work on, like free-kicks for example.
"Her experience was a great one. I'm really hopeful and confident mine will be similar.
"I've never played with Janine Beckie but my sister has and I feel like we have a lot of mutual friends.
"She reached out to me and I was asking her what to pack. She was super helpful and said: 'Yoga pants, sweatpants and sweatshirts!'"
7. ICON INSPIRATIONS
Growing up, Mewis idolised US legends Mia Hamm, Michelle Akers and Abby Wambach – and was able to play alongside the latter!
"I grew up watching the US National Team," she said. "I loved Mia Hamm and Michelle Akers and as I got older, Abby Wambach.
"I got to play with her a couple of times, which was a really cool experience."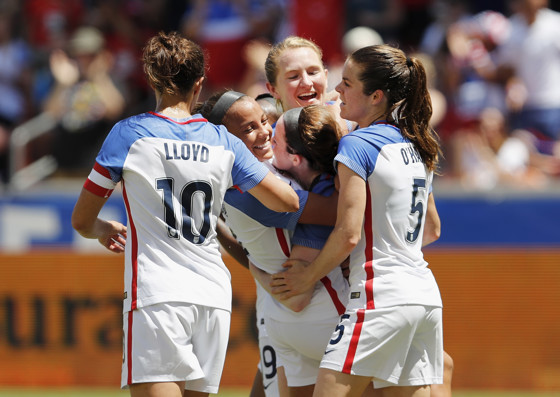 8. KDBRiLLIANT
In terms of male idols, she also loves watching Kevin De Bruyne.
"As I got older, I started watching more men's soccer – obviously, everyone loves watching Messi and Ronaldo but recently, I've become more aware of world soccer and I love watching Kevin De Bruyne.
"It's been really fun."
9. STARS, STRIPES AND SILVERWARE
Mewis enjoyed national team success at Under-20 level in the CONCACAF and Women's World Cup, before being selected as an 'alternate' for the senior US Olympic team in 2016 - an experience which she says fuelled her hunger for a place in the starting XI.
Netting the winning goal in the 2016 SheBelieves Cup Final, she became a regular name in the senior national team and in 2019, she played six of her country's seven games at the Women's World Cup, scoring two goals, and became a World Champion.
She describes the moment of seeing the fourth star on the US shirt for the first time as one of her proudest memories.
"I had looked at that jersey my whole life as a piece of history," she reflected.
"For most of my life and career, there were two stars. I watched the 2015 team get the third star.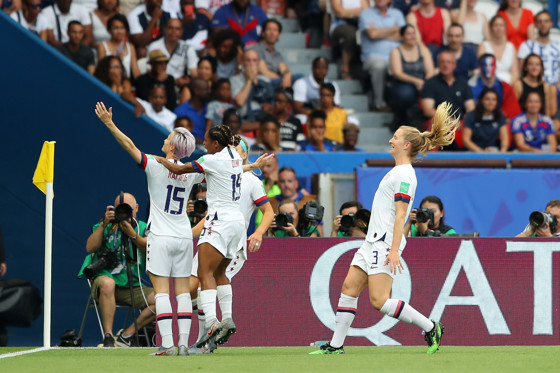 "Seeing that fourth star for the first time and realising I had been part of putting that there – and that it was going to be there forever – gave me a flashback of my whole life.
"I realised I was a part of history. That star, which I helped put there, was going to be there forever for whole next generation.
"It was a tangible moment of seeing something I'd been a part of and the change it was making.
"It really struck me because the national team means so much to me – the jersey means so much to me – and it was a really emotional moment of relief, pride and happiness."
10. PUPPY LOVE
She has a newly-adopted puppy called Finn, who will hopefully join her in Manchester.
"My husband Pat was down in North Carolina with me during quarantine and we had been wanting a dog but were going to wait until the end of the year, as it was supposed to be an Olympic year," she explained.
"We started asking around places we knew who had dogs locally. He was already named Finn so we kept his name.
"I've only had him for three or four months but I've found myself being a lot more present and mindful. It's been really good for me and it's been really fun. It's allowed me to slow down a bit and enjoy the moment."