Central defenders are not usually renowned for their goalscoring ability but Gemma Bonner may well be an exception to the rule.
Since joining City in the summer of 2018, the 28-year-old has already scored an impressive ten goals in 57 appearances in all competitions, equating the number of goals she netted during a six-year spell at Liverpool.
Of those ten efforts, there have been matchwinners, Champions League leaps and even a goal against her former club... but which is her favourite?
In the latest My Favourite Goal feature, presented by Nissan, the defender reveals her most memorable City strike...
CITYZENS AT HOME | Fun & educational activities to do at home
The pick
I don't score very exciting goals – I'm usually just in the right place at the right time – but I've chosen my goal against Bristol.
I've scored quite a few for City but it was quite a good finish and ended up being a big goal for us.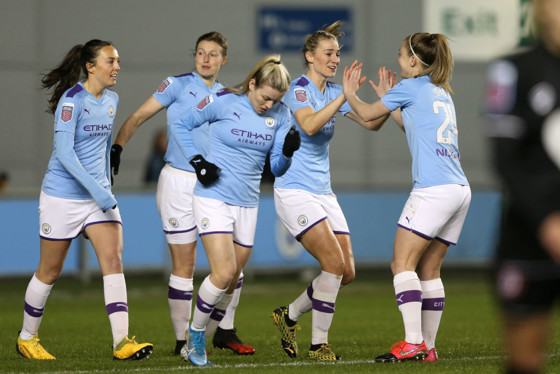 The game
Bristol are a very hard team to beat and we'd had that experience the previous year, dropping points both home and away.
It was a potential banana skin game and scoring early was really important – it settled us down because as we'd found out the previous year, the longer you go on without scoring, the more tense it gets and the more the pressure grows.
Although we didn't score again (and we probably should have), you can sense that we relaxed a bit after the goal – you can get into your rhythm then and start enjoying the game once you have control. Of course, that's what we want to do every game.
There was a sense of relief that we'd got off to a good start because we knew how difficult those games could be.
CITY+ | Free to Cityzens until football resumes
The goal
It was really early on in the game and I remember thinking when the free-kick was awarded that we'd started really well but that I hadn't touched the ball yet!
Everybody had touched it, moving the ball really well, apart from me… so as I was running up for the free-kick, I thought: "I'd better do something here!"
I have a really good understanding with Caroline Weir, especially in terms of her free-kick delivery. I've played with her for a long time and I knew her deliveries into the box are always top quality.
For me, it's just a case of trying to anticipate where it's going to drop and judging the flight of the ball but Caz's deliveries are so good that all you have to do is direct them goalward and you have a very good chance of creating something or scoring.
For that delivery, I actually thought it was going to go a bit further so I had to check back a little and try and get something on it.
It was probably just instinct. I managed to get my left foot on it and guide it in with my first touch!
The celebration
I don't have a good celebration. I need to work on that!
I always seem to end up on the floor in some awkward position and then Steph Houghton – bless her – has to pick me up!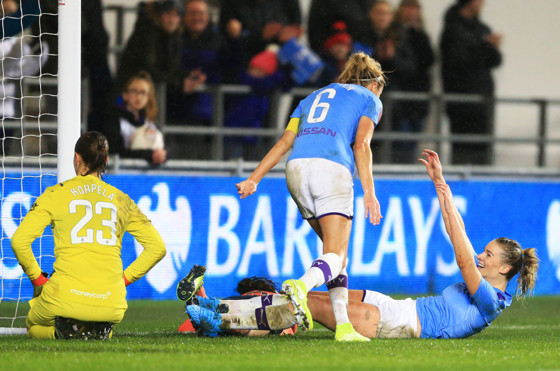 The girls were a bit shocked! I don't think they expected that from me! I was just happy but I think you can see after the goal when I'm on the floor, I'm thinking: "What just happened?!"
I saw the goal was nominated in Jill Scott's Top Five Goals of the Season, which was really nice.
I've only watched it back once but it's good to be in there, especially to have a defender in the top five.
I'd only ever scored a decent goal once before but I was happy with that one!