Everything you need to know ahead of Manchester City's first home game of the 2020/21 FA Women's Super League season against Brighton and Hove Albion.
When and where
City welcome Brighton to the Academy Stadium on Sunday 13 September, with kick-off at 14:00 (UK).
Fans around the world will be able to watch the game live via CITY+, meaning your pre-match, match and post-match are all catered for in one place.
Cel Spellman and Natalie Pike are the hosts and the live pre-match show begins at 13:00 (UK) - one hour before the game kicks-off at the Academy Stadium - and you can tune in via all of our digital platforms.
CITY+ | SIGN UP TO ACCESS EXCLUSIVE CONTENT
City stars Aoife Mannion and Megan Campbell are the guests and will lend their fascinating insights to the pre-match banter as well as sharing their thoughts on our new signings and the campaign ahead.
The guests and presenters return at half-time for a summary of the opening 45 minutes and then, five minutes after full-time, our 30-minute post-match show begins with analysis and opinion on the game as well as responding to fans' questions and polls.
Time permitting, we will also hear a player's reaction and Gareth Taylor's thoughts.
The game is also available via the FA Player, whilst we will also have updates throughout on our dedicated matchday Twitter account: @ManCityWomen.
A full-report and post-match reaction from both players and manager Taylor will be available on mancity.com after the game.
Rules
For safety reasons in the wake of the COVID-19 pandemic, the fixture will be played behind-closed-doors.
In line with current protocols, additional balls will be placed at intervals around the pitch.
Team news
Summer recruits Lucy Bronze, Alex Greenwood and Rose Lavelle may be in contention to make their debuts, while Aoife Mannion, Megan Campbell and Lauren Hemp remain sidelined through injury.
"Both teams made an opening winning start last weekend so the early exchanges will be important for us to gain that advantage that we are looking for.
"We've worked hard during the week and it's nice to get back to the Academy Stadium for a home game.
"It's our first in the FA WSL this season and we'll look to build on the win over Aston Villa.
"It's important we continue with this run we're on."
Opposition preview: Hope Powell
"It's always nice to get off to a good start and I was really pleased with our performance [against Birmingham].
"The new players have added something.
"We have got to possess the ball better under pressure and there were probably a few too many unforced errors which, and with no disrespect to Birmingham, against a better team could have left us in trouble.
"So we go away and work on those things and get ready for next Sunday's game against Manchester City."
CHECK OUT OUR 2020/21 WOMEN'S TRAINING RANGE
Last time out
City made a winning start to the new campaign with a comfortable 2-0 victory over Aston Villa, with Georgia Stanway netting both goals.
Previous encounters
4 Feb 2018, FA Cup: Brighton 0-2 City (Christiansen, Emslie)
21 Oct 2018, FA WSL: Brighton 0-6 City (Stanway x3, Weir, Parris, Emslie)
9 Jan 2019, FA WSL: City 7-1 Brighton (Parris, Hemp 2, Weir, Emsie, Stanway, Beckie)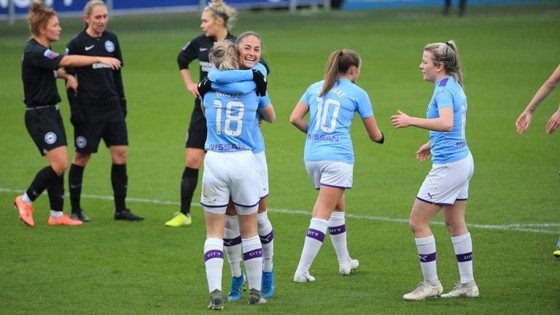 27 Jan 2019, FA WSL: City 3-0 Brighton (Parris x2, Bonner)
5 Dec 2019, Continental Cup: City 5-0 Brighton (Houghton, White, Hemp, Stanway, Bremer)
Last meeting
City eased to a 5-0 win when Brighton last came to the Academy Stadium in December 2019.
The hosts had five different players on target, with Steph Houghton, Ellen White, Lauren Hemp, Georgia Stanway and Pauline Bremer all finding the back of the net in a ruthless attacking display.