City and England star Lauren Hemp, celebrating her 20th birthday today, recalls the moments that shaped her football career…
1. First footballing memory
Playing in the backyard every evening with my sister, as the sun was setting until about 10o'clock at night!
My sister used to play football. She's a couple of years older than me and I used to go and watch her play at Norwich.
I was just there. I wasn't actually really keen on watching the football! I enjoyed dancing and I'd just be doing my little dances in the corner, while she was playing!
She'd play out in the garden and I joined in. We both enjoyed it and we both wanted to win and from there, I became interested.
Dad noticed something in me and encouraged me to give it a go so my sister and I played together and joined a local boys team, North Walsham.
From there, I found a real love of the game.
2. First game
After North Walsham, I joined Norwich City's Centre of Excellence (I was accepted in the second year) and there was one game, which really stands out for me as probably my earliest memory of a match.
We played Millwall, who were a really strong, physical team. It was a massive game for us.
Being that young, you just want to take everyone on and be a gloryhunter, scoring loads of goals! At that time, I was scoring five or six every week!
We won that game 2-0 and I was treated to a McDonald's afterwards, which of course doesn't happen now!
3. First senior club
From Norwich's Centre of Excellence, I made the move to Bristol.
Going from Norwich to Bristol was a massive step, especially aged 16. It was quite daunting - I never liked being away from home.
It was a massive challenge for me and my parents felt it more. During the first couple of months, they'd ring me all the time.
I was living with a few of the girls my age on the team, which was nice - we got on really well - and I had college so I was always busy or out with my friends, which helped.
That was the first big club I played for. Bristol were in the WSL 2 at the time so it was my first experience of professional football.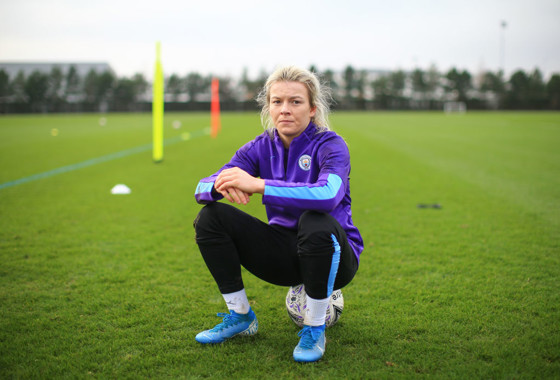 4. First senior goal
I scored my first goal for Bristol on my debut against Watford!
I came on at 60 minutes and scored two minutes later!
I was played this through-ball and I beat the goalkeeper and slotted it in. Everyone came charging towards me, celebrating. They were so happy and I couldn't believe it.
I got this feeling in my stomach and I was pinching myself, thinking: 'Is this really real?'
I'd never played in front of a crowd bigger than 10 and there were around 100 people there. For me, it was massive - playing professionally for the first time and getting a goal!
From then on, I noticed I was quite quick compared to others and despite being so young, I was able to get past a few players.
The manager Willie Kirk started to believe in me and he kept putting me on with 20 minutes to go, although I was only 16.
He was the first one who really believed in me, which I'm really thankful for.
5. Joining City
It was so unexpected! I never thought it would ever happen.
When City first made contact, I didn't really believe it! I was sitting at home in Bristol and I was completely shocked.
I rang my mum to tell her I'd just got off the phone with City and she was like: 'No way!' I think she called Nick Cushing herself to ask if he was being serious!
CHECK OUT THE 2020/21 PUMA COLLECTION
It was a really big deal. The thought of playing with Steph Houghton and Jill Scott - players I'd looked up to - was incredible.
I was like: 'Are you sure you want me? I'm only in my first major season at Bristol!'
It was a big move. I went to see the stadium and the Academy with my mum and dad and we were all looking at each other, thinking how major it was.
Bristol have a great set-up but you could see how the clubs compared and it was an opportunity I couldn't turn down.
6. City debut
My debut for City was against Chelsea and also my first start.
Going into the game, I was really anxious because it was a massive game. The two teams are rivals - both always challenging for silverware - and I wanted to put in a good performance to get a result for the team.
I was nervous about starting alongside players like Steph, Jill, Keira Walsh, Georgia Stanway and the other big names but during the game, I found my feet and it became easier.
I enjoyed every minute. I knew this was the Club I wanted to be at and stay at.
7. First City goal
It was against Aston Villa in the Continental Cup.
I'd been injured for quite a period of time - around four or five months with a hamstring injury - and I think it was my first game back.
I came on for the last 20 minutes and scored my first goal from close range, which was a big moment for me.
It had been a long time coming. I'd started the season in September but then suffered an injury, which wasn't a great start.
I'd been so eager to get a goal. I scored it in December and I enjoyed every minute.
I'd made an assist just before and then the goal topped it off. We won 4-0 and went through to the next round of the cup.
8. First trophy
It was the 2018 Continental Cup Final win over Arsenal at Bramall Lane.
There were mixed emotions for me, as I missed a penalty in the shoot-out, but most importantly, we won the game.
Of course, I was disappointed to miss but looking back, I'm glad I stepped up to take it.
I never want to be fearful of taking a penalty. It doesn't matter how hard or clean you hit it, if the goalkeeper goes the right way, she can save it.
It's the luck of the shoot-out but if I could go back again, I would take one again. It was unlucky but I learned a lot from that day.
9. Scoring at Wembley in the FA Cup Final
Winning the FA Cup was incredible. Scoring topped it off and I actually nearly got a couple more towards the end!
I'd never been to Wembley before so having the opportunity to get on the pitch and then to score as well was amazing.
Jennifer Beattie kicked it in behind the defence and I could see the 'keeper coming out. I knew that if I could get on the end of the pass, all I had to do was kick it!
CITY+ | SIGN UP TO ACCESS EXCLUSIVE CONTENT
I managed to get onto it and I was just aiming for the goal, although I didn't expect it to go in from that far out.
I made contact mid-air and at the speed I was running, it made me fall. I think my feet were moving quicker than my mind!
At the time, I thought it was a good shot but it was only when I did a roly-poly and heard the crowd cheer that I knew it had gone in! It was perfect.
10. senior International debut
I'd been to the 2019 SheBelieves Cup as a training player and I was called up as a training player for another camp.
A few players went home injured and Phil Neville came up to me and Chloe Kelly and said: "You're in the squad for tomorrow."
We couldn't believe it! We said to each other: "That was casual!" It was crazy.
I made my debut the following day against Portugal. I started on the bench and my legs were shaking!
It was 0-0 and I was thinking: 'Please score so the pressure is off me a bit!'
Phil kept asking me to warm up so I had an inkling and then he shouted me over and I was thinking: 'Oh my God!'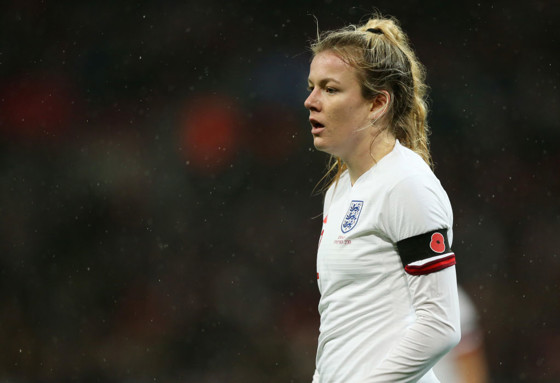 My hands were shaking but I knew that as soon as I was on the pitch, I'd be fine. It was just the thought of getting on it!
I thought: 'I'm going to take this opportunity' and although there wasn't much time left, every time I got the ball, I looked to get forward.
Phil is always telling us to be confident and play with no fear and I think I did that. It was brilliant.
Happy birthday, Lauren!