Gareth Taylor has revealed that Chloe Kelly is due to have surgery 'fairly imminently' on the ACL injury that she sustained against Birmingham City.
The winger's outstanding debut season was cut short in Sunday's 4-0 win over Blues, when she was stretchered off midway through the second half after colliding with defender Rebecca Holloway.
The damage was then revealed on Tuesday, with Kelly set for an extended spell on the sidelines.
While the boss admitted that the 23-year-old, who has provided the mosts assists in the league this season, is a big loss, he insists that she is remaining upbeat.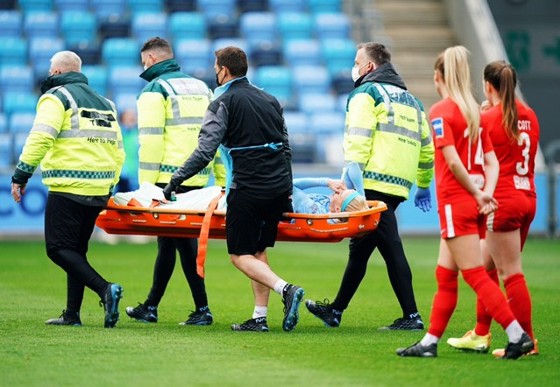 "It was obviously a blow we feared the worst when we saw the amount of pain Chloe was in," Taylor reflected.
"I think it's a real disappointing end to Chloe's season after making such a massive impact for us, she's consistently been one of the best players in the WSL this season.
"She's been fairly positive, we've rallied around and given her the support, she's due to have surgery fairly imminently which is great.
"She's fairly level-headed in that respect and knows that unfortunately this can be common in the game and certainly ACL's.
"I think it's a good opportunity for her now to get really strong and come back really fit and healthy.
"We'll have to manage in between but the girls have been really good around her and after her initial disappointment she's taken it with a real positive mind."
Taylor knows better than most about the painstaking rehabilitation process that goes into recovering from an ACL, having sustained the injury himself during his playing days.
But the boss believes that Kelly will come back stronger, and offered her some words of wisdom as she begins her journey back to fitness.
He also called for her to draw on the experience of her fellow winger, Lauren Hemp, who hit the ground running after recovering from a hamstring problem earlier this season.
He said: "Players will always say if they've been out for an injury for a few months it's an opportunity to get really strong, fit and healthy.
"Sometimes you play three games in a week you don't get the opportunity to work out in the gym.
"All these things we do from a sports science perspective, medically and from our gym programmes, it's an opportunity to get really strong, really healthy.
"And I think we saw that with Lauren Hemp when she had her hamstring injury.
"It was a really good opportunity for Lauren to maybe identify other areas of weakness that she could improve on. That's been the main message (to Chloe)."
The boss declared that there are no fresh injury concerns ahead of Sunday's trip to West Ham, as we go toe to toe with Chelsea for top spot in the WSL.
Defeat for the league leaders at home to Reading, coupled with a City victory over West Ham, would see us leapfrog Emma Hayes' side and secure our second ever title.
We could also be crowned champions by virtue of goal difference if Chelsea draw with the Royals and we are able to beat the Hammers by four clear goals.
Taylor insists that City are solely focused on what they can affect, but also conceded that he is proud of how his debut campaign at the helm has gone, regardless of Sunday's outcome.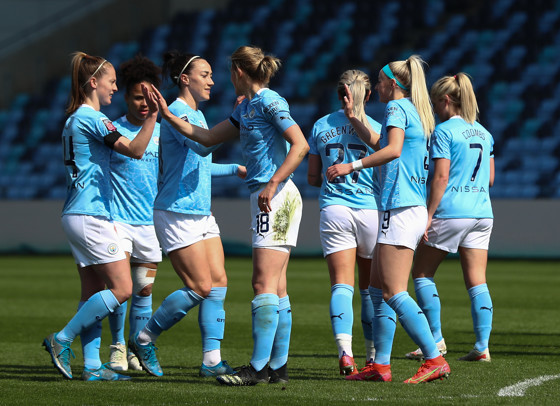 "I've enjoyed every minute and I'm really proud of what we've achieved so far," he reflected.
"It's not in our hands on Sunday but the fact we've taken it to final game is a real positive.
"We're gong into this game Sunday really ready to give it our very best, get the result we need and see what happens.
"That's all we've done all season, we've taken it game by game, focused on that, not looked too far down the line.
"Sometimes when you start to worry about elsewhere and the next game you can lose track.
"We always try to focus on what we can affect and what we can determine, we'll train tomorrow, travel down to Dagenham and get ready for Sunday's game."
The City boss has always warned against complacency, and he expecting the Hammers to push us to our limits at the weekend.
Olli Harder's appointment at the end of 2020 has seen our opponents steer themselves clear of the WSL trapdoor, and they have lost just one of their last five matches in the competition.
In the reverse fixture at the end of January, City ran out as 4-0 winners at the Academy Stadium, but Taylor was impressed by the manner in which his counterpart approached that game.
He also heaped praise on the job Harder has done during his brief time in the dugout so far, believing he has made a huge impact on the Hammers.
Taylor said: "He's done a really good job in settling the club, settling the league position.
"It was a bit of a mini league going on at the bottom for who was going to drop out, those situations are never easy, especially someone coming in from a different angle.
"Even in the game when we played each other, even though we were successful in that game with scoring and breaking through, they still came out and engaged us and made it difficult.
"We don't expect it to be any different on Sunday.
"Knowing his personality a little bit, they'll want to be successful and finish the season off properly, and rightly so."