Gareth Taylor says Aoife Mannion will not be in contention for Sunday's Vitality Women's FA Cup visit of West Ham United.
The defender, who made her long-awaited return from an ACL injury against the Hammers back in February, had been gradually gaining more minutes over the past months before suffering a set-back before last Sunday's trip to East London.
Asked for a squad update ahead of this weekend's fifth round cup clash, Taylor explained the 25-year-old will not be available.
The Head Coach also added that there are no new injury concerns with Chloe Kelly (ACL), Steph Houghton (Achilles), Ellie Roebuck (ankle), Demi Stokes (thigh) and Megan Campbell (knee) all sidelined.
"It's pretty much the same numbers as what we had last weekend," he explained.
"Aoife is not going to make it back in time. It's a little bit more serious - not super serious but it's going to take a little bit longer than what we first thought.
"Apart from that, the other players that you know about remain the same."
Back-to-back holders of the FA Cup, City welcome to Hammers to the Academy Stadium, looking to continue our defence and claim a spot in the quarter-finals, which will resume in the 2021/21 campaign.
Having edged a breathless encounter against Olli Harder's side at the Chigwell Construction Stadium last time out on the final day of the FA Women's Super League, Taylor says his side have learned a lot from the experience and are in good spirits, despite narrowly missing out on the league title.
"Everyone's fairly good," he declared. "We took a couple of days in terms of giving the girls a bit of a breather. It's been a long season.
"We've been fairly consistent and we want to finish strongly. We gave them some extended time.
"As we're playing West Ham again, we know about them so there wasn't a need to delve into them again. We're prepped on that front, although there are obviously different options they can do.
"I don't think we were surprised in what we saw. They're difficult to beat with a good clean sheet record and a run of draws, which showed evidence of why they'd retained their WSL status.
"They were difficult to play against and we learned a lot from the first game. Ideally, if we'd have taken one of our many chances in the first half, there would possibly have been a different dynamic to the game.
"We didn't get to play them until the second part of the season, when they were in their transition period. They were resolute and solid.
"I've always said: whoever you play against, when they play with a back five and a lone striker, it's difficult.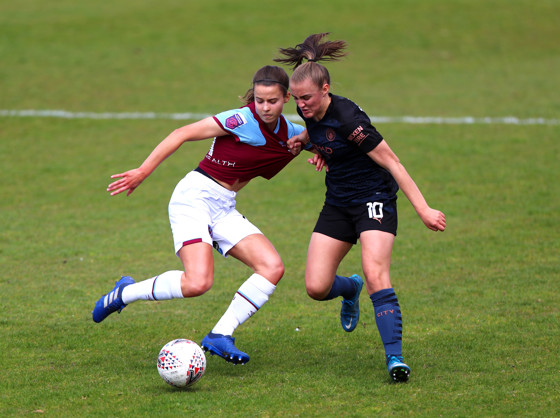 "We need to have variety in games, using the space behind, creating space in between the lines and using the width. Nothing really changes. In a few games this season, we've tweaked things to help.
"There are going to be commitments elsewhere over the summer for a lot of our players. Minds will be turning to that but we have to make sure we're prepped as well as possible to make sure we're in the quarter-finals of the FA Cup."
With this week's incredible news that City's men's, Elite Development Squad and Under-18s have all won their respective Premier League tournaments, former Academy coach Taylor (who led the U18s to Premier League Cup victories in 2019 and 2020) expressed his pride.
"It's brilliant," he declared. "I'm really pleased for Carlos Vicens in winning the Under-18s title, although they left it late!
"We gave him a bit of stick because we'd been further ahead the previous year! But in all seriousness, it's fantastic and I'm so pleased for him.
"I don't think the Under-23s or second team had won the title for a long time and while the emphasis is not necessarily about winning titles at that age or getting players into the first-team, it's great when you win a competition and you want to do your very best."
Sunday's Vitality Women's FA Cup clash against West Ham (14:00 UK time) is available to watch live on CITY+.