Gareth Taylor says he has no fresh injury concerns ahead of Sunday's FA Women's Super League visit of Leicester.
Live on CITY+, City host the Foxes in the first of three successive home games with just four league fixtures remaining, chasing a top-three spot to secure Champions League football.
Speaking ahead of the clash, Head Coach Taylor was asked of the latest team news and shared updates on Chloe Kelly, Julie Blakstad and captain Steph Houghton.
Kelly, who marked her first start of the campaign with a goal in our 4-1 FA Cup win over West Ham, is now fully embedded, while Blakstad is progressing well from a positive COVID-19 test and Houghton is still pushing to make this summer's European Championships.
On Kelly's fitness since returning from her ACL injury, he replied: "Chloe Kelly is back into it – back full-time, which is good. We have a process of building players up to 90 minutes.
"It was good to give her a first introduction in the league game [against West Ham] and get minutes under her belt in the second one. She has come through the game okay, no issues.
"It is good we have had a few days to prepare. We have had conversations about players and availability over the past few days.
"We had to do that because Julie Blakstad is returning from a slight COVID-19 issue and some were still feeling the effects of a long-haul flight.
"Julie is good. Sometimes, you can lose a bit of fitness with that issue. She was available for the first game with Norway but came out. She has had a few days training under her belt and is quite robust in that respect.
"Steph has hit her first marker. She is stepping up her rehab, she's out of her boot. She is not going to make the end of the season. At this moment, the markers are good for the Euros but we will make that decision further down the line."
City will face Leicester for the fourth time this season with the two sides having met in cup competition, as well as our away league fixture.
Taylor's side have stormed to 6-0, 4-1 and 5-0 wins with the Foxes having endured a challenging first season in the top-flight, but with his side desperate for a European spot, the Head Coach asserts there will be no hint of complacency.
"I think that is something we have done really well: managing what is in front of us," he added. "The levels of competition have been really good. Players know they have to earn their space in the team.
"There is competition in areas and less competition in other areas, which is something we are trying to improve – and also to improve our recruitment in the next few years.
"But the players deserve great credit for handling the now and what's in front of them, especially against West Ham when we had one training session as a full group.
WOMEN'S TEAM HOME TICKETS | BUY NOW
"I don't think any team is good enough to look further down the line. The players know they have to perform to stay in the team. That is the competition we want and need. 
"We have to be totally respectful to the opposition. When you put too much pressure on and say: 'You have to get this amount of goals' it can affect decision-making. That's not what we are about.
"Most teams in the league won't want to concede. They will look at how they can stop that. Unless they're going to play six at the back, we have to manage the situation in terms of a back five or back four.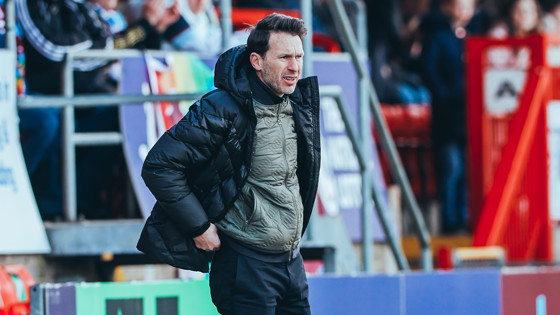 "I think the players have adapted really well to all of these situations we have. When you play that type of opposition, it is about patience and moving the ball quickly in the final third.
"We have shown we can score goals in quick succession. I think for us, it's about attacking the game in the right manner and being respectful to the opposition. Being respectful is trying to score as many as we can."
City's FA WSL clash with Leicester is available to watch live with a CITY+ subscription. The match gets under way at 14:00 (UK), with the broadcast beginning at 13:50.
CITY+ is our content subscription service, which is available on all our digital platforms - mancity.com, Man City app and Smart TV.
It provides access to a host of documentaries, as well as full match replays of our first team and women's sides and selected EDS and Academy games.
Fans can subscribe for just £1.99GBP / month. You can find out more and sign up, HERE.