Gareth Taylor has hailed the influence of Steph Houghton both on and off the pitch after the City captain made her 200th Club appearance.
The defender's mix of silk and steel was crucial in our 1-0 Women's Super League win over Everton, which kept up the pressure on league leaders Chelsea.
And while Taylor was quick to highlight her influence on the match, he also explained the impact she has had on the team and him personally during his tenure.
He said: "She's one of these players who would sacrifice her own personal gain to help others.
"She's that kind of personality, she's helped me and the staff (and is) a real shining light for us as a leader at the club.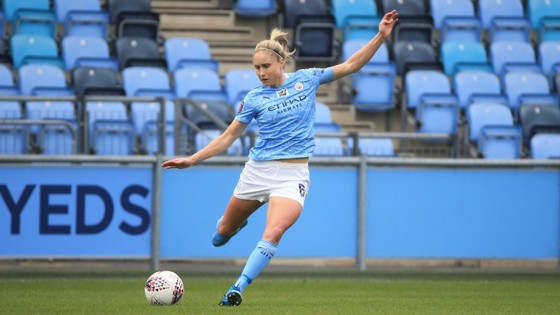 "She put her body on the line today, really dug in, really led the team when we needed to.
"It's a great achievement for Steph and one she fully deserves."
A memorable day for our captain was made even sweeter by our hard-fought victory over Everton, which extended our winning run to nine in all competitions.
City had to show real grit and determination to grab all three points against a well-drilled and resolute opponent, with Keira Walsh's late strike a real statement of our title credentials and big game mentality.
And Taylor admitted that the victory could prove vital in the WSL title race.
City+ | Watch full-match replays of every city game
"(It was) huge. We've had a couple of late goals in the season but I think that one was really needed," the City boss reflected after the game.
"We played some good stuff but there was  bit of disruption in our flow and rhythm.
"But at this stage of the season with six games left it's about results, and it was a big 3 points today."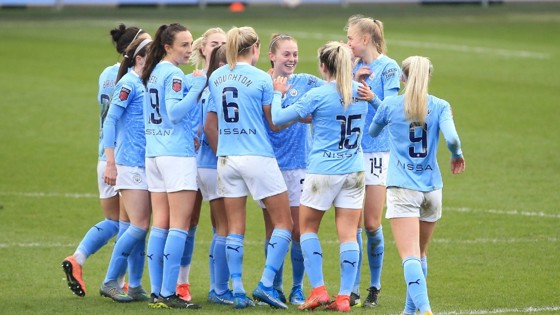 Given City's free-scoring form of late, the eventual winner came from an unlikely source in defensive midfielder Keira Walsh.
But while Taylor joked that she had grown tired of other squandering chances, he also stressed that her role goes beyond helping the attack.
Get your Keira walsh #24 shirt!
He said: "I think regardless of her scoring and making a huge contribution today… the people here at the club understand how big a job Keira does for the team.
"That holding position in midfield is vital for the way we play.
"I was a little bit surprised to see her that high up but I think she was getting sick of everyone else missing chances and thought 'I'll have a go here'!
"(It was) great technique, brilliant execution and it was key for us getting the points."