City could receive a quadruple boost for Saturday's FA Women's Super League trip to Aston Villa, with Laura Coombs, Karima Taieb, Caroline Weir and Khadija Shaw in possible contention.
The quartet did not play in the midweek Continental Cup win over Leicester, though Taieb was on the bench, while Weir and Shaw were also absent in Sunday's 6-0 triumph at Brighton.
However, speaking in his pre-match press conference, Taylor confirmed they could be available for selection at Walsall's Banks's Stadium, depending on how the next 24 hours pan out.
CITY+ | SUBSCRIBE TO ACCESS EXCLUSIVE CONTENT
Asked for the latest team news, he replied: "We're pretty healthy.
"We've had a quick turnaround in games – not much recovery time in between and now we're into another one – but it's good.
"We are potentially a little better in terms of numbers than against Leicester. Laura Coombs is available again from a slight knee problem she had.
"With Khadija, it looks like we might be able to get her in some capacity but we will see in the next 24 hours. Caroline is suffering a little bit more than Khadija but she is back in with us today and there is a return to training protocol that has to be put in place.
"[On Karima] We need to take another 24 hours on that. Before we know it, this game is on us tomorrow with it being 12:30 kick-off. She had improved a lot, Karima – it wasn't anything massive that kept her out of the game but it was a risk.
"We had our eye on Khiara [Keating] getting some minutes in that game and it was great to see a young player who has come though the academy get that opportunity. If she has to play tomorrow, we have full confidence in her.
"We have full trust in Khiara in being able to handle that. She has been on loan in the last six months at a level of football where there would be lots of direct balls. If that is the case again, then so be it. We'll see how Karima checks in today and make a decision on that."
Aside from City's two high-scoring wins, this week yielded further cause for celebration with the welcome returns of Steph Houghton and Lucy Bronze, and the news captain Houghton has committed her future to the Club with a new deal.
Taylor highlighted the importance of securing the skipper's signature but admitted care must be taken in terms of her minutes, as she continues her return from a lengthy Achilles injury.
"For us, it's huge," he said. "It's no secret what we think of Steph. She is a great ambassador for City and women's football.
"She has been amazing whilst here. For us to be able to secure her is fantastic. It creates the consistency we are looking for.
"It weighs heavy sometimes the captaincy and it's no different here but the way Steph handles herself and creates that leadership and drives other players is massive for us. It was a no-brainer and we're really happy for sure.
"We're always looking to be ahead of the game, re-contracting and looking further afield to see where we can improve.
"We'll have to see [if she can start against Villa]. It's pretty full-on at the moment.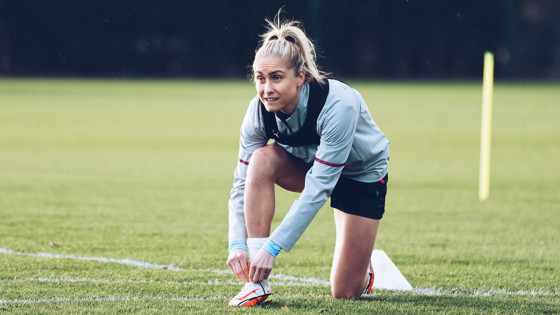 "We had a recovery day yesterday. She has shown real quality in the last couple of games, albeit in a small part against Brighton.
"Her game understanding is to be admired, especially when she has been out for so long. It's the same with Lucy.
"When you have players who can come back and hit the ground running it is great, but what we need to be mindful of is that they are going from nothing to a lot of games in short space.
"It is really important [to protect them] because the players have a high level. You can go feast or famine and have one or two games max in a month or other times you have a game every three or four days.
"What's key and what we are doing well is that piece between games. It is very important to have players out on the training pitch and how we recover. Even on a freezing night at Burton the girls are doing ice baths after. The discipline by the girls has been first class."
City head into Saturday's game in good form, having won our last four games in all competitions.
As Taylor's side look to climb the WSL table into the top three spots and Champions League places, the Head Coach says the squad are in high spirits and fully focused, doing all they can to maintain a high level of performance – both on an individual and collective level.
"Of course, when the team is performing well and that's rewarded in the results, we're in a good place," he added.
"Confidence is high. We're excited by the games before international break.
"With the majority of players coming back – we are still missing a couple of key players who are not too far away – the majority of this period has been pleasing.
"You are never too sure how you will come back after the Christmas break. If you look at last season, we had a real hole with COVID-19 issues but it coincided with one of our best periods of the season where we remained unbeaten in the WSL.
"You're never sure how it will impact the squad. Three games in six days has been really tough and we now go into another periods of six games in seven days, so it is pretty full-on.
"Everyone is looking sharp in training and working hard to give themselves the best chance of being selected.
"Winning games takes you to improved heights. I don't want to put limits one what we want to achieve. We want to win the league. I have always said that.
"We knew that would be tough because of teams improving around us. It is still the objective and always will be. I think we look in a lot better shape now. You can see that. If we can stay in the hunt then who knows what can happen.
"You can see an increase in the quality. When you have an increase in the quality outside of three of four teams, you are going to see teams take points from one another and that makes the gap close.
"Even had it last season with United, Everton started well, Arsenal started too, eventually ourselves and Chelsea fought for top spot. It never changes.
"There are a cluster of teams fighting for the European competition. For us, it never changes, we are pleased, having had a rocky patch to have it in our sights."
Villa head into this weekend's clash having not played since December with their opening game of 2022 – a home game against Everton – postponed.
Though Taylor hopes his side's momentum will prove beneficial, he warned against complacency.
"You would always say you are better with rhythm," he stated. "I would certainly prefer that.
"But the way we started against Brighton after a break, we saw that. It thought we were a little bit off it in the first half so that lends the thought to having more games under your belt.
"But you can never tell. Villa will make it difficult, try not to give anything away.
"We need to impose ourselves and we have done that in the first two games which has been pleasing."
CITY V ARSENAL
Tickets for City's first home league game of 2022 - a crunch FA WSL clash against Arsenal - are now on sale.
Don't miss your chance to cheer on Gareth Taylor's side on Sunday 23 January. Kick-off 18:45 at the Academy Stadium.