Manchester City Football Club are delighted to announce that Ellen White has signed a two-year contract extension at the Academy Stadium.
A stalwart of the Barclays FA Women's Super League, the 32-year-old initially linked up with City in the summer of 2019 and has scored 24 goals in 55 appearances in all competitions so far, including 15 during the recent 2020/21 campaign. 
The experienced forward has enjoyed a successful career so far having played for the likes of Chelsea, Leeds, Arsenal, Notts County and Birmingham City prior to her switch to City, and arrived in Manchester with a plethora of medals and trophies to her name. 
A three-time Continental Cup and two-time WSL title and Women's FA Cup winner with Arsenal, she added to her successes last year when helping City to second successive Women's FA Cup in November. 
On the international scene meanwhile, the striker has been a constant figure for the Lionesses and boasts 34 goals in 95 appearances for England since her debut in March 2010, while she was a Bronze Boot winner in the 2019 FIFA Women's World Cup.  
One of the game's most distinguished names, White has put pen to paper on a new two-year contract with Manchester City which will see her remain in the Academy Stadium until the summer of 2023. 
Speaking about her extension, she said: "I'm delighted to have everything sorted. I've really enjoyed the last two seasons and I'm excited for what the future holds for this team and to be a part of it. 
"We've got some really talented players here and I've really enjoyed working with Gareth, so I can't wait to continue that journey for the next couple of years – it was a really easy decision for me. 
"I still want to develop too as a player - I'm 32, but I still want to learn and get better. I'm surrounded by a great group of players who constantly push each other to improve in a competitive environment.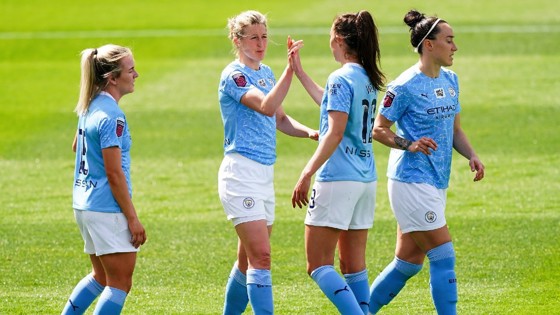 "We've already won the FA Cup, but we don't want to sit back - I really want to help the team to achieve some big things in the coming years and that's a big part of the reason that I've committed my future to this Club." 
Gareth Taylor, Manchester City Women Head Coach, added: "Ellen has been a top leader for us – she's led the line not only on the pitch, but in the dressing room as well. 
"Her work ethic and everything she does is about her profession – she's been a top person to work with as well, a real shining light and she's the perfect example to young players of what it takes to get to the very top of the game. 
"We're delighted to have her with us and we feel very lucky to be able to have her experience and quality for the next couple of years."