Demi Stokes believes the renaming of the Joie Stadium is an example of Manchester City's commitment to the growth of the Women's game.
The Club announced baby gear brand Joie as Official Stadium Naming Partner of the Academy Stadium, the first deal of its kind in the Barclays Women's Super League.
Stokes and her team-mates were at the official unveiling, cutting a ribbon wrapped around the stadium in preparation for the announcement.
Speaking to the media after the event, the defender said the renaming felt like a significant moment for both the Club and, hopefully, the WSL in general.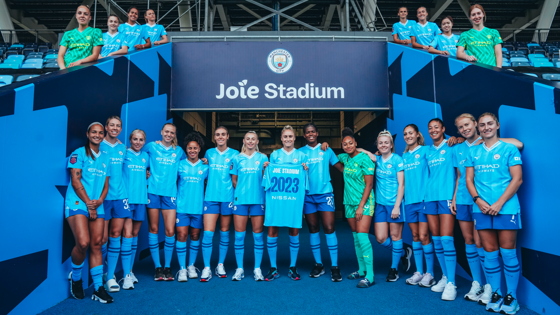 She explained: "It's massive. It just shows a small part of where the women's game is going. Having Joie with us is incredible. It's one of the biggest brand deals in the league.
"That's where we want to be, we want to be at the forefront, we want to keep pushing our standards and keep saying 'this is what it's about'.
"Hopefully other clubs jump on that as well.
"As women we want to keep supporting women and make it easier for women. [So] what a great team up with Joie to do that and support us as well."
BUY YOUR 2023/24 WSL HOME TICKETS
Stokes became a mum in 2022, making her the first female City player to juggle the demands of raising a child and being a professional athlete.
With this in mind, the defender is delighted to see the Club build on its relationship with Joie and believes they share similar values around making matchdays a welcoming environment for all.
"Being a mum is hard in its own right, but Joie are a family brand and we are as well." She added.
"We get loads of kids coming to games so I just think it makes total sense to have them on board, making mums lives easier coming to games because it can be a struggle getting out of the house.
"I just think it's so exciting for us as a club and Joie as a brand."