Everything you need to know ahead of City's WSL clash with Arsenal.
When and where
City host the Gunners at the Academy Stadium on Saturday 11 February, with kick-off scheduled for 12:30 (UK).
All available tickets have been snapped up for the fixture, which was rearranged from September.
The match will be broadcast live on SkySports, while you can also follow the key moments of the action on Twitter: @ManCityWomen.
Man City app coverage
As always, the Man City app will offer comprehensive matchday coverage across the day.
From 11:00, our Matchday Centre will provide blow by blow text updates, stats and analysis, while a detailed match report and reaction from Gareth Taylor and players can be accessed soon after the final whistle.
Highlights and a full-match replay - available on CITY+ and Recast - will also be made available from midday on Sunday 12 February.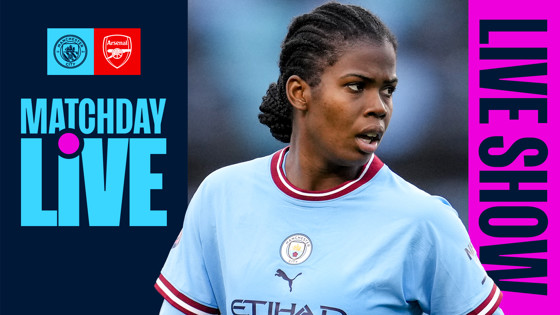 Cel Spellman will also be joined by former City stars Karen Bardsley and Izzy Christiansen as well as ex-England international Laura Bassett for a special Matchday Live broadcast of Saturday's showdown.
Available on all our official digital platforms, the trio will look ahead to the encounter from around 11:30 (UK), before half-time and detailed post-match debriefs.
Alistair Mann will guide you through the action with live commentary from kick-off, while those with push notifications turned on will also be alerted to all of the key moments throughout the day.
Pre-match activities
As always, there's plenty to get up to around the Academy Stadium ahead of kick-off.
The Facades will be perfoming in front of Heart of the City during pre-match and at half time as part of our Battle of the Bands competition! Give the band a score by heading to www.mancity.com/botb
Head over to the West Stand Fanzone for the hour before kick-off and at half-time and put your football skills to the test!
Get your face painted in City colours by one of our roaming face painters!
Be one of our starting XI flagbearers and be part of welcoming the team out for kick-off – just approach a playmaker when you get to the stadium to put your name down!
Get a selfie with the Moonies – they'll be around at pre-match and at half-time!
Previous meeting
The two teams met on Wednesday in the semi-finals of the Conti Cup with City suffering a 1-0 defeat in extra-time.
It remained goalless after 90 minutes at Meadow Park with Arsenal's Lina Hurtig hitting the crossbar and Chloe Kelly denied by Sabrina D'Angelo for City.
But Swedish international Stina Blackstenius struck three minutes into injury time to end our defence of the trophy.
This will be the first time that the two sides have played each other in the league this campaign with the return fixture scheduled for April.
Gareth Taylor preview
"It'll be tight again, but I think there's certain areas we can work on.
"For us it's just about the recovery process. It's a quick turnaround from Wednesday with players arriving back late and Arsenal have the same journey to make.
"It'll depend on who comes out fresher from Wednesday night's game.
"Both managers probably didn't want extra time but it is what it is. Once the whistle blows tomorrow you'll start to see two teams going at it and wanting to win again."
Form guide
City's defeat in midweek was our first in 17 matches in all competitions with our last loss in WSL in September.
We are level on points with Arsenal in the WSL table having played a game more, but remain fourth due to the Gunners' superior goal difference.
Meanwhile, the Gunners have lost just once in their past 11 in all competitions with their only WSL defeat in November.
GLOBAL TV LISTINGS
Courtesy of livesoccertv.com.
| | |
| --- | --- |
| Anguilla | ESPNPlay Caribbean |
| Antigua and Barbuda | ESPNPlay Caribbean |
| Argentina | Star+ |
| Aruba | ESPNPlay Caribbean |
| Austria | Sky Sport Mix, Sky Go |
| Barbados | ESPNPlay Caribbean |
| Bolivia | Star+ |
| Brazil | NOW NET e Claro, ESPN4, Star+ |
| British Virgin Islands | ESPNPlay Caribbean |
| Canada | Sportsnet 360 |
| Cayman Islands | ESPNPlay Caribbean |
| Chile | Star+ |
| Colombia | Star+ |
| Costa Rica | Star+ |
| Cuba | ESPNPlay Caribbean |
| Denmark | TV3 Sport, Viaplay Denmark |
| Dominica | ESPNPlay Caribbean |
| Dominican Republic | Star+, ESPNPlay Caribbean |
| Ecuador | Star+ |
| El Salvador | Star+ |
| Estonia | Viaplay Estonia |
| Finland | Elisa Viihde Viaplay |
| Germany | Sky Go, Sky Sport Mix, WOW |
| Grenada | ESPNPlay Caribbean |
| Guadeloupe | ESPNPlay Caribbean |
| Guatemala | Star+ |
| Haiti | ESPNPlay Caribbean |
| Honduras | Star+ |
| Iceland | Viaplay Iceland |
| International | The FA Player |
| Ireland | Sky Sports Football, Sky Sports Premier League, SKY GO Extra, Sky Showcase |
| Israel | Sport 2 |
| Jamaica | ESPNPlay Caribbean |
| Japan | DAZN |
| Latvia | Viaplay Latvia |
| Lithuania | Viaplay Lithuania |
| Martinique | ESPNPlay Caribbean |
| Mexico | Star+ |
| Montserrat | ESPNPlay Caribbean |
| Netherlands | Viaplay Netherlands |
| New Zealand | Spark Sport |
| Nicaragua | Star+ |
| Norway | V Sport 1, Viaplay Norway |
| Panama | Star+ |
| Paraguay | Star+ |
| Peru | Star+ |
| Poland | Viaplay Poland |
| Puerto Rico | ESPNPlay Caribbean |
| Saint Barthelemy | ESPNPlay Caribbean |
| Saint Kitts and Nevis | ESPNPlay Caribbean |
| Saint Lucia | ESPNPlay Caribbean |
| Saint Martin | ESPNPlay Caribbean |
| Saint Vincent and the Grenadines | ESPNPlay Caribbean |
| Spain | DAZN |
| Swaziland | Sky Sport Mix |
| Sweden | Viaplay Sweden, V Sport Extra |
| Trinidad and Tobago | ESPNPlay Caribbean |
| U.S. Virgin Islands | ESPNPlay Caribbean |
| United Kingdom | SKY GO Extra, Sky Showcase, Sky Sports Football, Sky Sports Premier League |
| United States | Paramount+ |
| Uruguay | Star+ |
| Venezuela | Star+ |
News about Man City v Arsenal