Everything you need to know ahead of our Barclays Women's Super League trip to Chelsea.
When and where
Gareth Taylor's side travel to Kingsmeadow to take on current defending FA WSL champions Chelsea.
The game will take place on Sunday 25 September, with kick-off is scheduled for 16:00 (BST).
The match will be screened live on Sky Sports, while viewers around the world can find out how to tune in via the Global TV Listings at the foot of this page.
You can follow all of the game's key moments via our dedicated matchday Twitter account: @ManCityWomen while our Matchday Centre - beginning at 14:30 - will provide minute-by-minute text commentary, analysis and stats before, during and after the action.
A detailed match report and reaction from Gareth Taylor and a player will also be made available soon after the final whistle, while highlights and a full-match replay will be available from midday the following day.
Ticket information
There are no away tickets available for this fixture.
However, it is possible to buy direct from Chelsea FC
here
.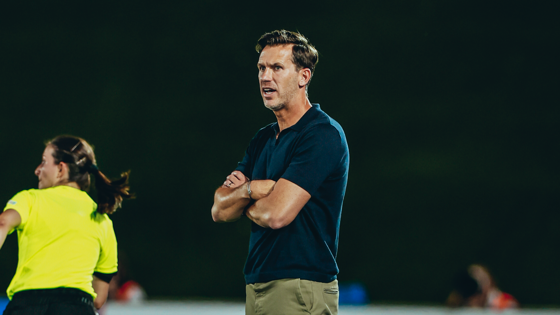 team news
The Australian picked up a thigh injury on international duty earlier this month and missed out on our opening day defeat to Aston Villa.
But with another week of training under her belt, Taylor revealed that she could be in line to return to the fold when we travel to Kingsmeadow for Sunday's 16:00 (UK) kick-off.
While the boss conceded that he and his staff are keeping a close eye on the condition of other players beyond Kennedy, he insisted that there had been little change in terms of the squad's overall shape ahead of this weekend.
Gareth Taylor preview
"I wasn't surprised that Liverpool got something out of the game [against Chelsea]. We played them in pre-season and they're a tough outfit.
"Same with Aston Villa, a completely different team from last season, lots of changes and when those players play well, anyone can beat anyone.
"[There's] no change in that respect. For us, we know it's going to be a really tough game, it's their first home game but we're looking forward to the challenge.
"We'll hopefully show a better version of ourselves without the ball this time.
"It's one that the players are looking forward to.
"Regardless of the team we pick, we're expecting a good level and will try to make it difficult for Chelsea on their own patch but also show our best version with the ball."
Previous meeting
The teams last met in May of this year with Chelsea edging a 3-2 win to win the Women's FA Cup.
Sam Kerr (2) and Erin Cuthbert would score the Chelsea goals, with Lauren Hemp and Hayley Raso on target for City, who forced extra time at Wembley but couldn't find a winner or take the game to penalties as Kerr's second of the game settled a pulsating encounter in front of almost 50,000 fans.
Stats
Manchester City suffered defeat in our opening match in a FA Women's Super League season for the first time since 2014, their first season in the competition. They also lost their second game that season, a 2-0 home defeat to Bristol City.
After a 13-game unbeaten run in the FA WSL (W11 D2), Chelsea lost 2-1 to Liverpool last time out. They haven't lost consecutive games in the competition since July 2015, with the second of those defeats coming at home against City.
Laura Coombs created five chances in open play for City in our 4-3 defeat against Aston Villa last time out. Only Vivianne Miedema (7) created more on MD1 of this season's FA Women's Super League.
Chloe Kelly has been involved in 26 goals in 27 FA Women's Super League for City (11 goals, 15 assists), and has the best minutes per goal or assist ratio for the club among players with 1000+ minutes (one every 80 minutes).
Global TV listings
| | |
| --- | --- |
| Angola | DStv Now, SuperSport GOtv LaLiga, SuperSport Laliga ROA, W-Sport |
| Anguilla | ESPNPlay Caribbean |
| Antigua and Barbuda | ESPNPlay Caribbean |
| Argentina | Star+ |
| Aruba | ESPNPlay Caribbean |
| Barbados | ESPNPlay Caribbean |
| Benin | W-Sport, SuperSport GOtv LaLiga, SuperSport Laliga ROA |
| Bolivia | Star+ |
| Botswana | SuperSport Laliga ROA, SuperSport GOtv LaLiga, DStv Now, W-Sport |
| Brazil | GUIGO, Star+, ESPN, NOW NET e Claro |
| British Virgin Islands | ESPNPlay Caribbean |
| Burkina Faso | W-Sport, SuperSport GOtv LaLiga, DStv Now, SuperSport Laliga ROA |
| Burundi | SuperSport GOtv LaLiga, W-Sport, DStv Now, SuperSport Laliga ROA |
| Cameroon | SuperSport GOtv LaLiga, W-Sport, SuperSport Laliga ROA, DStv Now |
| Canada | Sportsnet World Now, Sportsnet World, Sportsnet One, Sportsnet Now Plus, Sportsnet Now |
| Cape Verde | W-Sport, SuperSport Laliga ROA, SuperSport GOtv LaLiga, DStv Now |
| Cayman Islands | ESPNPlay Caribbean |
| Central African Republic | SuperSport GOtv LaLiga, SuperSport Laliga ROA, W-Sport |
| Chad | DStv Now, SuperSport GOtv LaLiga, W-Sport, SuperSport Laliga ROA |
| Chile | Star+ |
| Colombia | Star+ |
| Comoros | W-Sport, SuperSport Laliga ROA, SuperSport GOtv LaLiga |
| Congo | SuperSport GOtv LaLiga, W-Sport, DStv Now, SuperSport Laliga ROA |
| Congo DR | W-Sport, SuperSport Laliga ROA, SuperSport GOtv LaLiga |
| Cote D'Ivoire | W-Sport, SuperSport GOtv LaLiga, SuperSport Laliga ROA, DStv Now |
| Cuba | ESPNPlay Caribbean |
| Djibouti | DStv Now, W-Sport, SuperSport GOtv LaLiga, SuperSport Laliga ROA |
| Dominica | ESPNPlay Caribbean |
| Dominican Republic | ESPNPlay Caribbean |
| Ecuador | Star+ |
| Equatorial Guinea | SuperSport GOtv LaLiga, SuperSport Laliga ROA, W-Sport, DStv Now |
| Eritrea | W-Sport, DStv Now, SuperSport GOtv LaLiga, SuperSport Laliga ROA |
| Ethiopia | DStv Now, W-Sport, SuperSport Laliga ROA, SuperSport GOtv LaLiga |
| Gabon | SuperSport GOtv LaLiga, W-Sport, SuperSport Laliga ROA, DStv Now |
| Gambia | SuperSport Laliga ROA, DStv Now, W-Sport, SuperSport GOtv LaLiga |
| Ghana | SuperSport GOtv LaLiga, W-Sport, SuperSport Laliga ROA, DStv Now |
| Grenada | ESPNPlay Caribbean |
| Guadeloupe | ESPNPlay Caribbean |
| Guinea | SuperSport Laliga ROA, SuperSport GOtv LaLiga, DStv Now, W-Sport |
| Guinea-Bissau | DStv Now, SuperSport GOtv LaLiga, W-Sport, SuperSport Laliga ROA |
| Haiti | ESPNPlay Caribbean |
| International | The FA Player |
| Ireland | Sky Sports Football, Sky Sports Premier League, SKY GO Extra, Sky Sports Main Event |
| Jamaica | ESPNPlay Caribbean |
| Kenya | DStv Now, W-Sport, SuperSport GOtv LaLiga, SuperSport Laliga ROA |
| Lesotho | SuperSport GOtv LaLiga, W-Sport, DStv Now, SuperSport Laliga ROA |
| Liberia | SuperSport GOtv LaLiga, SuperSport Laliga ROA, DStv Now, W-Sport |
| Madagascar | DStv Now, W-Sport, SuperSport GOtv LaLiga, SuperSport Laliga ROA |
| Malawi | W-Sport, SuperSport GOtv LaLiga, DStv Now, SuperSport Laliga ROA |
| Mali | SuperSport Laliga ROA, DStv Now, W-Sport, SuperSport GOtv LaLiga |
| Martinique | ESPNPlay Caribbean |
| Mauritania | DStv Now, W-Sport, SuperSport Laliga ROA, SuperSport GOtv LaLiga |
| Mauritius | DStv Now, SuperSport GOtv LaLiga, SuperSport Laliga ROA |
| Mayotte | W-Sport, SuperSport Laliga ROA, SuperSport GOtv LaLiga |
| Montserrat | ESPNPlay Caribbean |
| Mozambique | SuperSport GOtv LaLiga, W-Sport, DStv Now, SuperSport Laliga ROA |
| Namibia | SuperSport GOtv LaLiga, DStv Now, SuperSport Laliga ROA, W-Sport |
| Niger | SuperSport GOtv LaLiga, W-Sport, SuperSport Laliga ROA, DStv Now |
| Nigeria | SuperSport Laliga Nigeria, W-Sport, DStv Now, SuperSport GOtv LaLiga |
| Paraguay | Star+ |
| Peru | Star+ |
| Puerto Rico | ESPNPlay Caribbean |
| Reunion | SuperSport Laliga ROA, W-Sport, SuperSport GOtv LaLiga |
| Rwanda | SuperSport GOtv LaLiga, W-Sport, SuperSport Laliga ROA |
| Saint Barthelemy | ESPNPlay Caribbean |
| Saint Helena | SuperSport GOtv LaLiga, SuperSport Laliga ROA, W-Sport |
| Saint Kitts and Nevis | ESPNPlay Caribbean |
| Saint Lucia | ESPNPlay Caribbean |
| Saint Martin | ESPNPlay Caribbean |
| Saint Vincent and the Grenadines | ESPNPlay Caribbean |
| Sao Tome And Principe | SuperSport Laliga ROA, W-Sport, SuperSport GOtv LaLiga |
| Senegal | W-Sport, DStv Now, SuperSport GOtv LaLiga, SuperSport Laliga ROA |
| Seychelles | W-Sport, DStv Now, SuperSport GOtv LaLiga, SuperSport Laliga ROA |
| Sierra Leone | SuperSport GOtv LaLiga, DStv Now, SuperSport Laliga ROA, W-Sport |
| Somalia | W-Sport, SuperSport GOtv LaLiga, SuperSport Laliga ROA |
| South Africa | SuperSport Laliga, DStv App, W-Sport, SuperSport GOtv LaLiga |
| South Sudan | W-Sport, DStv Now |
| Sudan | W-Sport, DStv Now, SuperSport GOtv LaLiga, SuperSport Laliga ROA |
| Swaziland | DStv Now, W-Sport, SuperSport GOtv LaLiga, SuperSport Laliga ROA |
| Tanzania | SuperSport GOtv LaLiga, DStv Now, SuperSport Laliga ROA, W-Sport |
| Togo | W-Sport, DStv Now, SuperSport GOtv LaLiga, SuperSport Laliga ROA |
| Trinidad and Tobago | ESPNPlay Caribbean |
| U.S. Virgin Islands | ESPNPlay Caribbean |
| Uganda | DStv Now, W-Sport, SuperSport GOtv LaLiga, SuperSport Laliga ROA |
| United Kingdom | SKY GO Extra, Sky Sports Premier League, Sky Sports Football, Sky Sports Main Event |
| United States | Paramount+ |
| Uruguay | Star+ |
| Venezuela | Star+ |
| Zambia | SuperSport GOtv LaLiga, SuperSport Laliga ROA, W-Sport |
| Zimbabwe | SuperSport GOtv LaLiga, SuperSport Laliga ROA, DStv Now, W-Sport |
News about Chelsea v Man City