Gareth Taylor says City must eliminate costly errors if his side are to mount a serious title challenge in the FA Women's Super League.
Sunday saw City suffer our heaviest ever defeat since turning professional, as the visitors shipped five goals at Arsenal to fall to our third successive loss in all competitions – and second of our three league games.
While some have written off our chances of a second league crown, Taylor refused to surrender the title race but asserted that City must learn from our mistakes and quickly.
Reflecting on the defeat at Meadow Park, he said: "It's a difficult one to take. We're in a difficult moment – there's no doubt – but we have to fight and we will fight.
"It's way too early [to count us out of the title race] but it's not great, losing our last two league games.
"It's a short league – 22 games. We'll see. We have to be reliant on other teams but we have to get points on the board ourselves.
"We started well. For the first 20 minutes, we dominated and controlled the game. We played the majority of the game in their half but gave away a really poor first goal.
"The second goal was strange – the referee restarted the play from a strange position to where the action happened – but we need to be better in that moment.
"It affected us then. At 2-0, we didn't play our normal game.
"We started brightly in the second half. We had a debatable penalty appeal when Caz Weir went down and didn't get it – and they scored at the other end.
"It's difficult to take 5-0 – I didn't feel it was that – but with the errors made and if you don't take the big moments we had, it's going to end up with that scoreline.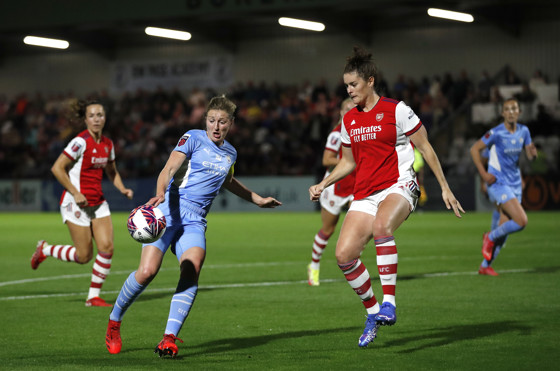 "We have our principles of how we play and we're loyal to that. Mistakes are mistakes – they're nothing to do with the way we look to play out from the back. It's never talked about when we're doing well or winning trophies.
"Errors are part of the game but we don't' want them. It affected our play and we need to eliminate those – there were too many.
"We've spoken about the need to be flawless. Apart from Arsenal and Spurs, everyone has dropped points but we have to be concerned with what we do.
"We have to look within ourselves and put wins on the board."
The trip to Meadow Park saw City without ten players, including captain Steph Houghton.
While the lengthy injury list played a part, Taylor added he expects a better level of performance than what was delivered, as well as other members of the team stepping up as leaders.
"We're missing lots of players – not just Steph," he continued. "I still expect us to perform to a level.
"We're missing big characters but we have to fill that void. Younger players have to step up and look to the senior players to help us.
"It was a case of individual errors for goals and normally, we're pretty good in that moment.
"Normally, when you're in a bad moment, it's one of the first things you notice: communication.
"Things are going against us at the moment and we have to stand up and show character and be willing to work hard on the training ground and improve.
"Even if we'd have produced a couple of results over the last few games, we'd still look to improve.
"We're nowhere near the finished product. We have new players and injuries. It's a constant work in progress."
City have little time to dwell with a crucial Women's FA Cup quarter-final tie against Leicester City at home on Wednesday (19:00 UK kick-off).
WOMEN'S FA CUP | CITY V LEICESTER: BUY ONLINE
Taylor concluded he expects a positive response from his players and will be assessing who is eager to make an impact over the coming days.
"I want to be seeing who is giving out positivity," he declared. "I'll be giving it out to the players and I want to see it back in abundance.
"I want to see that on Wednesday and in the games going forward. I want to see that response."
Tickets for all City home games are now on sale.