Alex Greenwood has become City's fifth signing of an unbelievable summer of recruitment.
Having lifted the Champions League for the first time with Olympique Lyonnais at the end of August, the full-back has followed in fellow Lioness Lucy Bronze's footsteps in making the move to the Academy Stadium.
Here are 10 things you may or may not know about our new Blue…
1. Guardians of the goal
Alex is very close friends with City goalkeeper and Lioness Ellie Roebuck. The pair room together for England.
"Ellie is one of my best mates," she smiled.
"She's a great girl and I've missed having her glued to my hip for the last 12 months!
"She's an unbelievable talent and it's so exciting for the future.
"She's a top girl. To be honest, I don't think she gives away what she's really like when she's on camera!"
With Roebuck's well-known adoration for hometown club Sheffield United, Greenwood has teased her roommate in the past that the shot-stopper's favourite player should be Alex's partner and Blades defender Jack O'Connell!
2. Jill of all trades
An England regular, Alex is already very familiar with her new teammates but has known Jill Scott the longest with the pair having played together as youngsters at Everton.
"There are so many players I've known for a long time – Steph Houghton, Ellie Roebuck, Demi Stokes, Lucy Bronze… - but the one I've known longest is Jill," she explained.
"She's an unbelievable person and someone you need in your dressing room.
"She's always happy and always positive – and a bit of a joker!
"I absolutely adore Jill. She's a great person."
3. Idols and inspirations
Growing up, she idolised female stars Fara Williams, Kelly Smith and Rachel Unitt – and Liverpool-born, also Steven Gerrard on the men's side.
"To name a few players, I loved Fara Williams, Kelly Smith and Rachel Unitt.
"They're great people and I used to base a lot of my ways around those players.
"Luckily enough, I've been able to play with them.
"It's clear from my accent in grew up in Liverpool and in the men's game, I loved Steven Gerrard."
4. Mum's the word
Alex credits her mother as the biggest influence in her career.
"She was always there to support me – no matter what," she said.
"She brings nothing but positivity to my career and my life.
"My mum is definitely my biggest influence."
5. Quality feet
She describes her best quality as her composure in possession – a perfect trait for City's style.
"I'm a technical player," she reflected. "I'd like to think I'm a good leader and I have a lot of experience as well.
"I love the ball at my feet – I'm not afraid to have it at my feet, even in difficult situations.
"That's the way this Club wants to play and that's exciting for me.
"That will improve me as well."
6. Leading by example
Admired for her leadership skills, Alex has spoken openly about her dream of captaining England one day but asserts she would be more than content to guide and inspire without the armband.
"You ca be a captain without having an armband," she stated.
CITY+ | SIGN UP TO ACCESS EXCLUSIVE CONTENT
"Would I love to be England captain one day? Absolutely. That's an honour and a dream of any young footballer but it wouldn't change who I would be.
"I always demand standards of myself and those around me, and I always try to be positive and be a good person.
"As much as it's a dream of mine, it wouldn't be the 'be all and end all' if I didn't become captain."
7. A good sport
If she were not a footballer, she believes she'd have still embarked on a career within sport.
"Maybe something in Sports Science or Nutrition," she suggested.
"I really enjoy that side of things so I think I'd have definitely done something in sports – in the background somewhere!"
8. Good advice
Alex says the best piece of advice she has received is to: give everything.
"I've been given lots of advice – you do in football," she admitted.
"It's a cliché but for me, the most important advice is: 'give everything you've got everyday and you'll always get your rewards in the end.'
"Always be positive, have a positive mindset and be a good person and it will always come back to you in a good way."
9. Coffee Club
Away from football, the left-back likes to relax with a cup of coffee – she'll certainly fit in well at City!
"I'm a coffee lover!" she laughed.
"Away from football, I like the gym and nutrition and stuff like that but in terms of switching off, there's nothing better than going for a good coffee with the girls.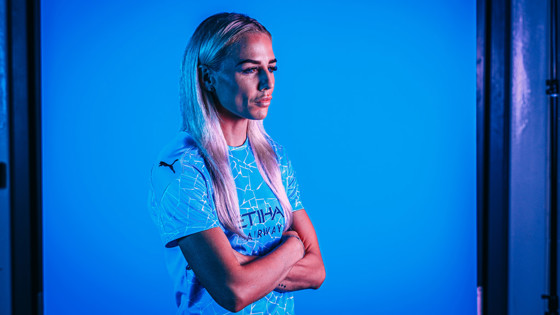 "I'm a happy person and I like being around people.
"I try to have a smile on my face as much as I can, but I'm also ambitious and focused on what I want to achieve."
10. Fear factor
Asked of her biggest fear, she admitted to being afraid of spiders – but insisted she hates losing even more!
"It's the usual…" she laughed. "I don't like spiders.
"I don't think I have a big fear… but I do hate losing!"