Abby Dahlkemper has become the latest World Cup winner to join the City ranks.
Following in the footsteps of summer recruits Sam Mewis and Rose Lavelle, Dahlkemper has made the move across the Atlantic, putting pen to paper on a two-and-a-half-year deal.
Here are 10 things you may or may not know about our new Blue…
1. Nickname of the game
It's no secret that Abby is close friends with compatriots and fellow World Cup winners Sam Mewis and Rose Lavelle.
The three share as strong a bond off the pitch as they do on it... but what you may not know is that it's claimed Abby gave Sam her nickname of the Tower of Power!
Dahlkemper opened up on the friendship in her first interview with CityTV, discussing how their bond aids their on-field success.
She also revealed that the trio often joke around and in fact, one of her favourite memories was when the US stars contested a water-chugging competition!
"The ability to go through highs and lows together is something that's really helpful," she declared.
"Carrying a friendship onto the field is awesome because you know how that player plays - and their tendencies. You care for your teammate a lot. 
"We've experienced a lot of highs but also some lows together and that has helped us to grow - through friendship but also as players.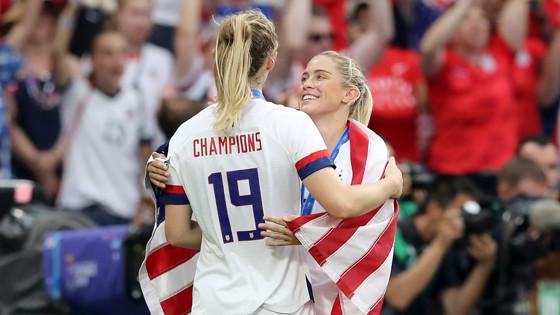 "We're able to be open and be honest in commination and we know that we genuinely want the best for each other. That helps us to push and challenge each other.
"There are some shenanigans we get into! I remember one time we had a water-chugging contest, which was hilarious. I have the video and sometimes, I send it to them!
"It sounds so stupid but it was so funny. We just do ridiculous things and laugh about it. I feel like I laugh the most when I'm within them. We're just having fun and enjoying life!
"I'm really thankful to have met such amazing people and amazing world-class players."
2. Lucky 13
Dahlkemper's City squad number holds some significance for the defender, as she also explained to CityTV.
"I always thought it was a lucky number," she smiled. "I was born on the 13th and it's a number I'm fond of.
"I was really excited when I saw it was available. I like to think of it as a lucky number for me.
"I'm excited to represent Manchester City and wear the number 13."
City's American men's team goalkeeper Zack Steffen also sports the same number!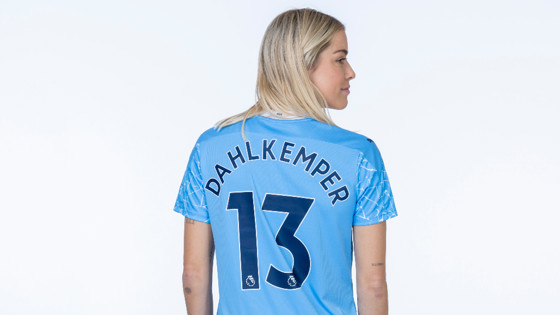 3. United States stalwart
Dahlkemper started every game of the United States' 2019 World Cup success.
In fact, the centre-half played the most minutes of any US outfield player in France, featuring in 622 of a possible 630, as the Stars and Stripes lifted their fourth world title.
The Champions conceded just three goals throughout the tournament - one of which was scored by new City teammate Ellen White in the semi-finals.
Reflecting on the experience, Dahlkemper believes it proved to be a defining moment in her career.
"Luckily, I was able to help the team on the field for the World Cup," Dahlkemper stated.
"I try to take advantage of every opportunity that has come my way - being open to learning and developing and not being satisfied with where I'm at.
"I grew as a person and player so much throughout that tournament. I never really took any second of minute for granted."
4. Happy New Year
In addition to making the decision to join City over the past few months, Abby received more life-changing news...
In December, she became engaged to Aaron Schoenfeld (also a soccer player) - and the pair married in early January!
What a start to 2021!
"It's been a lot," she admitted, "but in a good way.
"Change is uncomfortable sometimes in life but that's a good thing.
"You can learn and experience new things. I definitely try to relish the opportunity in the moment.
"At times, it might be a little stressful but at the end of the day, things are settled and done and I'm so excited!"
5. Second nature
Outside of football, Abby enjoys being outdoors, particularly hiking.
"I like being out in nature, hiking and walking around outside," she shared.
"I think it's therapeutic for me. It's very calming and something I really enjoy.
"It helps me mentally to take a pause form the stresses of life, being a footballer with its ups and downs.
"I relish my time outside, experiencing different things.
"I've bene lucky enough to travel as well, which is something I really enjoy."
6. Mum's the word
Abby's mother was an avid basketball player, growing up.
The pair share a strong relationship and Abby believes she learned a lot from her mother's experiences.
"My relationship with my mother is so special to me," she told US Soccer.
"She played basketball her whole life, growing up. She reminds me how fast she was - fast, strong, mentally tough and aggressive!
"It's really cool and inspiring. I love hearing my mom talk about that. You can still hear the passion and love for the game of basketball.
"She ended up quitting before college level and said - with a tear in her eye - that it's her one biggest regret: that when she was faced with adversity, she gave into it.
"She didn't have the equal opportunity as I have today with women's sport. She is proud that I faced adversity but kept marching on and pursuing my dreams.
"I see myself in my mother and I'm so thankful proud have these values instilled in me: being mentally tough, independent and kind."
7. Idols and inspirations
Although she does not model her game on anyone in particular, Dahlkemper says watching the Premier League from a young age helped to mould her style of play.
Like many young girls, she idolised the United States' women's teams of the 90s and crucially, retained their desire 'to win at all costs.'
"I don't know if I would say [I model my game on] anyone in particular," she said.
"I do watch a lot of Premier League games - I've always watched the Premier League - and I've seen the evolution of defenders, being able to play from the back, distribute well, being aggressive, winning balls and being a quarter-back, setting play...
"It's important... you have to be a well-rounded player to play and have all of the attributes.
"I really liked watching the US Women's National Team. I remember being young and fascinated with the '99ers documentary - that team and the progressive wave they started.
"I always looked up to Mia Hamm, Michelle Akers, Abby Wambach... being inspired by them and their commitment to the women's game - their commitment to getting better and winning at all costs.
"That's something that's ingrained in the USWNT style and it's contagious, which is really cool.
"I always looked up to a lot of these players and I remember watching the Premier League and all of the amazing teams there, learning from them.
"Watching a lot of soccer games shaped my dream's progress, seeing how the professionals do it."
8. Best attributes
Impressed with City's desire to play out from the back, Dahlkemper believes her own individual style fits perfectly.
"I've watched a lot of City play in the past, dominating possession and play," she continued.
"The defence have quality players through the backline - England internationals, who have amazing technique and are really smart - and even the goalkeeper is awesome with her feet!
"City love to play out from the back, which they do really well, and that's something I hope I can help with and really add value to.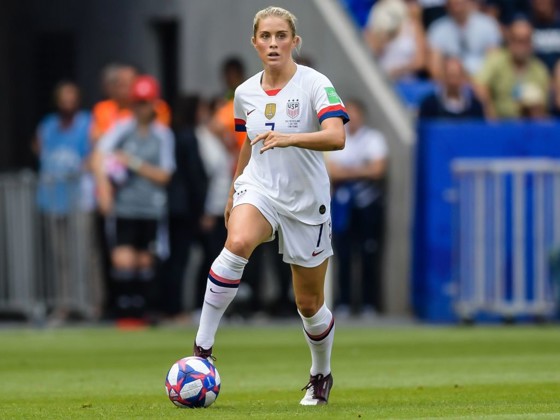 "Dominating possession is really fun to watch and fun to be a part of. I'm excited to be part of an already-strong defensive line.
"I hope to be able to set play out from the back and distribute, setting the tempo and securing the backline, preventing any attack before it starts."
Asked of aspects of her game she hopes to improve on, she replied: "Being able to experience different tactical play.
"The system looks very structured in the way City play - they have an identity, which they stuck to, no matter what.
"It's awesome because it makes teams adjust - teams have to respect the way City play.
"The FA WSL is a little bit different to the NWSL - the NWSL is probably more physical with a lot of counter-attacks - but I'm looking to experience more of the tactical side."
9. Style it out
If she were not a footballer, Dahlkemper believes her career would have taken a completely different path...
"I think I would be a really trendy hair stylist in LA or photographer, who travels around shooting surfing," she told Soccer.com.
"I could go to really tropical, cool places!"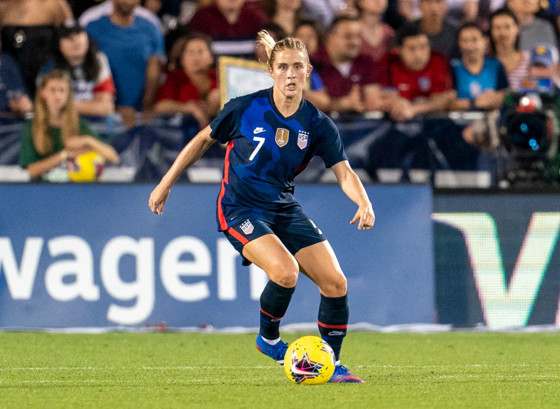 10. Canine companion
As with many of her new teammates, including Sam and Rose, Abby has a dog: a cockapoo called Bobby.
While away from home, she FaceTimes her beloved pooch (using her distinctive 'dog voice') every day.
"Bobby's great," she smiled. "She's currently at her grandma's - my mom's house - back in California.
"She won't be in Manchester right away, as I'll be coming straight from camp, but she will be making an appearance after the summer.
"I'm going to get settled and then Bobby will make her way to Manchester.
"We FaceTime every day and I talk to her every day... She's excited!"