As Ilkay Gundogan's superb campaign continues, Pep Guardiola says the German midfielder has delivered continuously since signing from Borussia Dortmund.
With his two goals against West Brom taking him to a career-best seasonal tally, Pep was asked if his No.8 was getting better with age?
"I would say improvement is not the case," said Pep. "Always, he showed this level apart from his first season when he was injured.
"Every time he plays he plays at a high level. It doesn't matter where he goes, in the FA Cup third round or the UCL latter stages, he always plays the same. He is always confident. He is a nice guy.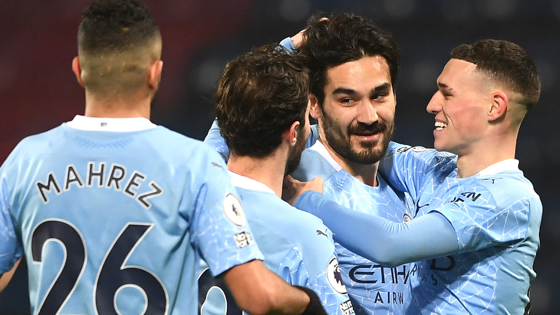 The City boss admitted he enjoyed his team's 5-0 victory – all bar the first couple of minutes!
"Yes, congratulations to the team for the performance. Except for the first two or three minutes when we couldn't leave our box, the rest of the game was good," he said.
"What we want is movement in the right moment and what we want is to move the ball more than our movements. But it is true the players' movements up front was so good."
And as for his defence who recorded yet another clean sheet, he added: "Yeah from the beginning of the season apart from the game against Leicester we concede so few.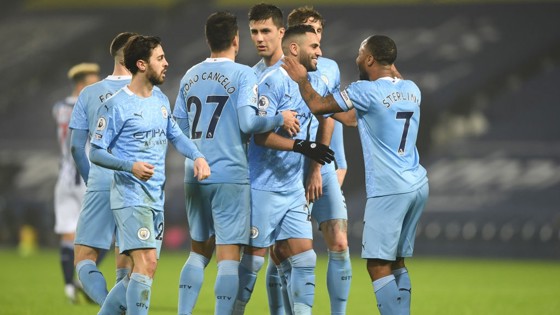 "Now our defenders concentrate for 90 minutes. Ruben and John, Aymeric, they are so focused.
"The midfielders and the strikers now we are there and covered and in the right moment we will score.
"It is impossible to be at the latter stages of any competition without being solid at the back."
With City moving top for the first time this season, Pep was asked if it was snice to be back at the top? 
"The last thing I am thinking is about the table. Now I want to get home safe, have a few days off and then Sheffield United," said the boss.
"This is all I am concerned about. Today we have just finished the first half of the season. The important thing is to be calm, like when we were 12th in the table. 
"This is the Premier League. It is so tough. You see the teams up front like Leicester and West Ham and they look unbeatable.
"Every game is so complicated. It is important we have a good run and realise why we are here and go to the next one."
Asked if the victory was a fitting tribute to Colin Bell, whose funeral was today, the boss added: "Yes. I knew it from Brian Kidd, who told me today was the service for our legend and Ilkay Gundogan, our No.8 scored two goals.
"Hopefully, it was a good service for the family and friends."
CITY+ subscribers can enjoy a full 90-minute replay from midnight. 
Enjoy your first month of CITY+ free of charge. After that, CITY+ costs £1.99 a month.