Kyle Walker is eager for City to enhance our cutting edge after the 1-0 Premier League defeat against Tottenham Hotspur.
Harry Kane capitalised on a defensive mix-up to hand the hosts the lead after 15 minutes.
Riyad Mahrez almost equalised before the interval, but his controlled volley cannoned off the crossbar.
Pep Guardiola's men pushed and probed, with Jack Grealish and Julian Alvarez also coming close, but could not find the leveller in London.
Walker is determined for the team to improve after the loss. He said:
"It's disappointing obviously. We've come here to pick up three points and get a result at this stadium like we've not had before. We move on now, move onto the next game and try to go on a run that we know we can do.
"It's difficult, when you are against five at the back and two holding, with three of them running in behind, it has to be about how much you go forward without conceding at the back, it's almost cat and mouse.
"If a few chances go in, like the Riyad [Mahrez] one, then the momentum could have gone our way. We could have definitely done better creating chances, not being negative.
"There's certain things we can do around the box to improve on, to be more clear cut. To create more of a clear cut action. Sometimes you need to have shots and have shots on target."
The defender, who played the entire 90 minutes at the Tottenham Hotspur Stadium, was also quizzed about Erling Haaland, who was stifled by the Spurs backline.
"It's a process. The manager demands so much and the way we play, it's unique. Erling has been fantastic, nobody said anything when he was scoring goals, but now we're questioning him," he said.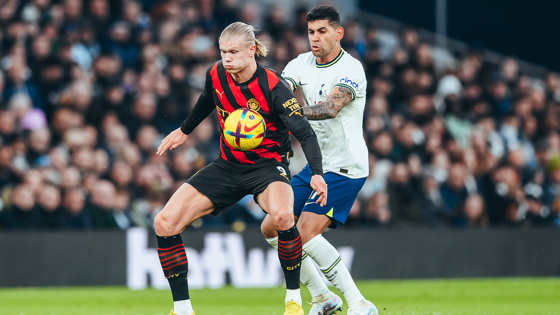 "He's a fantastic player. This is the team we have got, this is the team we have. We will fight until the end as we always do."
The defeat leaves us five points behind league-leaders Arsenal, who also lost this weekend.
Walker, who captained the team against his former club, believes that it is a missed opportunity to close the gap, but is remaining optimistic as there is still a long way to go until the campaign comes to an end.
"Of course it is [missed opportunity]. They dropped points and we needed to pick up points to make up the gap," he said.
CITY+ | SIGN UP TO ACCESS EXCLUSIVE CONTENT
"There's so many games left, I know that there are twists and turns to come. I know this team and I know we can go on a run and win every game from now until the end of the season."