Pep Guardiola has heaped praise on his players after a polished and controlled 2-0 win over United.
City dominated from the first to the last minute, restricting the Reds to one Cristiano Ronaldo volley that Ederson saved brilliantly.
It means that, from a daunting schedule of away games from the first 10 weeks of the season, City have taken 13 points from games against United, Chelsea, Liverpool, Leicester and Brighton – and the boss couldn't be happier.
CITY+ | SUBSCRIBE TO ACCESS EXCLUSIVE CONTENT
"Huge and deserved credit and my admiration and pride to these players," said Pep.
"The commitment and the fact is we played a really good game from beginning to the end.
"The best way to silence Old Trafford is to have the ball…have the ball and we did it.
"And we played a really good game except for ten minutes in the second half where we missed some ball."
The boss was also asked whether the past few years meant City were top dogs in Manchester, but he said each set of supporters will think that.

"For our fans, Manchester City is the best club in Manchester, for United red is the best all we can say is that in the last years we have done really well, winning a lot of titles and being there all the time," said Pep.
"It makes me so proud."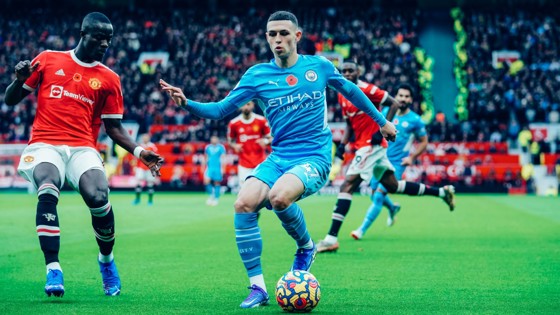 When asked if adopting a back three during the game had scuppered United's plans and perhaps led to some confusion, Pep responded: "Let me be gentle. I can never analyse or judge the opponents and what they have done.
"The games have been quite similar in previous seasons when they beat us.
"They wait behind and ambush us on counter attack - they did not control those games.
"They waited, maybe because they respect us, which is a big compliment for us.
"But we did a good game. Rodri was excellent as were Gundogan and Bernardo, and we wanted the ball.
"That's the only way to control the transitions. I know how big talented players like Cristiano are, they suffer when they don't have the ball. We wanted that."
Reference was also made to a comment Pep made ahead of the game, when he indicated that City couldn't come to Old Trafford and repeat what Liverpool did two weeks ago.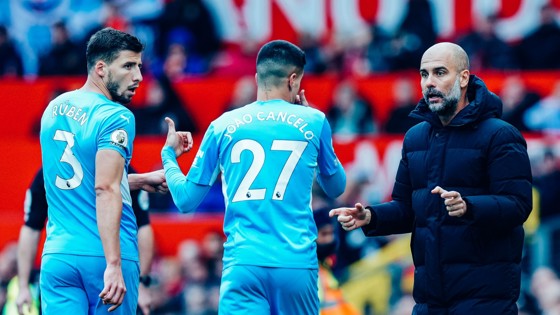 The Blues' boss says that he considers Liverpool as the biggest threat to City's Premier League crown.

"Liverpool attack in a different way," he said.
"My admiration for Liverpool - and Jurgen knows – so it's not necessary to tell you.
"They are our biggest opponents. It took him time to settle the team but with the players they have, Liverpool are there now for six years.
"We have different concepts as managers, but Liverpool and City have controlled the Premier League the last few years because it doesn't matter if we are home or away, we go there to make our own game."