Pep Guardiola says it is not difficult to understand why Southampton have given his team two very tough matches this season.
Saints held City 0-0 at the Etihad and 1-1 at St Mary's in the Premier League this campaign.
And the City boss believes Sunday's FA Cup quarter-final against Ralph Hasenhuttl's men will be equally difficult.
"Why was it difficult? Because they are good," said Guardiola.
"They play with intensity, rhythm, quality and the manager and players are good. They are consistent.
"When we win against United, it's because 'United was a disaster.' When we draw with Palace 'we are a disaster.' It's not one thing or the other.
"On Monday, we were good and Palace defended well. When Southampton take results against us it is because they are good. The opponents were good.
"Other opponents play with personality, sustain their rhythm for 90 minutes and this is huge credit to them - I respect a lot what the teams can do.
"I don't judge results only. I said many times, when you defend the last action against Tottenham like we do, you don't deserve to win.
"But did we play to lose the game? No - we were there against a difficult team.
"We have an incredible amount of points so far. And when you watch our opponents in the past few seasons, they are very, very good.
"Just see how many players came from Southampton over the last few years – players like Virgil van Dijk… many top players are there, sometimes they sell them to the other clubs.
"The recruitment is good and have they have top managers. They are doing a really good job."
Guardiola admits the FA Cup is still hugely important to City and the 2011 final victory against Stoke that ended 35 years of no trophies was huge for the Club.
"Roberto (Mancini) with his players, it was important to start winning trophies," he said..
"The FA Cup, especially the Premier League. You have strategy, ideas but you need trophies.
REGISTER YOUR INTEREST FOR CITY V ATLETICO MADRID TICKETS
"Without trophies, you cannot convince the people. People say City are good , but it is because we win games, my friends.
"You have to win. Winning is the only secret in football.  Winning trophies gives you confidence, you feel stronger.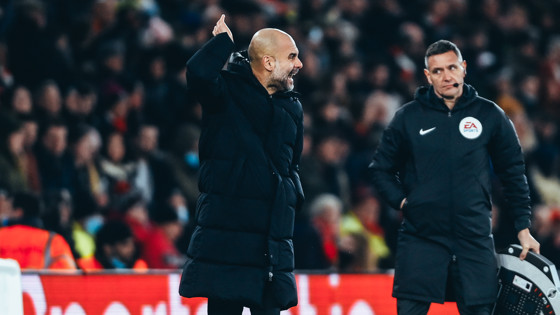 "You feel 'we have done it, we can do it again'.
"You make that step like Roberto had done and after with Manuel, huge credit, maybe without that we would not be here.
"The good players we have had had - they help us be who we are. I never forget the past - never, ever.
"In terms of mentality, belief, the staff. It's important. That's why every year you don't win is more difficult, the more you win the easier it is. "