Manchester City have today unveiled further tributes to Sergio Aguero ahead of his final game at the Etihad Stadium.
In recognition of a decade of outstanding contribution to the Club, Sergio was presented with a mosaic inspired by his first ever Manchester City goal against Swansea City from 2011.
The mosaic has been installed at the City Football Academy, beside a pitch that will now bear his name, having been dedicated to the Club's all-time record goal-scorer.
The latest in a series of tributes to departing City legends, including Yaya Toure, Joe Hart, Vincent Kompany and David Silva, the mosaic was created by local Manchester sculptor and City supporter Mark Kennedy.
The Club has previously confirmed that a statue has been commissioned to publicly celebrate Sergio's achievements and legacy.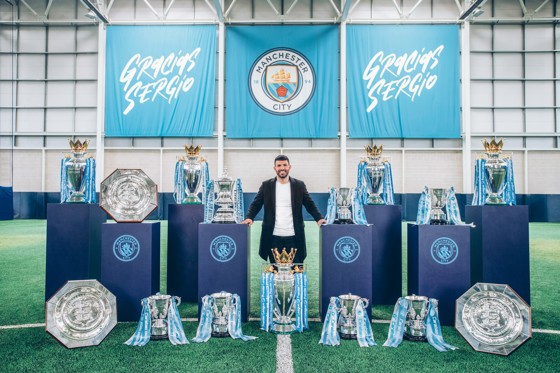 Sergio was also pictured with all 15 of the trophies he has won during his time here in Manchester, and also at the Northern Quarter where a mural of Sergio's famous 93:20 moment has been painted on the side of a building on Dale Street.
Sunday's Premier League tie against Everton will see Sergio play his final game at the Etihad Stadium for City and fans are reminded to remain in their seats following the Premier League trophy lift to offer Sergio a fitting Manchester farewell, before his focus shifts to a UEFA Champions League final next weekend.