Ruben Dias says City's 7-0 win over RB Leipzig was 'magnificent' but adds that the players are not getting carried away by it.
The margin of victory equalled the Club record win over Schalke in 2019 and was one of the Blues' best performances of the current campaign.
But our Portuguese defender, in superb form since his return to the starting XI, says the team will stick to their one game at a time mindset and not look too far ahead.
"It was a brilliant performance from the team," said Dias.

"Obviously, it's a big win and it's easy to go crazy with the result, but it's going through to the next round that matters the most.
"It was a good show up, especially after the first game – we learned a lot from that - and the intensity made the difference.
"We were aggressive in our pressing. The attitude showed the ambition we have. The rhythm in our runs. Being in the right spot at the right time.
"Those are things you have to put into a game like this and the team did it really well. It was a magnificent performance."
Dias also lavished praise on five-goal hero Erling Haaland.
The Norwegian continues to break records and create history, with his latest haul taking him to a Club record 39 goals for one season.
"He's definitely an incredible player, but we have an incredible team," said Dias.
"Obviously, he scores the goals but what happens before matters a lot.
"Essentially congratulations to the team because we performed very well, the intensity, the work everyone put in and the sharpness - everyone was sharp and ready for the occasion.
"I'm very happy for Erling and I know it's a special moment for him and for all of us as well.

"We like to see him score because we win. It's definitely not an easy job [to defend against him] – I've played against him!
"That's why he's here. We need to do our best and bring trophies to the Club."
Dias says the City squad love the pressure of competing at the highest level.
Five points adrift of leaders Arsenal in the Premier League and into two major quarter-finals, the Portugal star says this is the part of the season he and his team-mates relish the most.
"Pressure is our life," he said.
"It's just another day at the office we usually say. The big moments start to come at this part of the season and for you to go through you need to win, but we like it.
"It's what we are here for – for those moments and now we are through and very happy. Soon enough we'll have another fight."
And asked about whether teams would fear being paired with City in Friday's Champions League draw, Dias added: "Everyone knows what we bring to the game. It's not about fearing. We do what we have to do.
"We want to go through and want to win. We've been getting closer and working very hard.
"Manchester City never left. We've always been on our run, and we've been getting closer and closer.
"We're here and once more we reach the quarter-finals. We're getting closer to our goal. In the end, it's not about expectations, it's all about our ambition – we want to win but we know we need to go step-by-step.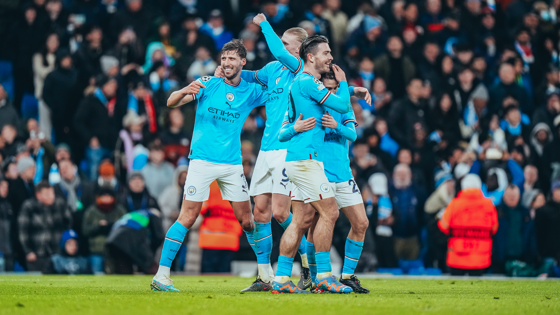 "All that has happened in the past is not something we let be a negative, it's about learning and being positive for what's to come.
"We've been dealing with it and these moments when they come and what you have to go through. It's learning after learning – mixed with our ambition. We will try our best again."