Rodrigo has signed a new three-year extension to his Manchester City contract, a deal which means the 26-year-old will remain at the Club until June 2027.
The midfielder, who has continually improved since joining City in the summer of 2019, has made 151 appearances in his three seasons at the Etihad and has 33 international caps for Spain.
He says he has loved his time at City and feels it is the best place for him to continue developing his game.
"Joining City in 2019 is the best decision I have made in my career," he said. "I have loved every second. The fans have been amazing with me, I feel totally supported by the Club and the manager pushes me every single day.
"I have improved so much as a player, and I want to thank Pep and all the backroom staff for their help. They are completely committed to helping me become the best player I can be, and I appreciate their hard work.
"We have been very successful since I came here, which is something that makes me very proud. But to be honest, that success has made me even more hungry for me. Once you start winning big titles, you don't want to stop.
"City, I feel, offers me the best chance of winning trophies and that's why I am so pleased to be staying here for longer."
Director of Football Txiki Begiristain added: "Rodri has been exceptional since coming here, so I am delighted we have managed to agree this new deal.
"He is the perfect example of what a top professional should be: he has a fantastic attitude, lives his life in the right way, takes care of his body and trains hard every single day. That is a manager's dream, and I know Pep loves working with him.
"He has improved a lot since coming here and, for me, he is now one of the best in the world in his position."  
Everyone at City wishes Rodri the best with the remainder of his time at the Club.
Rodri: City's dynamic pivot
If there was a graph to illustrate Rodrigo's impact in his three seasons to date at Manchester City, it would be one that demonstrates a constant upwards trajectory.
There's little doubt that the Spanish international holding midfielder has been a key component in Pep Guardiola's side since joining us from Atletico Madrid in the summer of 2019.
With his astute reading of the game, superb athleticism, fine passing attributes and sharp eye for goal, the 26-year-old has played a huge role in our success over the past three years.
It's all underscored with a keen intelligence and sharp understanding of the needs of the role itself – and of his team-mates.
Having moved to City from Atletico armed with a reputation for being one of Europe's most promising holding midfielders, Rodrigo soon illustrated his quality during his first season at the Etihad – one that was interrupted by the onset of the COVID -19 pandemic.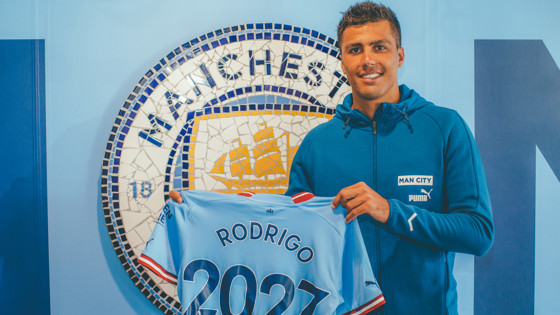 He ended it with a winners' medal from our 2020 Carabao Cup final triumph over Aston Villa, scoring the decisive winning goal with his powerful header securing our 2-1 win in the Wembley showpiece.
Rodrigo also benefitted immensely from learning and honing his craft via the encouragement and guidance of Brazilian icon Fernandinho and manager Pep Guardiola, two of the game's finest-ever holding midfielders.
His impact only grew across the course of a remarkable 2020-21 campaign that saw City rewrite a host of domestic records as Guardiola's squad regained the Premier League title, retained the League Cup and reached a first-ever Champions League final.
However, few would argue that Rodrigo enjoyed his finest season yet at the Club in what proved a stellar 2021/22 campaign.
The work of a defensive holding midfielder often goes unheralded and can slip below the radar, but - by whichever metric you choose to highlight - Rodrigo's colossal impact was impossible to ignore last season.
Indeed, for many neutral observers, the Spaniard emerged as one of the key components in City's magnificent defence of the Premier League title.
It says everything about his character, intelligence and diligence that on top of his endeavours on the pitch, Rodrigo also found time to complete a degree in Management and Business Administration.
There were numerous individual highlights across what proved a season to savour.
They ranged from some spectacular long-range strikes against Arsenal, Everton and Watford at home, a pivotal injury time winner away at Arsenal and a remarkable late goal line block at Anfield in October's 2-2 draw, which saw his expertly timed lunge deny what looked a winning strike from Fabinho.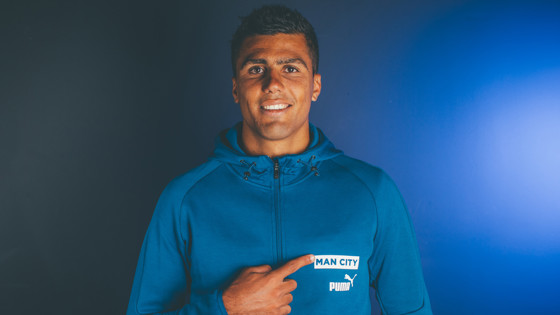 CITY+ commentator Ally Mann memorably described it as "the tackle of the century". And given the fact we eventually won the title by a point from the Merseysiders, its importance was hard to overstate.
Fast forward to the final game of the 2021/22 season and Rodrigo it was too who showed the class and composure to expertly guide home our second and equalising goal in May's nerve-shredding 3-2 comeback win against Aston Villa which saw us secure the title in the most dramatic of circumstances.
The stats too helped underscore his colossal all-round contribution.
Rodrigo proved to be the Premier League's most effective defensive midfielder last term.
Offering an imposing physical presence around the pitch, Rodrigo broke up play better than anyone else, making 17 recoveries per 1,000 opposition touches.
Furthermore, Rodri also proved invaluable in possession, finding a team-mate with 91.8 per cent of his passes.
Meanwhile, he also topped the list for the most successful passes inside the opposition half while his seven league goals in total further illustrated his all-round impact.
No-one knows the holding role better than Guardiola himself of course.
Pep helped redefine the role of a holding midfielder, becoming one of the totems of that great Barcelona side which enjoyed so much success throughout the 1990s.
Speaking last term, the boss made no secret of his admiration for Rodrigo's contribution – and even more encouragingly, reiterated how he believed how he could still get even better.
"I think now he's so stable, he's always paying attention and he's realising what we are looking for because sometimes you need time to understand what we are looking for," Pep asserted.
"Because he is 25 years old, he's still young and his mentality, he's a competitor, who can show it in every training session and game.
"We are more than satisfied. We knew it when we went to him at Atletico, he's growing and hopefully he can be a better player.
"He still has the margin to be a better player and, hopefully, we can help him."
Fittingly however the last word goes to the player himself.
"It's not an easy position," Rodri said reflecting during last term. "You need to find the role; the team needs you and I understand perfectly what the team demands from me.
"I try to do my best every game and try to learn every day."
Season-by-season stats
2019-20
Played: 52
Minutes played: 3,679
Goals: 4
Assists: 2
Passes: 3,879
Passing accuracy: 92.8%
2020-21
Played: 53
Minutes played: 3,991
Goals: 2
Assists: 5
Passes: 4,117
Passing accuracy: 91.5%
2021-22
Played: 46
Minutes played: 3,926
Goals: 7
Assists: 2
Passes: 3,860
Passing accuracy: 92.1%