Raheem Sterling is playing his way back to top form according to former City favourites Shaun Wright-Phillips and Nedum Onuoha.
After going 10 weeks without scoring, Sterling has now scored a goal in each of his last three City appearances.
Just two shy of 100 career Premier League goals, his form could be peaking at exactly the right time for City with the busy December an January period looming.
TAKE ADVANTAGE OF OUR BLACK FRIDAY OFFERS
"I wasn't surprised to see Raheem in the starting XI against PSG," said Shaun Wright-Phillips.
"He has had three years as a striker and there will always be a patch where you aren't doing well.
"Lionel Messi and Cristiano Ronaldo might not but top players like Harry Kane are having that now.
"Raheem will be Raheem - he is back scoring goals now and the way he took the goal against Everton last weekend was a striker's finish. 
"When I ever had a dip in form, I went back to basics.
"You go back to Raheem starting to dribble at people and create chances for himself.
"I played two-touch until I was one on one rather than do a skill.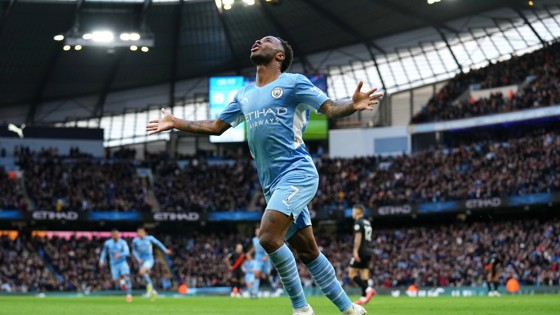 "He doesn' look like he is lacking confidence at all and he scored another crucial goal against PSG.
"You still have to be reliable for your team mates and he is contributing with goals and is a great benefit to the side."
Nedum Onuoha says an in-form Sterling is crucial to City – and that he's not a player he would have enjoyed playing against...
"You forget he is only 26, you feel he should be 30 by now!" said Onuoha.
"He is making a transition to becoming an older player.
"I think he is finding ways out of a lean spell and his performance on the weekend was great.
"Raheem Sterling is a very good player and I certainly don't want to play against him!"
Shaun and Nedum were talking on our Matchday Live show, available for each match and starting one hour before kick-off.