Phil Foden has signed a new three-year extension to his Manchester City contract, keeping him at the Club until the summer of 2027.
The 22-year-old, recognised as one of the finest young talents in football, has emerged from City's academy setup to become one of Pep Guardiola's most trusted players.
He has already won 11 trophies at club level – four Premier League titles, an FA Cup, four League Cups and two Community Shields - and has 18 senior international caps for England.
Foden's influence and impact across the last two campaigns saw him win the PFA Young Player of the Year and the Premier League Young Player of the Season two years running.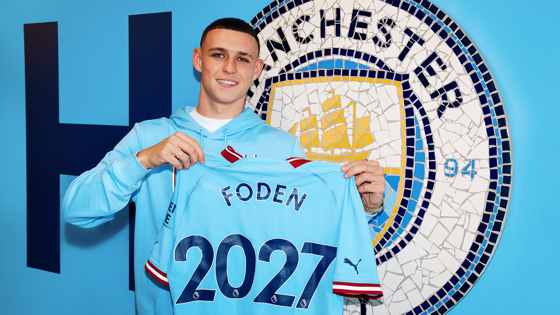 Having been at City since the age of nine, he says signing this new deal is "a dream come true".
"It's hard to put into words how happy I am to have signed this contract," Foden said. "It's a dream come true.
"I have been a City fan all my life. I've trained here for so many years and I've even been a ballboy. I love this club so much, so to know I am going to be a part of it until 2027 feels amazing.
"I've improved a lot in recent years and so much of that is down to Pep and his staff, who guide me every single day on the training field. Working with them gives me the best chance of improving even more and becoming the best player I can be.
"With the squad we have here, I feel I can keep learning and winning trophies. Those are the two most important things to me.
"I want to thank every single person at City because without them I would not be where I am today. All the Academy coaches I worked with, all the players I've played with and everyone who works behind the scenes. It's an honour to be part of this football club."
Director of Football Txiki Begiristain added: "We are all so proud of Phil and what he has achieved already – but we know there is so much more to come.  
"His natural talent and ability are obvious, but his hard work, professionalism and dedication make him really special. He loves football more than anything and his desire to improve is really incredible.  
"We feel he can progress further and become even better than he is today. By signing this contract, he now has stability and can focus absolutely everything on becoming one of the best players in the world, which we feel he can be."  
Everyone at City is delighted with the news and we all wish Phil every success during the remainder of his time here.
Phil Foden: A meteoric rise
'Phil Foden, He's One of Our Own' goes the terrace chant – and it's clear that from the get-go Foden and City have proved a match made in heaven.
The bond between homegrown youngster playing for the team they grew up supporting and the fans is always an extra special attachment.
For the supporters, they see their own dreams being fulfilled on the pitch by someone who feels close to them. For the player, it's the realisation of a lifelong ambition.
Phil Foden has achieved just that and so much more.
From being a ball boy at the Etihad to the fulcrum of City's creative set, his journey has been the stuff straight out of a Hollywood script.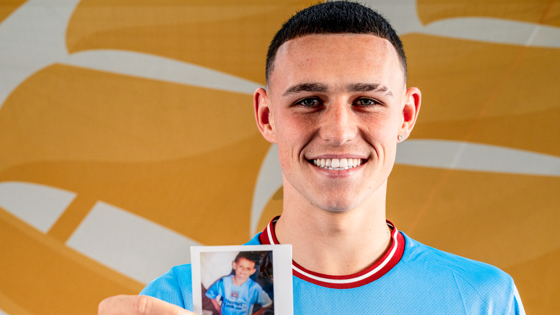 What's more, Foden has done it the hard way, having to fight his way into a squad bursting with world-class quality from top to bottom.
Born and bred in Stockport, Phil's outstanding natural ability and single-minded attitude and approach saw him tipped for the top right from the moment he joined our Academy as a young boy.
And when Pep Guardiola was appointed City boss in the summer of 2016, director of football Txiki Begiristain instantly alerted the new boss to the extra special talent that was being nurtured in our Academy.
That ability was demonstrated to startling effect on our tour to the United States in the summer of 2017 when Foden produced a quite dazzling display against Manchester United.
City may have been edged out 2-0 in Houston – but the real victory came in the shape of Foden's extraordinary display that illustrated just what a rare talent he was.
And it prompted a memorable reaction from Pep – no stranger to recognising outstanding quality.
"It's a long time since I saw something like this. His performance was another level. He's 17 years old, he's a City player, he grew up in the academy, he loves the club, he's a City fan - for us he's a gift," Guardiola declared. "He's special."
The die was cast.
After emerging as England's shining star at the 2017 Under-17 World Cup, helping the Junior Lions lift the trophy as well as being voted player of the tournament and winning the Golden Ball, Foden's impact was soon being felt at Club level too.
Foden made his City debut in November 2017, replacing Yaya Toure as a late substitute against Feyenoord. Two weeks later, came a first start for against Shakhtar Donetsk, which saw Phil become the youngest English player, at the age of 17 years and 192 days, to start in a Champions League match – and the first player born in the 2000s to do so.
By the end of that 2017/18 season, he had become the youngest ever Premier League winner, having appeared five times, earning him a winner's medal.
The 2018/19 campaign saw City become the first side to win a clean sweep of every major domestic English trophy, and Foden notch up a series of notable firsts.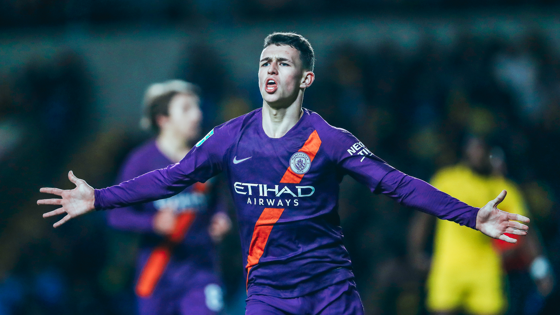 He registered his first-ever goal at senior level in our 3-0 Carabao Cup win away at Oxford in September 2018 and followed that up with a first Etihad strike in a 7-0 FA Cup success over Rotherham in January of 2019.
A maiden European goal in our 7-0 win over Schalke in a second leg last 16 tie saw Foden become both the youngest player ever to score for City in the Champions League and the youngest English player to score in a knockout stage of the competition.
He also registered a crucial, first Premier League goal in our pivotal 1-0 win over Tottenham in April 2019 as City ended a historic season with an unpreceded clean sweep of every major domestic English trophy.
Foden's influence and impact was further enhanced during a 2019-20 season that saw him become even more of a pivotal figure.
He played 38 games across all competitions and was directly involved in 17 goals (eight goals and nine assists).
Foden also produced a man of the match display at Wembley as City secured a third successive Carabao Cup, beating Aston Villa 2-1, becoming the youngest-ever recipient of the Alan Hardaker Trophy.
The 2020/21 campaign saw Foden go from strength to strength and assume even greater responsibility in the wake of the departure of Club legend David Silva, a player he idolised and respected.
Foden was outstanding from the get-go in what proved a relentless, demanding season played against the challenging backdrop of the COVID-19 pandemic.
He started as he meant to go on by scoring in our impressive opening 3-1 league win at Wolves and never looked back.
Foden emerged as one of the driving forces as City regained the Premier League in spectacular fashion, and was also instrumental in yet another League Cup triumph as well as our maiden Champions League final appearance
All told, Foden chalked up 50 appearances, contributing 16 goals and 10 assists.
He ended the domestic campaign by being voted as the PFA Young Player of the Year and Premier League Young Player of the Season and was also named in the UEFA Champions League squad of the season.
Foden proved a pivotal once again across the 2021/22 campaign as Guardiola's side achieved the formidable feat of retaining the Premier League title in the face of a fierce challenge from Liverpool.
The England international produced a host of memorable individual displays and ended the campaign having amassed 14 goals and 11 assists.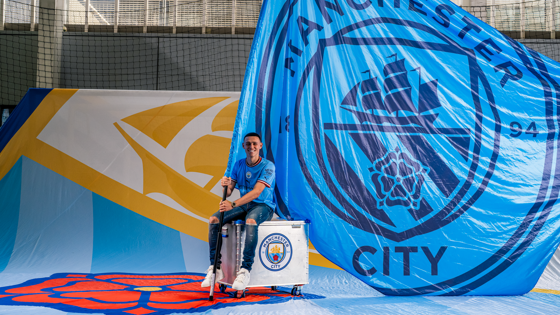 Foden also achieved the notable double of once again being voted as the Premier League Young Player of the Season and PFA Young Player of the Year. He was also amongst the nominees for the prestigious Balon d'Or award.
He's already won 11 major honours and to date played 182 games for City, scoring 52 goals. In terms of natural talent and ability, few in the game can hold a candle to him.
But arguably the shining essence of the young man and player is that he has never forgotten those grounded and humble roots.
"I've still got family around Stockport, so I go and visit sometimes, and kids are just starstruck to see me," Phil reflected. "It's quite strange because I was one of those kids and was just the same as them. They look up to you, so it's just to give something back, because I used to play there growing up.
"It's good to play with them and see a smile on their face."
In the wake of his new contract, Foden is set to bring more joy and delight to the City faithful over the next few seasons.
Phil Foden: Season-by-season stats
2017-18
Played: 10
Starts: 3
Minutes: 330
Goals: 0
Assists: 1
Mins/Goal involvement: 330.0
Wins: 7
Win %: 70%
Draws: 1
Defeats: 2
Big chances created: 1
Honours: Premier League, Carabao Cup | Individual: BBC Young Sports Personality of the Year | International: FIFA U17 World Cup
2018-19
Played: 26
Starts: 11
Minutes: 1,112
Goals: 7
Assists: 2
Mins/Goal involvement: 123.6
Wins: 23
Win %: 88%
Draws: 2
Defeats: 1
Honours: Premier League, FA Cup, Carabao Cup, Community Shield
2019-20
Played: 38
Starts: 18
Minutes: 1,741
Goals: 8
Assists: 9
Mins/Goal involvement: 102.4
Wins: 32
Win %: 84%
Draws: 3
Defeats: 3
Honours: Carabao Cup, Community Shield
2020-21
Played: 50
Starts: 36
Minutes: 3,375
Goals: 16
Assists: 10
Mins/Goal involvement: 129.8
Wins: 38
Win %: 76%
Draws: 4
Defeats: 8
Honours: Premier League, Carabao Cup | Individual: PFA Young Player of the Year, Premier League Young Player of the Season, UEFA Champions League Squad of the Season
2021-22
Played: 45
Starts: 36
Minutes: 3,185
Goals: 14
Assists: 11
Mins/Goal involvement: 127.4
Wins: 31
Win %: 69%
Draws: 8
Defeats: 6
Honours: Premier League | Individual: Nominated for the 2021 Balon d'Or, PFA Young Player of the Year, Premier League Young Player of the Season
2022-23*
Played: 13
Starts: 10
Minutes: 810
Goals: 7
Assists: 3
Mins/Goal involvement: 81
Wins: 9
Win %: 69.2%
Draws: 3
Defeats: 1
*Stats correct up to 15 October 2022.
TOTAL
Played: 182
Starts: 114
Minutes: 10,553
Goals: 52
Assists: 36