Phil Foden says extending his City contract to 2027 means he is living out his boyhood dream.
Foden has committed his long-term future to the Club he has followed all his life and he couldn't be happier.
And he still pinches himself that those days watching from the sidelines as ball-boy at the Etihad, imagining playing on the pitch with his heroes and celebrating with the supporters who call him 'one of our own', have all come true – plus more besides.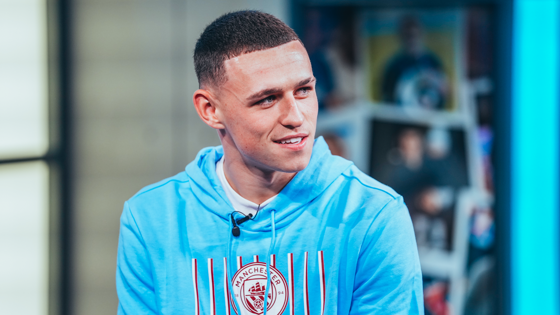 "It's an extremely proud moment for me and my family," said Foden after penning a three-year extension.
"Obviously being a massive City fan myself and coming through the Academy, to extend my stay here is all I've ever dreamed of. 
"The way the team's progressing, the way we're playing football and I'm happy here so definitely, yeah (it was an easy decision)."
Foden has been in sparkling form in the early months of the 2022/23 season.
With seven goals in his first 13 matches, the 22-year-old is well on course to beat his 2020/21 career high of 16.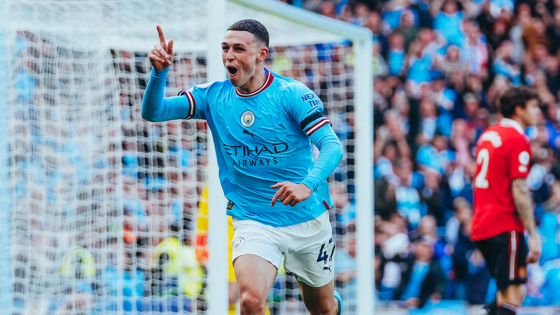 He puts the start this campaign down to a number of things, but he believes that getting another year of top level football under his belt is also a major factor.
"Getting more mature, older, understanding the game a bit more and all those things together (are reasons)," he said.
"This year, I think I've been scoring a lot more goals so hopefully I can keep going in that direction.
"I don't like to put too much pressure on myself. Obviously, I have little goals and targets in my head, but I try not to think too much about them because sometimes it can make you try too hard.
"I feel like I can add a lot more goals and hopefully this season, I seem to be doing that so hopefully I can keep going down that road.
"I just try to keep focused and keep performing on the pitch." 
To have 11 major trophies at his age is nothing short of incredible, and 52 goals from 182 appearances to date is a record to be proud of.
Foden says his hunger for success and to continually improve comes mainly from within.
"I think it just comes from myself," he said of his incredible drive and desire.
"Determination to always want to win. I think I've always been like that since I was young.  Anything I play I want to win so I think it just comes from within.
"I also think it's just from playing football every single day from when I was a kid.
"Anywhere I could, I was just practicing my touch against the wall. It's definitely helped me progress and definitely helped my touch out." 
And of that unique position of being a City fan first, the fact he progressed to play alongside the players he idolised is not lost on the Stockport-born youngster.
"I always loved David Silva," he smiled. "Every time I watched him play, I enjoyed him and wanted to be just like him.
"It's so hard to say who the best I've played alongside is. I have so many favourites!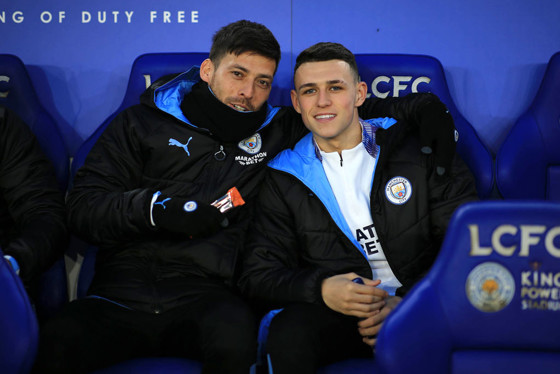 "I love David Silva, Bernardo, and Kev (De Bruyne), they're my favourite three who I enjoy playing with the most." 
Foden says the team spirit has never been better at City, who have made an unbeaten start to the 2022/23 campaign.
He believes the balance is perfect, with players competing for places and backing each other regardless of team selection.
"We have such a great team," he said. "Everyone's together, we all fight for each other on the pitch and it's just really healthy at the moment and everyone's trying to do the best they can.
"If you put all the best players in a team, they're not necessarily going to win. That togetherness when things aren't going so well, how you fight for each other can be more important than anything else.
"I think our team definitely has that (team spirit) and it's good." 
And he also says the work and influence of some of the team's vital components can sometimes slip under the radar somewhat – namely Rodrigo's contribution.
"I think it goes unnoticed with a player like Rodrigo and what he does for the team," he said.
"Because we have so many goal-scorers, a player like Rodrigo is so important. He breaks the play up, he's so good on the ball.
"You can see his long-range shooting is there as well and he's so important for the team.
"He definitely helps all the players up the pitch play a lot better." 
A terrace idol himself, Foden admits the backing of the City fans has been integral in his upward trajectory.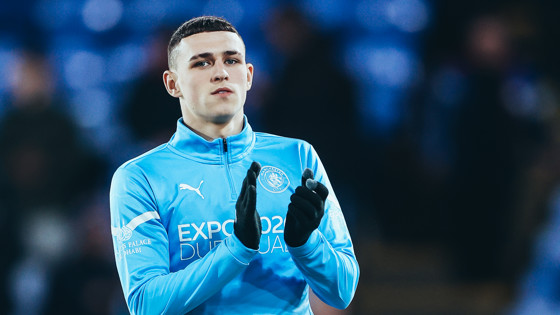 Players coming through the ranks have always been welcomed with open arms by City fans, with Foden threatening to become one of the best the Club has ever produced.
And he admits that warmth and love that he feels every time he wears that sky blue shirt has helped him kick on that much quicker.
"Massively, it gives me the confidence," said Foden.
"When I score a goal or do something well and they sing my name, it makes me feel comfortable and I just want to keep doing better for them. 
"I'd just like to say thanks a lot for always supporting me and having my back and hopefully I can perform on the pitch and win a lot of trophies with this Club."