Pep Guardiola says Kevin De Bruyne's season is getting better and better as City moved within four points of the Premier League title.
The Belgian maestro bagged a career-best four goals in the 5-1 win over Wolves as he arguably gave his best ever performance in a City shirt.
Asked about KDB's stellar display, Guardiola said: "What can I say? In the second part of the season, he has been beyond perfect.
"I am so disappointed in him that he missed a fifth goal when he hit the post!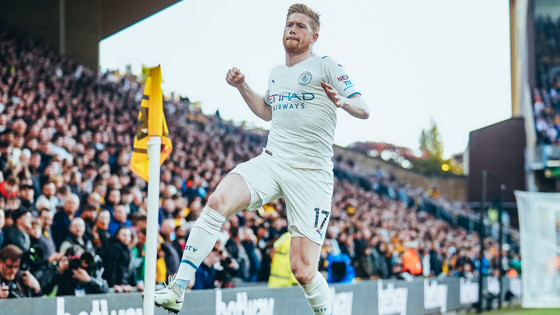 "He has always been a guy who is so generous and has the sense to make an assist, but I think this season he has the sense to be prolific and score goals.
"He won the game against Chelsea; he scored a goal against Madrid and has been scoring decisive goals.
"I am very pleased for him. Scoring four goals in the decisive part of the season right now is so important.
"You have to arrive in the box. You have to be close to the box and this season I think he has done that better and better.
"Hopefully, that can continue. Not just this year, but for the rest of his career. I have the feeling he has now started enjoying goals.
"Before it was just assists, but now I have the feeling he thinks 'I like when my team-mates come to hug me because I scored a goal'. It's good!"
City need four points from the games against West Ham and Aston Villa to guarantee another Premier League title.
But the defensive injury jinx may have struck again after Fernandinho and Aymeric Laporte were both taken off after suffering knocks against Wolves.
With Ruben Dias, John Stones and Kyle Walker already ruled out, the Blues can ill-afford to lose any more defensive cover.
"Well, apparently it doesn't look good," said the City boss.
"I would say there are some muscular problems for Fernandinho, and it will be difficult for Sunday.
"Aymer had a tough knock on his knee, and we have just four days so we will see how they recover for Sunday.
"(There are) two weeks left, it was a brilliant performance from all the players.
"All of them. They implemented our movement perfectly and made good runs for the people up front. We were good. It's an important victory.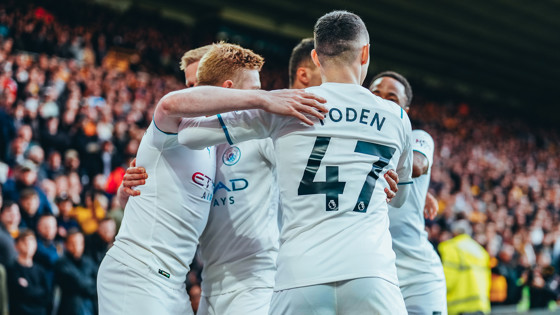 "We need four points to be champion and we are going to try and get the first three on Sunday. 
"We could have scored more. It is not about that because if we win our games goal difference is not important.
"We have a really tough game on Sunday, and we have incredible problems in (defence).
"We don't have players and against Antonio, Bowen, Lanzini, it will not be easy. 
"But at the same time, it doesn't matter what happens, we are going to find a solution and we are going to go there to win the game."