Pep Guardiola says he has no doubts Sergio Aguero can rediscover his best form when the Argentine striker returns from injury.
With injuries hampering his 2020/21 campaign, Aguero has made just four appearances so far with Guardiola confirming the forward will not be in contention for Saturday's Premier League visit of Fulham.
Naturally, the Club's all-time record goalscorer has been sorely missed but his manager asserts Kun can rekindle his top level of performance and play a key role in City's quest for more silverware.
"When he will be fit, he will be the same player," Guardiola stated, in part two of his pre-match press conference.
CITY+ | SIGN UP TO WATCH EXCLUSIVE CONTENT
"Age is the age. He has to be fit and will need a little more time than Raheem Sterling or Phil Foden (to recover) because the physicality of his body is different.
"I am optimistic he will help us this season – to do what Sergio does – but for that, he needs no pain in the knee.
"We are working on it. Today, he feels much better and when he can train for one or two weeks in normal conditions, he will come back with his best.
"His sense of goal is unique in this team. It's so important.
"We were without him for five or six months. That's a long time without our striker but I am confident.
"He works a lot. He is a lovely person and I have an incredible relationship with him – better than ever – and I like it.
"All of us want him to come back as soon as possible – for him especially and also for the team."
As City prepare to enter a crunch period of fixtures within the festive calendar, Guardiola underlined the importance of fitness, recovery and squad rotation in the coming weeks.
"We are coming into the toughest period now," he said.
"The last two games, we finished training and asked the doctors [about fitness]. No injuries – that's like three points!
"In the beginning, it was weird. There were more than 12, 13 players injured or with COVID-19, and no pre-season.
"We started with Wolves and didn't play one single friendly game. We didn't know our condition.
"Now, I have the feeling everyone is coming back and starting to do it.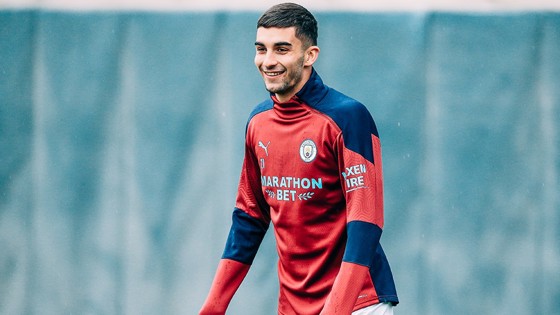 "Nothing is perfect – everything can be better, starting with myself, the group, the Club… everyone.
"We have to demand more and more. That's the only way.
"Six, seven incredible players don't play – they are waiting. You will drop at times but we need a high level to build something this season.
"All the players know: the players who play good play the next game.
"There are 19, 20 players fit so they have to raise the standard as much as possible to remain selected.
"Hopefully, Sergio can come back. It's important to have fit players."
SUBSCRIBE TO THE OFFICIAL MAN CITY PODCAST
We will have full coverage of Saturday's game right here on ManCity.com. 
Our Matchday Centre will get under way at 1pm, with text updates throughout the evening meaning you won't miss a beat. 
Our We're Not Really Here live matchday show starts at 2pm, with Shaun Wright-Phillips, Shaun Goater and Michael Brown all joining us in the studio. 
And CITY+ subscribers can enjoy a full 90-minute replay from midnight. 
Enjoy your first month of CITY+ free of charge. After that, CITY+ costs £1.99 a month.
Find out more and sign up, here.