Pep Guardiola insists that City must secure the Premier League title before we can turn our attentions to the Champions League final.
Celebrations of a third league crown in four seasons were put on hold after Chelsea snatched a late 2-1 victory at the Etihad Stadium on Saturday.
It means that City's next opportunity to confirm top spot with an all-important win comes on Friday night, when Guardiola's men travel to the north east to face Newcastle United.
The title could also be confirmed before then if Manchester United are beaten by Leicester or Liverpool on Tuesday or Thursday respectively.
Despite this, Guardiola refused to entertain talk of Champions League final preparations until a Premier League triumph is mathematically assured.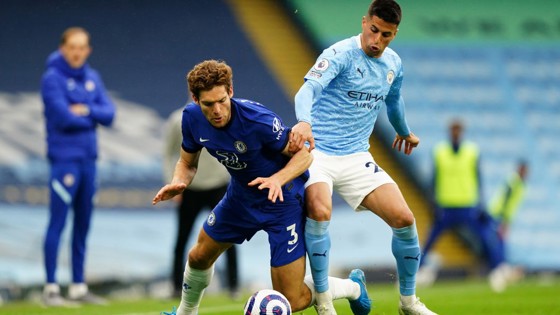 "The FA Cup and Carabao Cup is over, so we have to focus on winning the Premier League," he declared when facing the media after our defeat to Chelsea.
"We still have to make the points though, when you have the points you are champions, until then it's Liverpool.
"Still we are not, the people for one two months say it is done.
"No, we had to go to Leicester and win away, Aston Villa and win away, Crystal Palace and win away.
"We have the position we have and we will try the next three games we have to try to win the Premier League.
"After, it depends the day it happens, we will then prepare for the Champions League final.
"I am pretty sure for the final of the Champions League we will be ready to compete and play the best game as possible."
Saturday's clash at the Etihad Stadium represented a precursor to this season's European showpiece in Istanbul, as City pit our wits against Thomas Tuchel's Chelsea once again.
The two have locked horns on three separate occasions this season, but Guardiola insists that previous encounters will have no bearing on how things pan out on Saturday 29 May.
After a thoroughly convincing 3-1 Premier League win at Stamford Bridge in January, Chelsea have got the better of us in our following two matches.
But the City boss insisted that, despite a disappointing 2-1 defeat to the London outfit this time around, the result and performance are no cause for concern going forward.
"Also we can lose the games," Guardiola pointed out.
"The first game (FA Cup) was completely different - we came from Dortmund and we were not good, like Saturday we were.
"That's all, congratulations (to Chelsea). It can happen. You say we are not used to losing games, that is a big complement to us. It can happen.
"It's different competitions, one was the FA Cup, one was the Premier League and now we are going to play the Champions League.
SUBSCRIBE TO THE OFFICIAL MAN CITY PODCAST
"We will decide the way we are going to play, today they did really well, except the momentum when they conceded a goal.
"Second half we reacted incredibly good, but then we suffered and did not have control, the game was open and in that moment they were better.
"We put some midfield players on to help regain control again and we did it."