Pep Guardiola hailed Saturday's hugely impressive 2-0 derby success at Manchester United as a guiding template for his side looking further afield to the rest of the season.
The reigning champions produced a magnificent all-round display at Old Trafford to claim the bragging rights in the 186th Manchester showpiece.
Victory was secured thanks to a first half Eric Bailly own goal and opportune strike from Bernardo Silva.
But such was City's dominance in possession, territory and chances, the margin of victory could have been even greater.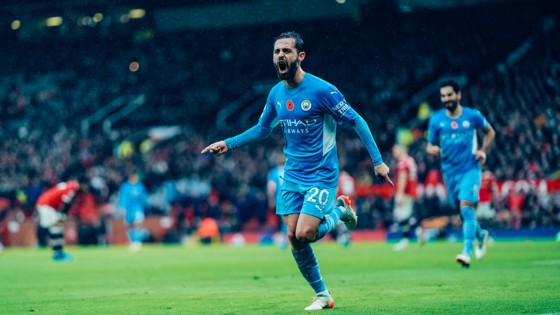 And for the boss, the impressive manner of our all-round display was the most satisfying aspect of Saturday's performance.
"Except for ten minutes in the second half, the other 80 minutes we had it absolutely under control," Pep said.
"There have been other games like when we could be champions at the Etihad in 2018 when we were 2-0 up at half time and lost 3-2, in the first half maybe it was 4 or 5 and we lost 3-2, the second half we were not good.
"Some games we were good but not for as much longer like Saturday was, it's the game where we controlled (things) more specifically.
"We know each other better, we know the opponent better, and we need the ball to play good.
"We have the desire when we don't have it to recover it and after that play and play and play. Not to attack quicker you will score more goals, just to arrive in the right tempo, I love to arrive in the boxes, not be in the boxes.

"The way we play with a lot of passes, we are able to have Gabby, Bernardo, Phil and Kevin who can arrive and surprise the opponent. On Saturday we did it really well."
Afterwards Phil Foden – who was again superb throughout – described City as having played 'the game of our lives' in achieving such a memorable success.
For the boss though – despite the significance of what the win meant – he preferred to stay calm and focused and not allow emotions to get in the way of preparation and performance as he looked ahead.
"Phil (Foden) is too young, there are more (memorable wins) to come," Guardiola added.
"He will live fortunately many more, of course it's special for Phil because he is a City fan.
"I know these games are important. Before we have to prepare and be calm, not too many emotions to prepare the game.
"But afterwards when you have success, or you play good and win the game after that you have to celebrate it with your City neighbours."