Kevin De Bruyne predicts the 2021/22 campaign will prove 'a great battle' for City.
The Premier League Champions enjoyed a successful weekend, closing the gap on league leaders Chelsea with a memorable Manchester Derby victory at Old Trafford, as our title challengers dropped points.
Though Pep Guardiola's men have had a mixed start to our title defence and suffered Carabao Cup elimination, the Belgian playmaker believes his side are now finding their rhythm and are ready to 'fight for everything' this season.
CITY+ | SUBSCRIBE TO ACCESS EXCLUSIVE CONTENT
"I think we have played very well so far this season," he said. "It's true that we dropped some points but it's very difficult to win all of the matches in the Premier League.
"We have been at a good level so far. In the Champions League, we are one step away from going through to the Round of 16.
"I think we are in a good moment but the season is very long.
"It will be a good battle between a lot of teams. We are fighting for everything.
"There are so many games left and still there is a long way to go."
City head into November's international break on the back of two good results: a 4-1 European victory over Club Brugge and Saturday's Derby win.
An early Eric Bailly own-goal set the visitors up and running at Old Trafford before Bernardo Silva doubled the advantage on the brink of half-time – and the Champions produced a professional display to claim a crucial three points and the local bragging rights.
Reflecting on the victory, De Bruyne expressed his pride, adding he and the team were pleased to have delighted the City fans.
"It's always a hard game there but we started really well," he reflected. "In the first half, we dominated.
"We created a lot of chances and we only gave one chance away to Cristiano Ronaldo. I think we deserved to be 2-0 up at half-time.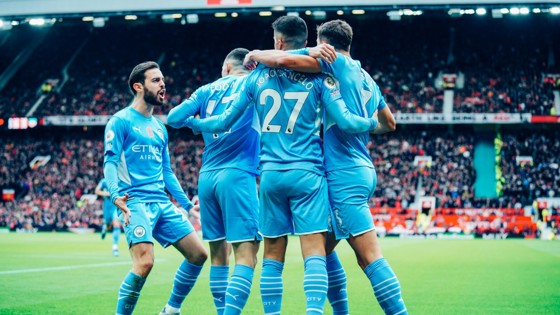 "In the first half, we had to score goals. When you are 2-0 ahead on the scoresheet, it makes the game different.
"You have to be smart how to play in every moment of the game. I think the team was a really high level and we must congratulate all of my teammates and the staff.
"In the second half, in the first fifteen minutes, it was a little bit harder to press them but the last half an hour of the game, we did really well – we kept the ball, we created chances.
"Tactically, we played the same way as we always do. We didn't change our style of play and it worked well for us.
"It's always important to win the Manchester Derby. You only have to see how the fans enjoy the win. For us, it's very important to win there.
"Unfortunately, we didn't score the third one but we fully deserved to win."