Pep Guardiola says he is fairly sure what to expect against Manchester United on Saturday.
The boss was asked whether United's recent successes against City made this game an even tougher task.
The Blues have triumphed just once in five meetings against the Reds, though have lost just one of six trips to Old Trafford.
"Congratulations to United for winning the duels against us," said Pep.
"What they do is quite similar week by week. Incredible physicality, lots of talent and people up front who can win the game themselves.
"They have good runners in the channels and in behind, especially Fernandes who is good with the ball.
"We did good games against them, maybe not always a good result, except one game last season which was a little bit boring.
"They played five at the back and we were not in a good moment.
"In general we played good games. We were ourselves when we played them.
"Sometimes you win, sometimes you lose. United for the last century have been a good team.
"We are going to prepare well this afternoon and tomorrow morning."
And when asked about Cristiano Ronaldo, he replied: "Normally I don't talk about the players for other clubs. I am pretty sure he is happy to be at United and they are happy to have him."
CITY+ | SIGN UP TO ACCESS EXCLUSIVE CONTENT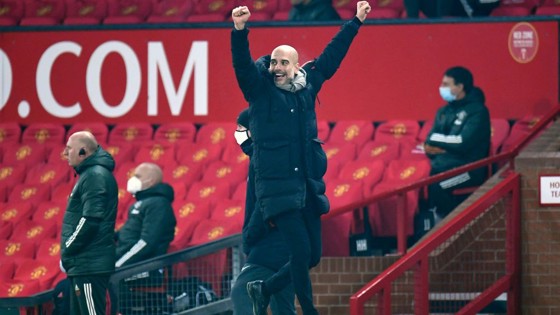 Aside from the derby, Pep was asked what his thoughts were on City's first Premier League 10 games and whether he was happy or not.
"In 10 games we had two not good results against Southampton and Palace at home the rest we played well," he said.
"The first one against Spurs we had eight or nine players of the first team missing.
"In general it was good. Always, even if you are winning many games in a row, you can improve.
"We will try to continue in this way."