Sunday's Manchester derby was an all-time Premier League classic.
City fans, whether at the Etihad Stadium on Sunday or around the world, are unlikely to forget the day in a hurry.
Hat-tricks from Erling Haaland and Phil Foden blew our city rivals away before the visitors managed consolation strikes to add a degree of respectability to the scoreline.
Here we take a look at the best statistics from a dominant derby performance...
Foden's 50
Phil Foden is the youngest player ever to score 50 goals under Pep Guardiola, beating Lionel Messi by 37 days. Foden was 22 years and 127 days old yesterday, and now has 51 goals in his City career.
Other names on the list of players to have scored at least 50 times for a Pep side include Robert Lewandowski, Thomas Muller, and seven players from his time with City.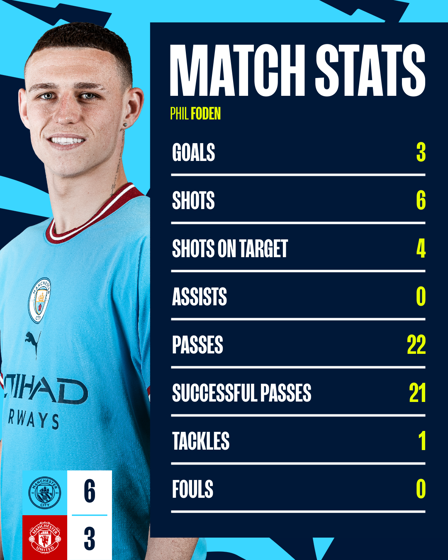 Most goals in a Manchester derby
With nine goals in the game, it was the highest scoring Manchester derby of all time. The second highest in the Premier League era was the 1-6 victory at Old Trafford in October 2011.
Haaland's goal involvements
Erling Haaland had a hand in five of City's six goals (3 goals, 2 assists), the most goal involvements by a player in a single Premier League Manchester derby.
He now has 17 goal involvements in his first 8 Premier League appearances (14 goals, three assists. Of all players to have played at least 200 minutes so far, Haaland is the most dangerous with a goal every 39 mins of action.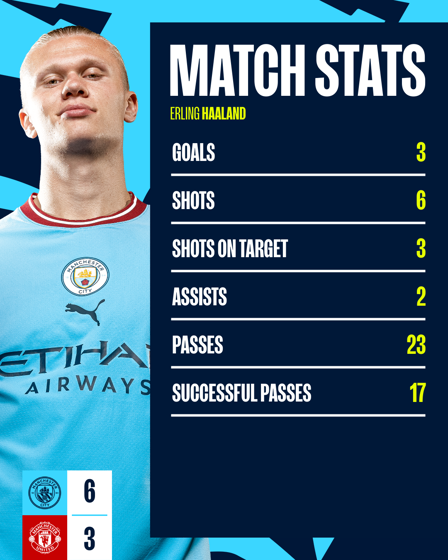 That beats Liverpool's Roberto Firmino, who is second with a goal involvement every 53 minutes and then comes Kevin De Bruyne, who has been directly involved in a goal every 68 minutes.
Fifth in that list, behind Leeds United's Rodrigo, is Phil Foden. He has been part of seven goals, coming at a rate of every 86 minutes.
Hat-trick heroes
Haaland's three hat-tricks in his first eight Premier League matches make him the quickest to that total by a whopping 40 appearances. He has beaten Michael Owen (48 appearances), Ruud van Nistelrooy (59 appearances) and Fernando Torres (64 appearances).
He became the first player in Premier League history to score a hat-trick in three successive Premier League home games and only the third player in City history to score a Manchester derby hat-trick after Francis Lee in 1970 and Horace Barnes in 1921.
Foden's hat-trick meant that City became only the third side in Premier League history to have players score hat-tricks in a single match.
prolific partnership
In Erling Haaland (17) and Kevin De Bruyne (10), City have both the highest scorer and highest assister in Europe's big five leagues in all competitions this season, with De Bruyne already assisting Haaland five times.
relentless
Pep Guardiola's side just kept going at Manchester United from the first minute.
We had 22 shots on goal to United's 12, with an xG of 3.30 to 1.67, but those figures only tell part of the story.
The below graphic, using Opta data, shows that City had a number of moments throughout the match when we were pushing hard for a goal. It also shows that United's three goals came out of nothing.
By way of explanation, the further the line skews towards the blue side, the more likely City were to score a goal at that moment.
While it was Foden and Haaland who came away with hat-tricks each, a performance so dominant requires the entire team to be singing from the same hymn sheet.
LONG PASSING MOVES
We played a total of 485 passes in the match, down on our usual total, but that wasn't reflected in the lengthy passing moves that created the opening.
The below graphic shows the move for Foden's goal that set us on our way to victory, starting with Manuel Akanji on the halfway line. A total of seven players touched the ball in the move, including the No. 47 who sweeped home the drilled Bernardo Silva cross from close range.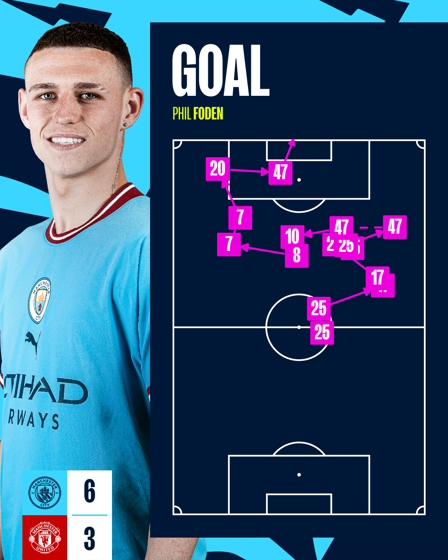 De Bruyne's pass for Haaland's second of the day caught the eye and is one we're sure to see replayed over and over again. However, it was excellent work deep in our own half - starting with Ederson and Nathan Ake - that got the move going before Jack Grealish drove into space. From there, it was all about De Bruyne's vision and Haaland's movement.
In Haaland (17) and De Bruyne (10), City have both the highest scorer and highest assister in Europe's big five leagues in all competitions this season, with De Bruyne already assisting Haaland five times.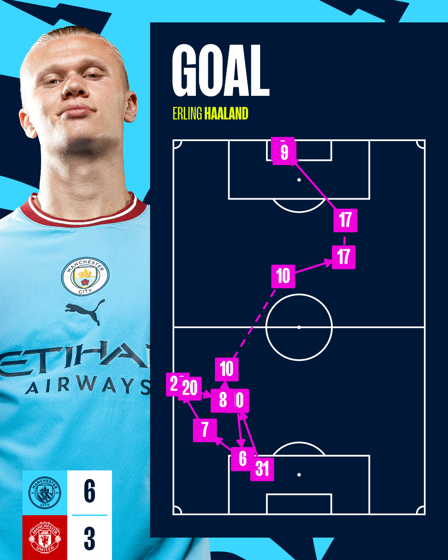 AKE AND AKANJI
Manuel Akanji has become pivotal incredibly early in his City career, starting all four of the matches for which he has been available so far. The 27-year-old played the most successful passes of anyone on the pitch (71) and won more tackles than anyone else. So far, he has played twice alongside Ruben Dias and twice next to Ake.
Yesterday he was partnered by Ake, who covered much of the left side on his own, often protecting the flanks as Joao Cancelo moved inside to bulk up the midfield and then in the second half, Sergio Gomez progressed upfield.
With Kyle Walker forced off through injury, their usual protection in Rodrigo not available and the pair still getting to know each other, they were the glue that held the side together on Sunday.