Pep Guardiola has congratulated New York City FC on reaching their first MLS Cup Final.
NYCFC will take on Portland Timbers at Providence Park on Saturday (20:00 GMT) in a bid to win a first major trophy since the club's formation in 2013.
City boss Guardiola says the whole of the City Football Group family will be willing on Ronny Deila's side tomorrow evening.
CITY+ | SUBSCRIBE TO ACCESS EXCLUSIVE CONTENT
When asked of his thoughts ahead of the game, Pep said: "Wow, first big congratulations.
"When Domenec Torrent was there, they made a big step forward, finishing first in the Eastern Conference and unfortunately in the playoff they went out.
"Now the new manager and the team has achieved something good. This organisation is built for that.
"It's good for this brand and New York to achieve this, to be champions of the conference and now to play for the final.
"We wish them all the best, they are part of our family and hopefully they can win the final."
Speaking ahead of our Premier League game with Wolves, Guardiola also spoke of the fine season the Black Country side are having.
"They have scored 12 goals and conceded 13 and are so stable," said Pep.
"They are quite similar to last year. They have a tendency to play more between the lines and all the quality players they have.
"It was always tough against Wolves in the last years and tomorrow will be no exception.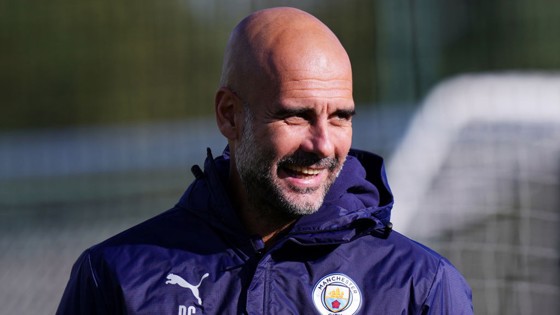 "When you have played 15 games and you take a look at goals scored, goals conceded - their balance is stable, few on both sides.
"It has always been a difficult game for the quality they have, for their structure, the pace they have up front, for the set pieces, the personality, character, good keepers
"They are up there. They are having an incredible season so far. We know, it but at the same time, we are in a good position to continue our run in the Premier League."
Finally the Catalan said that the recent Omicron variant of COVID was a reminder of how each club was under the threat of infection and why it was so important for everyone to play their part.
"The concern is always here," he said. "The variant and pandemic is still in society.
"We follow the protocols and everyone is on alert. It happened at other clubs so for sure it can happen here. Masks, social distance, be sensible."
CITYZENS MATCHDAY MEMBERSHIP
Be first in line for tickets, only with Cityzens Matchday Membership.
Costing just £35, the membership pack grants priority access to all home matches, tickets for Manchester City Women matches and a 10% City Store Discount.
Join now by clicking here.