City bounced back from last weekend's defeat at Spurs to comprehensively beat Norwich 5-0 at the Etihad.
There was a feeling of business as usual as the champions went about dismantling the Canaries, with a couple of goals before the break and three more in the second half.
After an own goal opened the scoring, Jack Grealish marked his home debut with his first goal for the Club.
Aymeric Laporte added a third before second half subs Raheem Sterling and Riyad Mahrez ensured it was a five-star performance for our first home game in front of a full house for almost 18 months.
What happened?
City took just seven minutes to get our home campaign up and running for 2021/22.
The visitors had been pinned in their own third since kick-off and fell behind when Ferran Torres picked out Gabriel Jesus on the right of the box – his volley across goal struck Grant Hanley and then went in off keeper Tim Krull.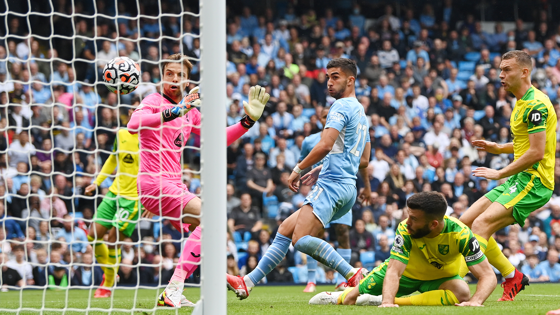 It was untidy, but nobody was complaining.
Seven minutes later City appeared to have doubled the lead when Ferran Torres tucked a low shot past Krul, but the Canaries were protesting virtually as soon as the ball hit the back of the net – and after VAR recommended referee Graham Scott view the pitch-side monitor, he upheld those complaints.
The infringement was on the build-up but did Bernardo really trip Milos Rachica or did he trip himself up? On first look it seemed the latter rather than former.
The Canaries' respite was brief as five minutes later, City did increase the lead and it was home debut boy Jack Grealish who scored it – thought it maybe won't end up in his career highlights show-reel!
Gabriel Jesus, a constant threat down the right flank,  crossed low into the six-yard box and the ball seemed  bounce into the net off Grealish's leg before bouncing over the line to make it 2-0.
He ran over to the corner of the South Stand to celebrate with a grin as big as a Cheshire Cat – and why not?
Though the champions would continue to dominate, a further 42 minutes would pass until the third goal came, as a corner fell kindly for Aymeric Laporte who prodded home from six yards out to make it 3-0.
And like London (or Manchester buses), another one came along almost straight after.
The hard-working and unselfish Jesus, involved in two of the first three goals, claimed a second direct assist as he raced into the box before crossing into Raheem Sterling - on a s a sub 10 minutes earlier -who tapped home from close range to make it 4-0 with 71 minutes played.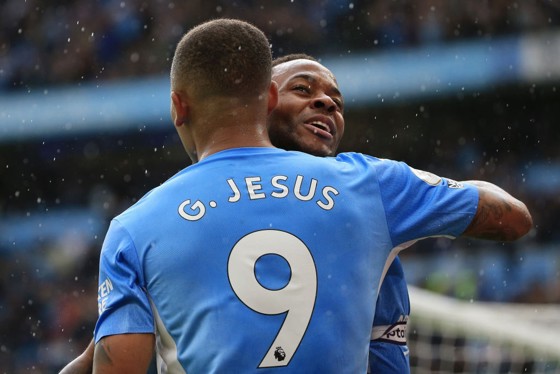 On a chastening afternoon for the Championship champions, the torment still wasn't over as Ruben Dias' delightful lofted pass picked out the run of another sub - Riyad Mahrez - putting Algerian clear on goal and his measured low shot went in via the foot of the post to make it 5-0.
And that was that...
Not a bad way to start the season on home soil! 
WHAT IT MEANS...
City have three points on the board but we'll need to wait until after all the games have played to get a picture of the embryonic Premier League table.
STAR MAN
Three of City's goals came from Gabriel Jesus crosses and the Brazilian was bright and industrious throughout -  a team player in every sense of the word.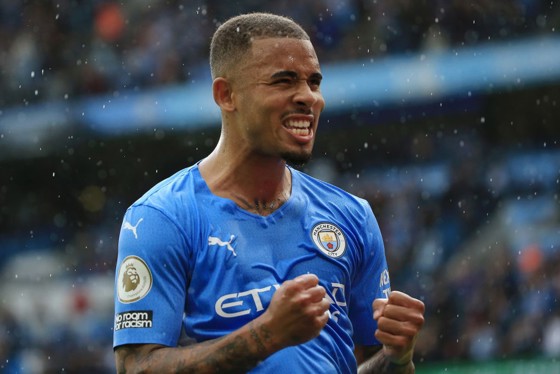 WHAT'S NEXT?
City host Arsenal next Saturday, with a 12.30pm kick-off.
PEP REACTION
"This result was the consequence of how many good things we have done.
"We are still not at the top – there are still many things to do. We trained, we were refreshed, happy for these first points.... hopefully they will not be the last!"
News about Man City v Norwich"