Pep Guardiola says Kevin De Bruyne is the best player in the world at the moment after the Belgian continued his dazzling form against Liverpool.
De Bruyne was again exceptional, scoring one and creating another two, and the Catalan said he feels he is somewhere near his peak – but can still get even better.
Asked if he believed De Bruyne was the best in the world at present, he said: "He has something unique. He can run, the vision he has…. the personality right now, making four penalties in a row when we struggled this season.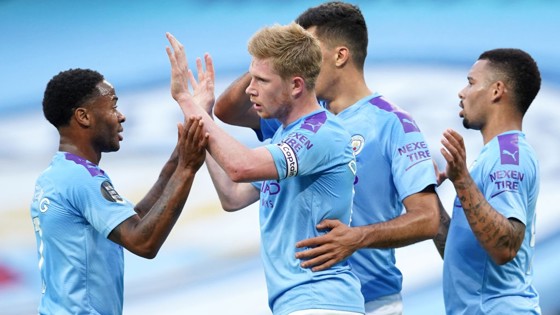 DONATE NOW | Cityzens Giving for Recovery
"Right now he's the best."
And there was yet more praise for Phil Foden, who again produced a stellar display against the Merseysiders.
"What we have done is try to protect him," said Pep
"We didn't let him play every single game. Young players have to be careful in the first steps.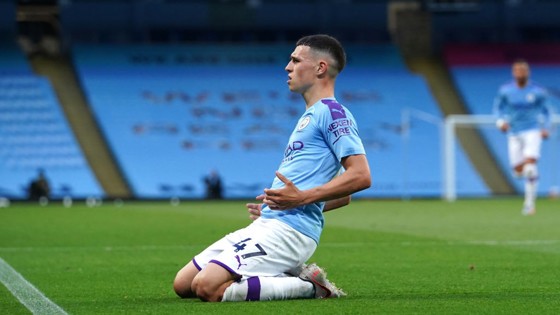 "The players in front, with KDB, Bernardo, there are a lot of players. He has time. He has an incredible thing that makes me not doubt that he will be incredible for the next decade.
"There is not one day when he had a bad face for not playing. In training, every action is positive.
"He is so fast, so strong defensively. He played at Old Trafford, he played today against incredible top teams and he was there and always at a high level.
"It's important he trusts us and that he wants to stay here and play with us. He's a City fan. We take care of the Academy. He played against Salah and Mane. He's 20, he had a kick against Arsenal, had training for three or four days after 10 days out and he was awesome.
"We are so proud to have Eric from the Academy. We can count on them. Both played incredibly and both are a reality for the club for the next year.
"All the managers around the world would love to have Phil. The success we have as managers is because we train incredible players.
"Phil is one of them. Look at his behaviour in the training sessions. The difference with him is behaviour.
"Never one regret, never one bad face. The day after he doesn't play in training he is like a schoolboy playing and fighting.
"It is incredible news for us that we have him for the next years. He can play as a midfielder, as a winger as a striker, because he has an incredible sense of goal and vision.
"Gareth Southgate has an incredible talent for the national team. I've seen many players in my life, trained incredible players and Phil will be one of them.
"When he takes the ball, he is aggressive against defenders, and shoots and scores. We cannot waste that. It is so difficult to find that quality."
With the overall display, Guardiola says he couldn't be happier with his team's performance against Liverpool.
City thrashed Jurgen Klopp's side 4-0 – only their second loss in the Premier League all season – with a polished attacking display.
"I'm so delighted. Congratulations to my team for beating the champions," said Pep.
"Liverpool have incredible focus, I saw the guard of honour, how focused they were to play, how they shouted and helped each other to try to beat us.
"That's why they beat us this season. To beat them four zero, the chances we create, the way we defend… it's three more points to help us in the Premier League.
"It's good for us for the game against Arsenal in the semis and especially against Madrid in the second leg.
Asked how his team maintained their motivation, the City boss replied: "Because we have Arsenal and we have Madrid to come.
"These kinds of games help us. The most important thing is, when a team wins eight titles out of the last 10 comps they play, it is because they are an incredible team.
"With the results Liverpool have had, no one could stop them in any country. What we have done in the last years is unique and exceptional. That won't change because we lost (the title) to Liverpool."