Tommy Booth proved to be a great crowd favourite over a sustained number of years – 16 to be exact - and therefore deserves inclusion in our collection of Manchester City cult heroes.
Tommy, who celebrates his 72nd birthday today, might not have been a Colin Bell or Mike Summerbee, nor was he a Mike Doyle or an Asa Hartford, but the City fans will always have a place in their heart for him and players of his ilk.
Committed, brave, loyal and with plenty of ability, his career was dedicated to City.
RETRO COLLECTION Buy your classic City shirt here
There are so many other factors to consider and Booth just about ticks all the right boxes - and he was hugely popular among his team-mates with a wit drier than the Sahara Desert.
The Manchester-born centre-half first came to prominence when he took George Heslop's No.5 shirt for the first time on October 1968. City's rearguard had not been at its best as the champions attempted to defend their crown in rather lacklustre fashion.
CITYZENS AT HOME |  Fun & educational activities to do at home
One win in the opening nine games was a poor return for such a talented side but the young Booth performed admirably on his debut and Joe Mercer opted the play him alongside Doyle and the ever-dependable Alan Oakes.
However, Booth really came to the fore when, in the last minute of the FA Cup semi-final with Everton, he stabbed the ball home in the last minute of a dramatic tie to send the City to Wembley where Leicester City awaited.
He played in the final, too, meaning he hadn't missed a game along the way and been part of a defence that had only conceded one goal in seven games.
In fact, Booth would become something of a lucky talisman for City, appearing in both 1970 cup finals (League and European Cup Winners' Cup) as well as missing just one league game all season.
For the next five years the No.5 shirt was pretty much his, but when Dave Watson was signed from Sunderland in time for the 1975/76 campaign, it was Booth who had to step aside.
In fact, with Watson's form and reputation, there was every chance Booth would find first team chances hard to come by – unthinkable a year or so before.
But when Colin Bell was injured against Manchester United in the League Cup at Maine Road, manager Tony Book had no hesitation in turning to the versatile Booth to fill in Bell's midfield slot and he responded with his best ever goals tally – six – and was in midfield as City beat Newcastle to lift the 1976 League Cup.
And it is often forgotten that he provided the assist for Dennis Tueart's spectacular overhead kick that settled the contest at Wembley.
He did revert back to centre-half towards the end of the season when Watson suffered a back injury, but his chances were limited the following season though he again stepped in for the final 11 games following Doyle's early end to the campaign as City finished runners-up to Liverpool in the old Division One.
Doyle couldn't shift Booth when he did regain fitness and with 39 appearances, it was his most active campaign in four years.
Booth just slipped in when needed, did his job effectively and if he was dropped, never made a public song and dance about it.
That also meant a lot to the fans, because clearly wearing the Manchester City shirt meant more to him than anything else, including personal glory.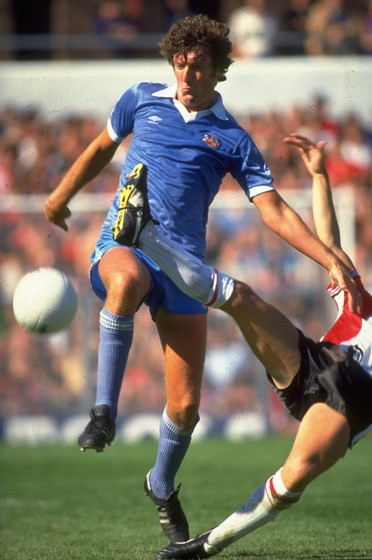 The 1977/78 season was his last major contribution to City.
He played just 20 times during the turbulent season Malcolm Allison returned (1978/79) and 24 the season after that. In his final campaign he played another 30 games and it was his goal at Peterborough in the FA Cup fifth round that helped City on their way the 1981 FA Cup final – that was also his last ever strike for the Club.
Booth didn't play at Wembley but what a fitting epitaph to his career with the club if he had.
He would also have set a new record for a City player appearing in Wembley finals at that time, but four is still a testament to his longevity in sky blue
He left for Preston after almost two decades with City after he made his final appearance in October 1981 away to Birmingham.
Two weeks later he was a Preston North End player with £30,000 exchanging hands hailing the end of a Maine Road era.
Sixteen years, 491 appearances and 36 goals – a fantastic servant for Manchester City.
Illustration by Ben Wild.